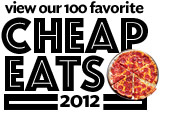 This Rockville Town Square dining room is as colorful as a Delhi spice market—a fitting setting for the creative Indian cooking, which you can sample the old-fashioned way—with communal bowls of curries and fluffy rice—or with an array of small plates.
Among the latter are such snack-size shares as fat prawns butterflied and glazed in tangy tamarind, aggressively spiced tandoori wings, and a tiny version of the paper-thin crepes known as dosas.
Among curries and stews, we like the rich and piquant paneer makhani and the slightly sweet Persian-style lamb stew with apricots. This is one of the prettier affordable restaurants, but takeout is available at a 15-percent discount, and curries travel especially well.
Also good: Papri chaat, a potato-and-chickpea salad with yogurt and chutney; scallops cooked on the tawa grill; shrimp in a green-chili/coconut curry; tandoori pineapple; lychee mojito and martini; tamarind margarita.