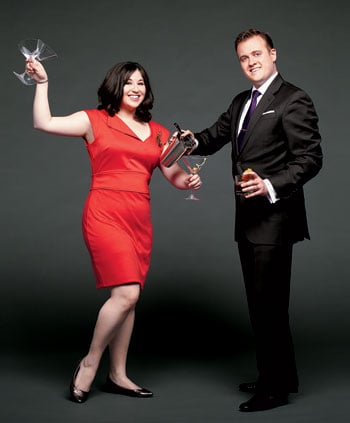 After living here for five years since college, my husband and
I have built a great life—fulfilling jobs, a dog named Teddy, a condo in
Arlington, a loving relationship. But something is missing: close
friends.
Joe and I have been a couple for close to ten years,
practically since we were kids. When you've been off the market for a
decade, being charming toward strangers doesn't always come naturally.
Couples get each other's jokes, often finish each other's sentences.
They're so comfortable being together that they aren't attuned to making
friends the way single people are.
In Northeast Philly, where we grew up, almost nobody leaves
town and your high-school friends are friends for life. The people we
shared a limo with for the prom are the same ones who stood with us when
we said our vows. We love them—but they're not here.
My husband and I have plenty of business contacts and a few
college friends in the area, but we're looking for other young couples to
hang out with. Of course we have single friends, but there's something
especially fun about spending time with couples. If three's a crowd,
four's a party.
But Washington can be a tough place to maintain bonds because
of its transient and often partisan nature. So where do "couple friends"
meet? Church? Not our style. The neighborhood? Condos aren't exactly
conducive to meeting people. We've been on a dozen or so double dates in
the past few years. We always have a nice time but haven't gotten very
close with any of the couples. And studies show that one of the primary
factors indicating happiness is close friendships.
So I went online. I joined Meetup.com—which helps people with
similar interests find one another—and signed up with two couples groups.
We've been to a few brunches, a winetasting, and a "beach bash" in a
restaurant parking lot decorated with leis and beach balls. I've become an
"assistant organizer" and planned a few outings myself.
Finding couples to befriend isn't all that different from
dating. I admit I've kind of "stalked" people who have RSVPed to events to
see if they could be potential pals. Do they look fun? Have they been
together long? How's their spelling and grammar?
One pair we met had great prospects—fun personalities, similar
tastes, interesting jobs. But then we got the "I'm on antibiotics and
can't drink" line. Any woman my age knows what that means. She's due in
July.
I love our friends' babies—we'd even like to have our own one
day. But last year, for work and pleasure, Joe and I traveled to Aspen,
Las Vegas, Maine, Phoenix, Charleston, San Antonio, the Greenbrier, and
Florida. We want to get some more European trips under our belts, too. In
my experience, babies signify the end to friendships as we know
them—impromptu get-togethers, late nights sipping drinks.
We enjoy spending time with people with compatible
interests—more Mad Men than Two and a Half Men, more wine bar than dive
bar. Okay, I'm picky, maybe even a little snobby. Which makes me glad I'm
not actually dating. If I were single, I'd probably be on my third
cat.
But things are looking up. More than 300 couples are in the
NoVA Couples group I joined, and thousands are on similar websites. We've
met some great people—couples with similar tastes in restaurants, ones
with ties to our hometown, others who, like us, love being a couple too
much to have kids just yet.
Besides, when the time comes, there are lots of mommy Meetups
out there.
Sarah Maiellano works in government affairs for the restaurant industry. She can be reached at sarahmaiellano@gmail.com or on Twitter at @SarahMaiellano.
This article appears in the June 2012 issue of The Washingtonian.