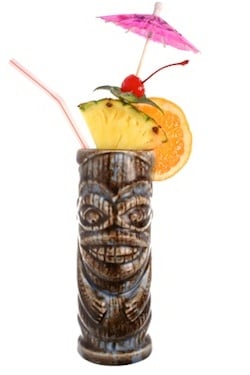 It's a well-known fact that when studious bartenders turn their attention to over-the-top island-style drinks, happiness ensues. Fresh ingredients replace chemical-tasting mixes and too-sweet recipes are tweaked to create balanced, easy-to-drink libations. Paper umbrellas and awesome glassware, however, remain. So we are pleased to report that Todd Thrasher's menu of summer tiki drinks will return to the Majestic in Alexandria on Thursday, June 21. There are eight new cocktails to sample at the Old Town cafe, including the Wisdom of Pelé—portioned for two people or more and featuring Gosling's Black Seal rum, Cruzan, El Dorado demerara rum, falernum, cinnamon syrup, lime juice, grapefruit juice, honey, and Angostura bitters.
Not familiar with falernum? It's a Caribbean liqueur that combines rum, sugar, lime, and spice, and is a common ingredient in tiki drinks. You'll find it in the Wicked Wahine, a cocktail invented by a bartender on Hawaii's Big Island. Thrasher's version combines Captain Morgan Rum, falernum, lemon juice, lime juice, passion-fruit juice, house-made grenadine, and Peychaud's bitters. To accompany these drinks, chef Shannon Overmiller has created a menu of pupu platters with snacks like beef teriyaki, vegetable spring rolls, ginger chicken wings with spicy scallions, and shrimp toasts.
If you're looking for a tiki fix in the District, both Tryst and the Passenger celebrate tiki Tuesday each week with special island-themed cocktails. Bethesda boozers, meanwhile, can order up mai tais and the like at the new tiki bar at Black's Bar and Kitchen, also home to this pretty excellent weekday happy hour.
Related:
The Passenger Has Installed a Fernet Branca Tap
A (New) Outdoor Patio for Every Day of the Week