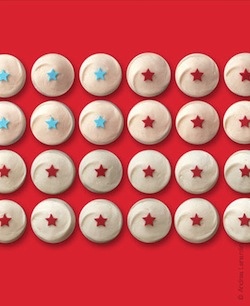 The Fourth of July falls on a Wednesday this year—unfortunate, to be sure, but there are still plenty of opportunities to celebrate in style, most of which involve grilled meats and beer and many of which involve pie. Time to get fired up, people. This is totally happening.
We begin with the carry-out options:
Give Society Fair 48 hours' notice if you'd like to order one of the Old Town wine bar and shop's fully prepared feasts. It's $100 for a dinner for four with baby back ribs, smoked Berkshire pork shoulder, local organic potato salad, summer slaw, honey cornbread, and peach cobbler, plus SF's "North Carolina chili-vinegar barbecue sauce." For $175, you can get a six-person feast with the ribs, pork shoulder, potato salad, and slaw as well as spicy Cajun sausage, three sauces, and baked beans. For this one, you can substitute lemon icebox cake for the cobbler.
Call (202-265-2674) or e-mail Cork Market & Tasting Room if you'd like to order a sandwich or chicken picnic basket for the holiday. The sandwich picnic costs $25 ($35 with wine) and includes options such as soppressata with roasted peppers and tapenade or smoked ham with Camembert and pickled onions. It is $40 ($55 with wine) for a chicken basket with either Peruvian grilled chicken or Cork's garlic-herb-marinated fried chicken. Among the sides: farro salad with wild mushrooms, spring onions, and preserved lemons and a Mediterranean couscous salad.
Warrenton bakery Red Truck—maker of a mighty fine pie—will be open on the Fourth; reserve desserts in advance. (If you can't spare the two hours to get out there and back, consider making one yourself: Red Truck Owner Brian Noyes recently shared his cobbler recipe with us.)
Today is the last day to order Red Apron Butchery's Independence Day package, which includes a rack of spice-rubbed baby back ribs, a pound of smoked brisket, five all-pork hot dogs, four fresh sausages (choose bratwurst, Italian, or "bacon banger" links), and a pint of house-made Coca-Cola barbecue sauce. It's $50 ($2 more if you opt for bacon bangers). Pick up your insulated bag of meaty goodness at the Dupont farmers market on July 1.
Through July 8, lemon blueberry and red velvet cupcakes from Sprinkles come adorned with blue and red stars. Order online or in stores.
Moving on to sit-down meals:
Take advantage of the day off with a mid-week brunch at either Bar Pilar or Café Saint-Ex, both of which will offer it all day long on Wednesday, July 4. The food festivities begin at 11 AM and last until 5 PM, when both kitchens close for the holiday.
Mandarin Oriental eatery Sou'Wester will do a "Red, White & Blue" family-style dinner on the Fourth. There will be crabcakes, burgers, and macaroni salad along with blackberry-and-blueberry trifle. It's $65 a person and $35 for kids under 12 (kids under 3 are free). Lemonade and iced tea are included; if you want something stronger, it'll cost extra.
Reserve in advance to dine at Bastille on July 4. The restaurant is hosting a $79 beer-pairing dinner ($55 if you forgo the brews) with tartine of chorizo rillette and tomato salad; duck-and-foie-gras sliders; mesquite-smoked Smith Meadow Farm pork shoulder with chef's barbecue sauce, baked beans, corn, and charred pepper salsa; and grilled peaches with rosemary ice cream and toasted pine-nut crumble for dessert. Dinner starts at 5:30; there's a reception at 5.
America Eats Tavern closes on the Fourth of July, and José Andrés' Penn Quarter pop-up will feature a special menu between July 2 and 4 (from 11:30 AM to 10 PM on the first two days and from 11 AM to 8 PM on the Fourth). Good news for fans of AET's fried chicken with coleslaw, Chesapeake crabcakes with pickled watermelon slaw, barbecue beef short ribs with hoppin' John, lobster rolls, hot dogs, strawberry shortcake, or Key lime pie: All those things are on the menu.
Poste has put together a $35 grill-centric prix-fixe menu for the Fourth. Opt for watermelon-and-tomato salad or chilled cucumber-and-yogurt soup to start, then follow up with either a hot dog—lamb and blue cheese or pork and cheese sausage—or a burger. For dessert there's fruit tart or rhubarb with pâte sucrée, rhubarb jam, rhubarb confit, almond granola, and strawberry ice cream. There's also a $15 kids' menu with fruit salad, mini burgers and fries, and red, white, and blue ice cream.
Got a little kid who loves sushi? All day on the Fourth, food is free for children under five at Asia Nine. Older patrons will appreciate the all-day-and-night happy hour in the bar and lounge and on the patio, featuring $5 Absoluts and Jamesons and a bucket of Singha beers for $17.
Chef Jeff Black's sceney 14th Street seafood spot Pearl Dive Oyster Palace is open for lunch on July Fourth from noon to 3 PM with holiday treats including barbecue chicken, burgers, and brats. Upstairs at Black Jack, happy hour specials will be offered from 6 to 7 PM and then again after the fireworks from 10 PM to 1 AM. Those specials include half-price draft beers, $5 wines, and $7 hoagies.
Finally, we have the food-focused parties, plus other events and specials:
New Hilton Brother bar the Brixton at Ninth and U will have specials on Chandon sparkling wines, cocktails, and homemade bangers served on brioche buns on the Fourth. Doors open at 5—we suggest you head straight up to the south-facing rooftop to claim a fireworks-watching spot.
Z-Burger Tenleytown will host its Annual Independence Burger Eating Championship on Tuesday, July 3, beginning at noon. The winner gets $1,000 cash and $1,000 worth of burger tokens at Z-Burger. If you don't lose your appetite watching people stuff their faces with as many burgers as possible so that they might win more burgers, stick around for free fries, sodas, and—you guessed it—burgers after the contest.
Those clever folks at Sticky Fingers have figured out how to make very good desserts from vegan ingredients, so we trust that the spot's barbecue sandwich—made with seitan and a house 'cue sauce—is tasty, too. That will be available in-store only, on July Fourth and through the summer, and comes with a side of red cabbage coleslaw.
Burgers, pesto chicken sandwiches, and Kobe beef hot dogs are on the menu at Café du Parc's outdoor block party on Wednesday from 4 to 8 PM, along with snacks like candy apples, snow cones, liquid-nitrogen-frozen ice cream, and popcorn. Expect beer and wine specials and a live band, too.
Lincoln—where Obama recently had lunch—is hosting a grill-out on the Fourth with hamburgers and hot dogs, barbecue chicken and duck sausages, and apple pie, among other things. Happy hour specials go all night, and there's a deejay called Huck Finn who will play classic rock for you. That lasts from 2 PM to 11 PM; e-mail the restaurant for more information. Oh, and bonus: Lincoln has specials on American beer right now: It's $3 for PBR and Miller Lite, and $5 for Hopback Amber Ale, DC Brau the Public Ale, Original Sin Cider, and Port City Porter.
Virtue Feed and Grain is celebrating the Fourth on Saturday, July 7 (Alexandria does its fireworks display at 9:30 that night), from 11:30 AM to 9 PM with a backyard barbecue that costs $21.95 for adults and $12 for kids. The family-style offerings include ribs, chicken, potato salad, tomato salad, cornbread, corn on the cob, dipping sauces, watermelon, cake, iced tea, and lemonade.
Happy Fourthing!