"These paintings were made for this building, and the building was made for these paintings."
According to exhibition curator Sarah Bancroft, this
was the response of Phyllis Diebenkorn, wife of the late abstract
expressionist
Richard Diebenkorn, upon touring the upstairs galleries at the
Corcoran Gallery of Art this week. Over 80 pieces from her
husband's seminal Ocean Park Series—drawings, prints,
monotypes, mixed-media pieces, and large-scale, saturated canvases—are
on display starting tomorrow in the exhibition's only East
Coast showing.
Walking into the first of the galleries, it's easy to
understand Mrs. Diebenkorn's reaction. The combination of the filtered
light pouring in from the buildings' skylights and the glowing
pastels of Diebenkorn's immense canvases has a hushing, contemplative
effect on the viewer. At nearly eight feet tall, the paintings
almost beckon you to step right into their Pacific blues, desert
yellows, and sunset pinks, a palette picked from the Southern
California landscape in which Diebenkorn lived and worked.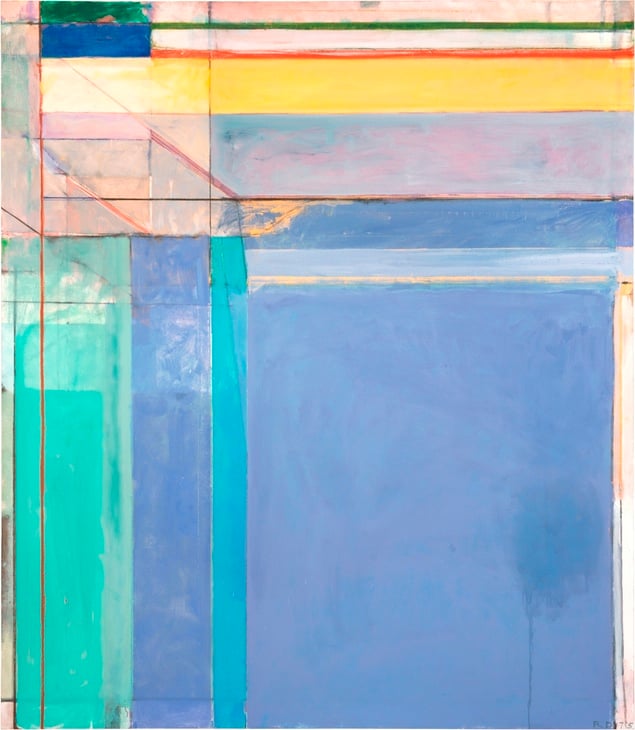 Created over a 20-year period, the work in
Deibenkorn's Ocean Park Series consists of angular frames of translucent
color,
meticulously worked and reworked, blotted and boldened in an
evolving investigation of space and landscape. In each piece,
the chaos of the abstraction is pushed to the perimeter, a
tangle of geometry clinging to the edge of a canvas otherwise swathed
in cloudy, ethereal color. Bancroft's curation, too, would seem
to echo this arrangement: the main galleries are airy and
restful, with gigantic color-soaked canvases on milky white
walls; the last room—darkened and moody—is lined with smaller,
more complicated pieces created during the latter part of the
series.
The exhibition manages to deftly mingle smaller
drawings and prints with Diebenkorn's larger paintings, much in the way
that
the artist moved between small- and grand-scale pieces in his
beachside studio. Taken in together, it's a patchwork evocative
of the California landscape and its trademark laid-back
sophistication, a breezy, breathy show that feels, as Mrs. Diebenkorn
noted, exactly right in this space, at this time.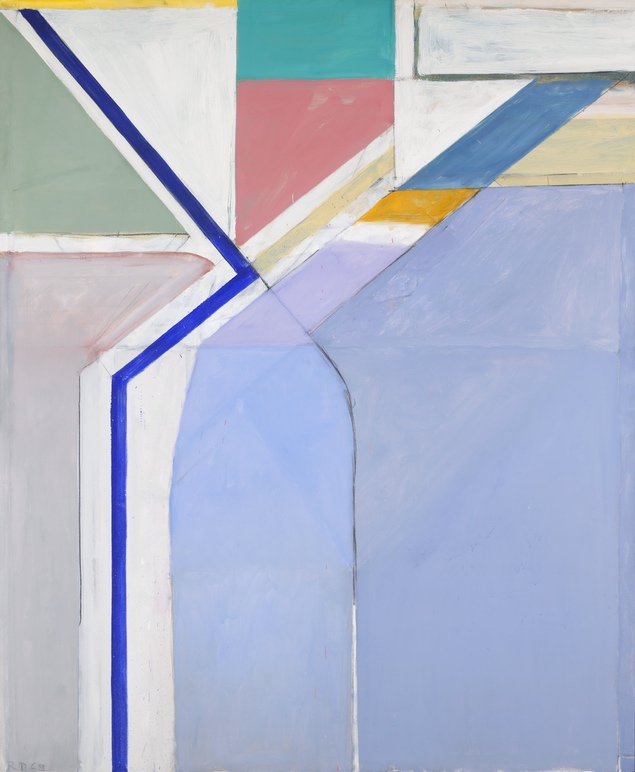 "Richard Diebenkorn: "The Ocean Park Series" opens
tomorrow, and will remain on display until September 23. Numerous
special
events—a photo safari, yoga sessions, a
performance by a Beach Boys tribute band, to name a few—will accompany
the exhibition; visit getinvolved.corocran.org for more
information.