The weather isn't exactly Québécois, but that won't stop revelers celebrating Canada Day this July 1 with the province's most famous export (not counting you, William Shatner): poutine. In its most traditional form, the boldly indulgent dish is made using dark gravy, fries, and cheese curds, but it's one of those foods chefs love to put their own spin on, as you'll see in the six versions below—some of the best we've tried anywhere.
Fries With Duck Liver Gravy at Green Pig Bistro
"We
keep away from the French words, and luxury in general," says Green Pig chef-owner Scot Harlan when
asked why he doesn't tout the foie gras in his heart-stopping take on
poutine. To make it, Harlan cloaks his crispy fries with a
Southern-style gravy made from duck stock and enriched with seared duck
liver butter. The snack is finished with Tillamook cheddar, sliced
chives, and a nugget of the aforementioned upscale organ, all for under
$10.
The Hangover Cure at Mintwood Place
Anyone
who's suffered a rough morning after in Montreal knows the healing
power of poutine. Experience it yourself during a weekend brunch at
Mintwood
Place, where chef Cedric Maupillier dials
up the excess by adding a hamburger. The dry-aged patty is topped with
crispy bacon, fries, cheddar cheese, and a gravy of ranch dressing and
runny fried egg yolk.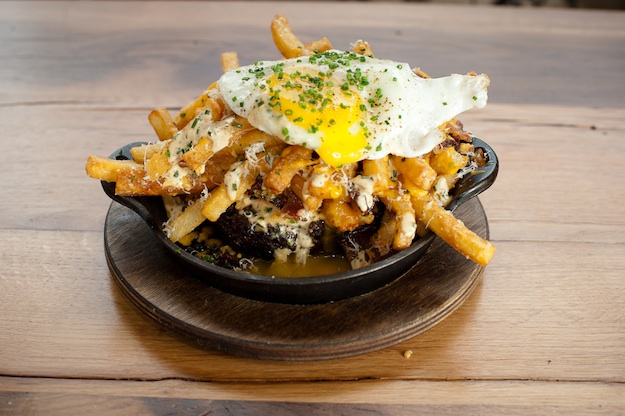 Disco Fries at ChurchKey
Disco fries, poutine's Jersey-bred cousin, can supply enough grease to satisfy Snooki and the crew. Chef Kyle Bailey's
version at
ChurchKey is more delicate than most, though still cheesy enough to down
alongside a cold beer. Bailey douses hand-cut fries in breakfast sausage
gravy with plenty of garlic and sage, and tops them with melty chunks
of sharp Grafton cheddar.
Disco Fries at Cava Mezze
Well,
it wouldn't be a disco with just one dancer. At
Cava,
chef Dimitri Moshovitis gives
the diner staple a Greek twist with a generous mound of slow-cooked
veal ragout that acts as a meaty gravy, and crumbled kefalograviera
cheese, a Parmesan-like sheep's milk variety. The dish is one of the
Cava originals, and still among the best.
Poutine Fries at the Black Squirrel
There're
no squeaky cheese curds that make it "authentic" poutine, but you'll
be too busy digging into the bacon-studded stack at Black
Squirrel to care. Grab a beer from the extensive list and stick your face into
fries decked out with veal demi-glace-based gravy and béchamel made
with Parmesan, cheddar, goat cheese, Swiss, and taleggio (the same found
in the bar's tasty mac and cheese).
Duck Egg Poutine at Family Meal
Bryan
Voltaggio's casual Frederick diner Family
Meal has only been open a few days, but the chef's ode to Canada is already
one of the most talked-about dishes. Housed in the breakfast-all-day
category, it's an entrée-size portion of potato hash topped with duck
leg confit, cheese curds, and slow-cooked, oh-so-runny egg.