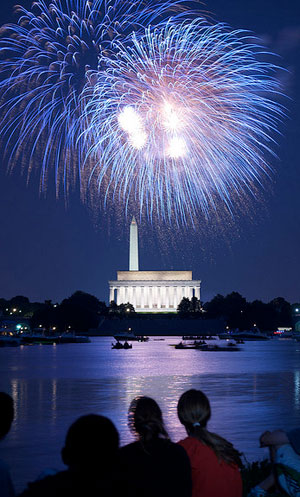 There is no show quite like the Fourth of July in
Washington, DC. And even though this year's celebration falls on a
Wednesday,
our fair city has an action-packed day of fun lined up. So
whether you want low-key or crazy, here are the best things happening
around town to celebrate America's birthday.
Jump start your patriotic pride with a mid-morning parade downtown. The
National Independence Day Parade starts at
11:45 AM and goes down Constitution Avenue from Seventh to 17th streets,
Northwest. You'll see bands, fife and
drum corps, floats, military and specialty units, and plenty of
flag-waving red-white-and-blue-clad onlookers. Get there early
if you want to beat the crowds.
If you have time to kill before the parade, catch a dramatic
reading of the Declaration of Independence by C-SPAN host
Steve Scully. Stay for a presentation of
colors by the Continental Color Guard, a performance by the Fife and
Drum Corps, and meeting
with historical figures like John Adams and Ben Franklin. Other
family-friendly activities will be conducted from 11 to 2
on Constitution Avenue between Seventh and Ninth streets,
Northwest.
No Fourth of July would be complete without a fireworks show, and DC's
Fireworks on the National Mall are arguably
the big kahuna of all shows. They start after dark (typically around 9)
and are set off from the Reflecting
Pool. If you want to snag a seat on the Mall, plan on getting
there no later than 6 PM. They can also be seen from a variety
of lesser known (read: less jam-packed) locations, including
the Iwo Jima Memorial and the Air Force
Memorial.
Get your rock on at Kastles Stadium for the annual
Red, White & Boom party. Chill by the
Southwest waterfront as you listen to Atlanta-based band Yacht Rock
Revue covering songs by the gods of '70s
rock. The Morrison Brothers Band, DJ Ricky Schramm and singer
Drew Dixon will also perform. A $79 ticket gets you a five-hour
open bar (4:30 to 9:30), games of bocce and beanbag toss, and
food truck fare. If you
pre-purchase
your ticket you are invited to attend the pre-party tonight (at
Mason Inn with an open bar from 8 to 10 PM) and the after-party
on Wednesday.
Celebrate America's 236th birthday with evening performances by
Philip Phillips,
Kool & the Gang, and
Matthew Broderick during the annual
A Capitol Fourth. Join Emmy award-winning host
Tom Bergeron on the west lawn of the capital as he hosts the city's traditional Independence Day concert. Eight-time Olympic medalist
Apolo Anton Ohno will also give Team USA a
warm sendoff as they head to London to represent our nation. And if you
can't make it out on Wednesday,
be sure to catch the preview show on Tuesday. It offers all the
same performances, minus the nauseatingly large crowds.
Enjoy a relaxing afternoon of great food and design at
Take Pride in America, hosted by Made: In America at the Washington Design Center from 1 to 3 PM. You can take a taste of America from seven of
Washington's finest chefs, such as
Dan O'Brien and
Bryan Voltaggio, as they transform traditional
menus enjoyed by presidents from Washington to Obama. Once you have a
full belly, explore
the "At Home in America" show house and see award-winning
furniture collections. Tickets are $75 for individuals and $125
for couples, available online.
Cool down at the don't-miss annual
Fat Camp Pool Party hosted by Brightest Young Things. Rage all day at Capitol Skyline Hotel from 11 to 7 with waterslides, deejays, and even
a pie-eating contest courtesy of Dangerously Delicious. Tickets are $15, and all ages are welcome.
Head straight for the rooftop deck at the Brixton
to catch the best fireworks view. The Bangers and Bubbles party will
feature
$8 glasses of Chandon sparkling wine and $9 bangers on homemade
brioche buns. Doors open at 5 PM.
Try your hand at a little catch-and-release
fishing on the southern grounds of the Armed Forces Retirement Home.
From 4 to
9:30 the whole family can enjoy time together as you hike,
bike, picnic, or enjoy a game of tug-o-war before the fireworks
start.
And if mid-week celebratory events are just not
your thing, get your Fourth fix on the seventh at Virtue Feed and Grain.
From
11:30 AM to 9 PM you can indulge in a backyard barbecue
complete with chicken, ribs, potato salad, corn on the cob, sweets,
and refreshing lemonade. Fireworks courtesy of the city of
Alexandria will begin at 9:30. Admission is $21.95 for adults and
$12 for kids.