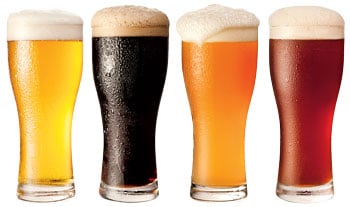 Until 1956, Washingtonians drank "sparkling malt liquor" from the Olde Heurich Brewery, on the site where the Kennedy Center stands today. Its closure led to 55 years without a standalone brewery inside District lines. Then in 2011, three beermakers joined local brewpubs Mad Fox and Capitol City Brewing amid a newfound interest in all things local and small-batch. With more in the works—including 3 Stars Brewing, debuting this spring—the city is fast becoming a hotbed of cold beers.
Chocolate City Beer
This Brookland brewery (2801 Eighth St., NE; chocolatecitybeer.com) fills growlers of its Cornerstone Copper Ale and Cerveza Nacional Dark Vienna Lager every Saturday from 12:30 to 4:30, and its brews are frequently on tap at the ­Logan Circle beer haven ChurchKey (1337 14th St., NW; 202-567-2576; churchkeydc.com).
DC Brau Brewing Company
Try one of the three year-round beers at this brewery (3178-B Bladensburg Rd., NE; 202-621-8890; dcbrau.com) is open most Saturdays from 1 to 4 with tours on the half hour; Brau beers are available at Meridian Pint in Columbia Heights (3400 11th St., NW; 202-588-1075; meridianpint.com), too.
Port City Brewing Company
Sample three beers Wednesday through Sunday at this Alexandria brewery (3950 Wheeler Ave.; 703-797-2739; portcitybrewing.com). Guided tours ($7) happen Friday at 6:30, Saturday hourly between 1 and 4, and Sunday at 2. The brews are also mainstays at Columbia Firehouse in nearby Old Town (109 S. St. Asaph St.; 703-683-1776; columbia­firehouse.com).