Below are a few favorites known to roam downtown DC and other popular neighbor­hoods. Visit washingtonian.com for our daily guide to where to find them, or follow the trucks on Twitter for up-to-the-minute updates.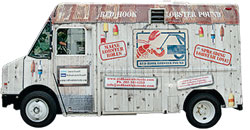 Red Hook Lobster DC
@lobstertruckdc
There's often a line at these sister trucks (they also tour Maryland and Virginia), but the super-fresh lobster rolls are worth the wait. Try them Maine-style (chilled with mayo) or Connecticut (warm and buttery).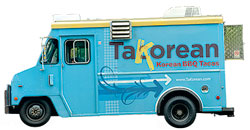 Takorean
@takorean
Korean-inspired tacos are popular truck fare, but we're partial to Takorean's warm corn tortillas stuffed with soy-marinated rib eye, chicken, or tofu, and topped with zesty kimchi slaw.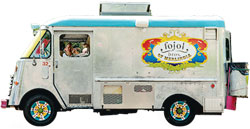 Fojol Bros
@fojolbros
Though the act is wacky, the Indian, Ethiopian, and Thai fare doled out by these three carnival-esque trucks is seriously good. Perk: Blankets are spread for picnickers.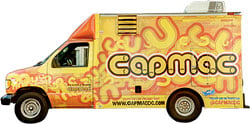 CapMac
@capmacdc
Offerings have included mac-and-cheese with
ingredients such as roast pork and butternut squash, but we love the year-round riff on the classic with cheddar, pimiento cheese, and a crumbly Cheez-It topping.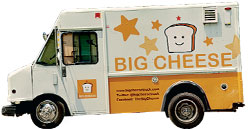 Big Cheese
@bigcheesetruck
A comfort-food staple gets an adult twist with toasty cheese sandwiches stuffed with goat gouda and caramelized onions or truffle-spiked Sottocenere and artichokes.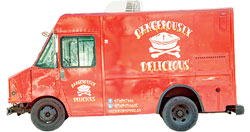 Dangerously Delicious Pies
@thepietruckdc
Snag sweet slices such
as peach and chocolate chess, or opt for savory fare like barbecue pork pie and mushroom-and-Swiss quiche. Miss the truck? There's a brick-and-mortar shop in the Atlas District.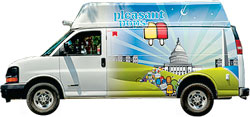 Pleasant Pops
@pleasantpops
The daily rotating selection of locally sourced popsicles features refreshing flavors such as strawberry-cream, watermelon-mint, and cucumber-chili.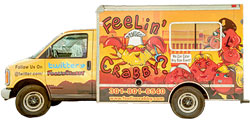 Feelin' Crabby
@feelincrabby
Instead of bready crabcakes, opt for the regional specialty from this truck: fresh lump-crab salad, tucked into rolls or served atop lettuce.

District Taco
@districttaco
Arlington-based eatery District Taco has wheels on the road in DC and Virginia, hawking egg-filled breakfast tacos for early risers and a mean burrito with slow-cooked pork at lunch.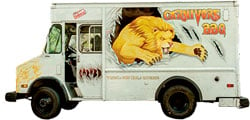 Carnivore BBQ
@carnbbq
Washington's Southern side is embraced aboard Carnivore, where helpings of pulled pork, brisket, and tangy slaw can be doused with four varieties of barbecue sauce.
All photographs by Eric Uecke.