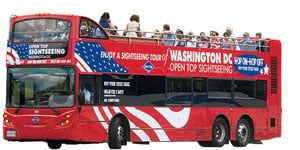 Open-Top Sightseeing
This double-decker bus tour (opentopsightseeing.com) is the Washington installment of a national chain. The company runs three routes during the day on open-top double-decker buses, covering the monuments, the White House, the Mall, museums (where you can switch between the red and yellow routes), ­Embassy Row, the National Zoo, the National Cathedral, Georgetown, and Virginia locations such as the Pentagon and Arlington National Cemetery.
Price: 24-hour pass for $35 ($18 for kids 4 through 12); 48-hour pass for $40 ($20 for kids); twilight pass for $20 ($10 for kids). Kids under 4 are free.
Perks: The buses are big and thus less likely to fill up than other, smaller tours, and the top level is a great option when the weather's nice. Tickets are hop-on, hop-off, so flexible.
Drawbacks: You can buy tickets on-site with cash or credit, but if you want to buy in advance, you'll need a printed paper ticket to board—an electronic version on your phone or tablet won't suffice.
You be the judge: The tour is narrated by a recording, which is accurate but impersonal.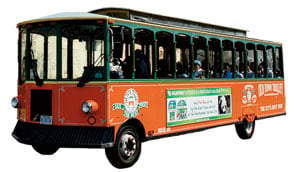 Old Town Trolley Tour
This tour (trolleytours.com/washington-dc) covers many of the same locations as the double-decker bus, but in a smaller vehicle with a live guide. Also offering multiple routes—orange for downtown and monuments, red for Virginia, and green for the Cathedral and other parts of outer Northwest—and hop-on, hop-off service, the Old Town Trolley is a cozy way to see the city.
Price: Adults $35, $25 for children 4 through 12, children under 4 free.
Perks: Tickets are not purchased for a particular day, so your plans can be flexible. Unlike other tour buses, the trolley is permitted to drive on streets near the Capitol.
Drawbacks: The trolleys seat 35 to 40 people, meaning they can fill up and leave a line on the street. Trolleys are said to come every half hour, so you may be left waiting.
You be the judge: Your experience can depend on the quality of your guide, who's likely to pepper the facts with jokes and trivia.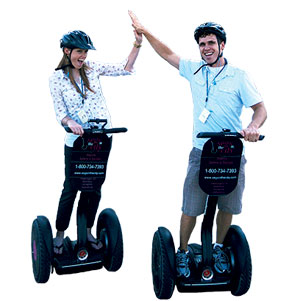 Segs in the City
Segway tours (segsinthecity.com) are a fun (or terrifying, depending on your comfort level) way to explore the capital. Tour groups are small (eight people maximum), and riders must be over 16 and under 260 pounds. Routes offered include an intro to the city, a tour of the monuments, sunset on the Mall, and a Cathedral and embassies route.
Price: $45 to $80, depending on the trip.
Perks: Riders view the sights without the confines of a bus or the inconvenience of walking. Segways go ten miles per hour, so the allotted hour or two is plenty.
Drawbacks: Guides wear microphones and tour participants wear radios and headphones, as instructions and factual tidbits can be impossible to hear otherwise—but these devices are prone to glitches, and switching them out can hold up tours. The price is also pretty steep.
You be the judge: Except for the monuments tour, riders can't stop to explore or take notes, so this tour is more suited for a casual sightseer than a history or government buff.