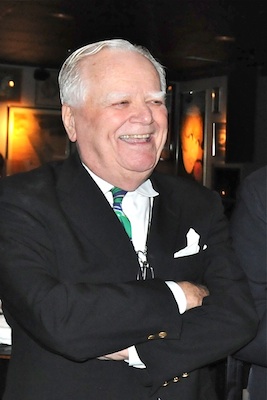 To hear him tell the story, 64 years ago, when he was a Georgetown University freshman,
Richard McCooey had the idea to open a particular type of restaurant adjacent to the campus. It took
14 more years for him to make the dream come true, but when he did the result was
1789 Restaurant
and its basement sibling, the Tombs. Last night in Georgetown, friends and former
staff—some of whom flew in from New York and Los Angeles—gave McCooey a surprise 50th-anniversary
party, which included a serenade from veteran members of the Chimes, the university's
male a cappella singing group.
"I am so appreciative," he said to the guests packed into the private F. Scott's club
next door to 1789. "I did all I wanted to do. As a freshman, walking along this street,
I had that dream. I kept the dream." He recalled that when they started work on 1789,
"there was no Tombs. There wasn't a basement. So we had to take the whole inside of
the building out to be able to do it."
In the years since, both restaurants have become community fixtures. McCooey said
he wanted both "to reflect the university." The Tombs, decked out in college sports
paraphernalia, appeals to students and families seeking a pub atmosphere; 1789, more
formal with fireplaces and "Old Georgetown" decor, is a serene, white-tablecloth setting
for fine dining. Last year
President Obama took German chancellor
Angela Merkel there for dinner.
McCooey no longer owns 1789 or the Tombs. "I had given it 25 years, a quarter of a
century, and that was all I had to do, all I could do," he said about his decision
to sell the businesses in the mid-1980s. But when he sold to
John Laytham, president and CEO of the Clyde's Restaurant Group, the deal went down in record
time.
McCooey said it was September of 1985 and he and Laytham were at F. Scott's, coming
up the stairs from the lower-level disco. McCooey said, "John, I'm thinking of selling
1789." Laytham replied, "You just sold it!"