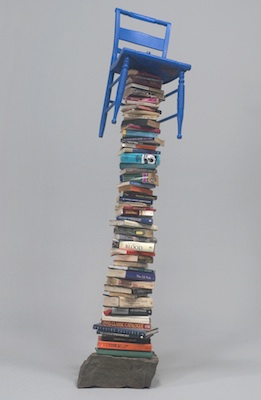 Southeast DC's burgeoning status as an arts district has
been in the news
recently.
Now, for the first time, an award has been established to
recognize an artist working
east of the river whose achievements have "enriched the arts in
Washington, DC." The
East of the River Distinguished Artist Award, established by
the ARCH Development
Corporation and the Gautier family, will go to the artist born
Bryant Keith Adams but better known as BK ADAMS•I AM ART, in an award ceremony on September 7 at Anacostia's
Honfleur Gallery.
Adams, a multidisciplinary artist who's known around Washington for his vibrant public
installations, has long been a part of the local arts scene—he had a solo show at
the Smithsonian's Anacostia Community Museum last year featuring more than 50 of his
works. In 2010,
Worn Magazine followed him around his neighborhood and into his Jackson Pollock-esque paint-spattered
studio. Adams's work puts everyday
objects into unusual surroundings, such as a bright blue chair placed on a stack of
books called "Sitting on Knowledge 1." He says he'll unveil his newest work, "The
City Mountain," created at this year's Smithsonian Folklife Festival, at the awards
ceremony.
Adams says he started out as an artist when he realized life and art are one and the
same. "Once I realized I was doing [art] all my life, I realized I might as well do
it full time," he says. "Initially, I had different businesses, and I realized the
way I drove, the way I prepared my food, from the utensils to the colorations of all
the different food I put together . . . everything I was doing was basically a blueprint
of some type of canvas. I realized I might as well start painting everything on a
canvas or put it in a sculpture."
Adams grew up in Brookland near Catholic University before taking off to explore the
world. After going "cross-country on [his] Harley and then in a Volkswagen," he found
himself in Central America en route to Paris when he got a call from his brother,
who was getting married in Washington. Adams came back for the ceremony. Ten years
later, he's still living in Anacostia.
Duane Gautier, who helped fund ARCH and this particular award, says Adams epitomizes the spirit
of it. "He's a very good artist," Gautier says. "He's also eclectic in what he does.
And he also has contributed tremendously to the avant-garde scene here, east of the
river."
The award gives Adams the prize of $5,000, and will be offered again to artists in
various different disciplines—from literature to dance—in future years. Adams hopes
it might encourage other artists to establish themselves in the area, although he
has no plans to leave any time soon. "DC just has this hold on you, man," he says.
"They never want to let you go. Gotta burn a bridge to get out of here."