There's not enough natural light
Whether your basement is walkout or completely under grade, a
lack of natural light is a common problem.
The easiest fix? "Clever lighting," says Patricia Tetro of
Bowa, a remodeling firm in McLean and Middleburg. Tetro recommends a
combination of task, general, and recessed lighting to maximize ambient
light. In a recent project, her team added a recessed aquarium to a
windowless room in addition to a mix of strategically positioned light
fixtures. "There's an incredible amount of wattage involved with an
aquarium," says Tetro. "The result is an active light and a warm
glow."
If your budget allows, consider enlarging small windows by
excavating the perimeter of the foundation wall and digging out deeper
window wells. "This is almost always a possibility," says Jim Gibson of
DC's Gibson Builders, who notes that it can also be a necessity: To meet
code, finished basements must have a door or window to the outside that's
at least three feet tall (it varies by jurisdiction).
The space is damp
The first line of defense against moisture is to keep it from
coming into the space. As a house ages, the ground around it can settle,
causing the grade to slope down toward the house instead of away from it.
To combat this problem, Tetro recommends adding topsoil and building up
mulch beds to keep the water from getting down to the foundation wall.
Clearing gutters and downspouts is another way to ensure that water falls
far enough from the house.
Even with these measures, dampness can still be an issue, as
underground rooms are typically more humid than the rest of the house. DC
architect Steve Lawlor recommends putting the basement on its own heating
and cooling zone, separate from the upper levels, and installing a
dehumidifier to minimize excess moisture in the air. Adding a sump pump is
also a good idea, particularly if the foundation is under the water table.
To ensure that the pump works when it's most needed, consider investing in
a battery backup system.
Regardless, experts agree that breathable materials are the
best option for flooring. "I've seen people do a Pergo floor and it turns
into waves, all rippled because there was too much moisture," says Bruce
Wentworth of the Chevy Chase firm Wentworth. Instead of wood or laminate,
choose natural stone tile or cork. Carpet, which can be pulled up and
replaced relatively easily, is another option.
The ceilings are too low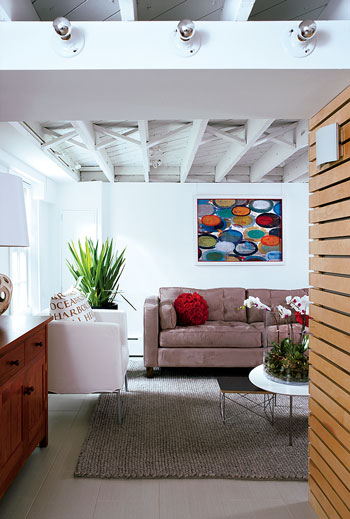 Many basements, particularly in older homes, were never
designed to be living spaces. As a result, they may have low ceilings,
making the space feel cramped.
The easiest and least expensive fix is to create the illusion
of height by using coffered ceilings or applied moldings, which add
dimension to a flat surface. Wentworth likes to use dark paint around the
perimeter of a ceiling and a lighter color in the middle to give it a
sense of depth and lightness. But if your ceiling is under the seven feet
required of a finished basement by most area building codes, structural
adjustments may be necessary.
"The first thing to ask is can you go up, perhaps stealing some
space beneath the floorboards, or must you go down?" says Bowa's Patricia
Tetro. "Going up is always preferable."
In a recent renovation to a basement in DC's Woodley Park,
Bruce Wentworth removed the ceiling and exposed the main story's floor
joists. After consolidating the piping and relocating some ductwork to a
bulkhead that runs down the center of the room, everything was painted
white. In addition to adding character and a loft-like feel, the
renovation created an extra ten inches of visual space—and saved a lot of
money.
The last resort is to dig out the foundation and pour a new
slab deeper into the ground. "It's a monumental undertaking," says Gibson,
"but it can be done."
The space feels removed from the rest of the home
Even if an airy finished basement awaits you at the bottom of
the stairs, a dark, narrow staircase can tarnish the space and lessen a
renovation's impact. Steve Lawlor recently completed a basement project
that centered around a light-filled, open stairway leading downstairs from
the heart of the main floor. "It's what introduces you to the space, and
it also becomes a cool, three-dimensional architectural feature," he
says.
Another way to unify a basement with the rest of the house is
to use similar finishes and color palettes—Lawlor continued the same
flagstone and custom millwork as upstairs. "There's a common vernacular
used throughout the house," he says.
Tetro notes that introducing soft, warm materials—area rugs,
textured fabrics—can make the space feel more comfortable: "No one wants
to feel like they are being sent down to the cellar."
The basement needs to be used for storage but has to look nice, too
When it comes to efficient—and attractive—storage, planning is
key. "Take an assessment of what is down there—what stays, what goes?"
says Joseph Gilday of Gilday Renovations in Silver Spring. "Then catalog
your storage needs before mapping out the functional part of the
basement."
Lawlor recommends using the darkest part of the space for
shelving and closets: "Keep in mind that you want utilitarian, highly
adjustable systems that can hold your camping gear one year and a record
collection the next."
Built-ins with strong horizontal lines can give the illusion of
more room. "Emphasizing the horizontal can make you feel that there's more
space, since your eyes get carried along those lines," says Wentworth. And
if moisture or flooding is a concern, think about lifting shelves off the
ground a few inches. Wentworth recommends modern chrome legs and casters
by Doug Mockett & Company, which makes architectural
hardware.
You need a space that can be used in many ways
Homeowners today are interested in a flexible, multifunctional
basement they can use often. "For a while, we were doing a lot of 'man
caves,' but now we design spaces that can work for the entire family,"
says Wentworth, who recently installed a Murphy bed in the basement of a
Georgetown rowhouse; the bed can be used to convert the family room into a
guest room.
Rather than a rigid design that serves only one function, many
homeowners are asking builders to create "zones" throughout their
basement: an area for watching TV, a play space for the kids, a hobby
table with task lighting.
Real-estate agent David Getson says basement bathrooms and
kitchenettes are particularly valuable when it comes time to sell: "Most
buyers want a basement space that can evolve with their family. If it's a
young couple, they might use their finished basement as a rental unit,
which will transition to an in-law suite when they have a child, and later
to a play area and guest suite. Having a bath and kitchenette allows them
to do this."
Explore More Beautiful Basements ››
This article appears in the August 2012 issue of The Washingtonian.