Need a quick read for that long trip? Try You Are the Love of My Life, the new novel from prolific Washington author and cochairman of the PEN/Faulkner Foundation Susan Richards Shreve. Set in a 1973 Washington neighborhood amid the fallout from Watergate, the story follows Lucy Painter, a children's-book illustrator and single mom from New York whose father committed suicide when she was a child. Now burdened by an affair back in the Big Apple, Lucy has moved south for a fresh start. But when the neighbors come snooping, her ghosts threaten to prevent her from settling into her new life. Sensitive and sharp, this one will help the miles fly by.
John Wilwol can be reached by e-mail at jpw1922@gmail.com or on Twitter @johnwilwol.
This article appears in the August 2012 issue of The Washingtonian.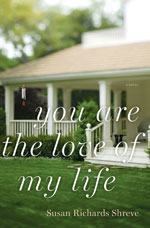 Publisher:
W. W. Norton & Company
Price:
$25.95