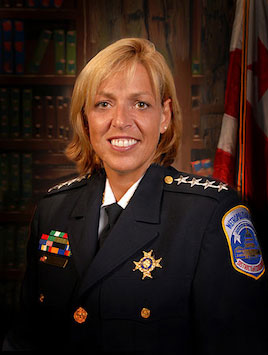 It's generally felt that the Metropolitan Police Department is one of Washington's
success stories. Two decades ago, DC was known as the "murder capital" of America.
Even though the city's violent-crime rate is beyond the national average, today it's
down significantly. This year may end with fewer than 100 murders. Much of the credit
goes to the MPD and its chief,
Cathy L. Lanier, the first woman officially appointed to lead the DC police. She is in the early months of a second five-year
contract, and she's one of the most visible and well-regarded city leaders, so much
so that her name has been floated as a possible future mayor.
While she insists she's not a politician, and she's not exactly Teflon, Lanier has
nimbly navigated the occasional controversy, which range from whether her boyfriend,
also on the force, gets special favors (she says no), whether she lives in DC (she
says yes), or a whole lot of ruckus about actor
Charlie Sheen getting a high-speed MPD escort. An officer involved in that escort, Hilton Burton,
who was later demoted, has filed a $12 million lawsuit against the department.
As far as Lanier is concerned, she has her eyes on the prize: battling crime in the
nation's capital. She's definitely a busy woman. When we finally got around to a phone
interview this Tuesday it was after almost three weeks of her office trying to find
a free block of time. She apologized, and jokingly called her scheduler "the hawk,"
because she keeps the Chief on schedule. "The one thing I found out after I became
chief," she said, "is you have a lot less power after you become chief than you had
before becoming chief." I can attest that she does answer her e-mail around midnight.
Here's our conversation.
How has summer been so far?
I think overall, crime-wise, I'm very happy. Our biggest problem, going back to February
and even January, are the robberies, particularly snatching phones out of people's
hands. There are six or seven cases every day. In February these robberies were up
46 percent. I put everything I got on it, and now it's down to a 9 percent increase
citywide. But a crazy amount of robberies.
What can people do?
The message is easy for us to put out, but it's tough for us to get people to do it.
The single biggest target is the person walking down the street with a phone in their
hand or sitting at a cafe with an iPad. I'm guilty of it, too, but I've got on a uniform.
The [robber] can snatch the phone, run away, and in an hour have it for sale on Craigslist
for $400.
I went to the FCC chairman to help me push the cell-phone industry to blacklist stolen
phones. I said the GSM of North America [Global System for Mobile communications] has to do what they did in Europe, [so] when a phone was reported stolen it was blacklisted
and could never provide service again. They call it bricking. The GSM wouldn't do
it. I went on the Today show. Now they have agreed, and it will be effective October
1.
Is crime down overall, or is it only specific crimes?
We get little spikes in different crimes at different times. Burglaries are down the
most dramatically, down 19 percent. Stolen autos are down. Homicides are down. Last
year we hit a 45-year low, with an 18 percent reduction. So far, this year, homicides
are down 19 percent compared with last year, compared with that 45-year low.
On the increase are sexual assaults, groping cases. Some of that is attributed to
a significant increase in nightlife in Washington. We don't just have Georgetown and
Adams Morgan anymore. There are at least 15 places around the city where you have
a cluster of ABC-licensed establishments. It's a sign of how well the city is doing,
actually.
When you do well, it brings the bad guys?
Right.
You have a new five-year contract. What does that mean to you?
It means I still love my job.
What's stood out for you among your accomplishments of the past five years?
The thing I hated the most during my 22 years on the force was when DC was referred
to as the murder capital. That's bothered me my whole career. There's nothing I'm
more proud of than the dramatic reduction of homicides. We're at 59 murders, and this
is September. The thought is we could be going into the end of the year with under
100 murders. I told a reporter in 2007 that was my goal. I can't say enough about
the homicide unit. They have a 98 percent closure rate. We're no longer the murder
capital or the capital of unsolved murders.
You are a legacy of the Adrian Fenty administration, but the transition to Vincent
Gray seemed to go well. What is your relationship with Gray like?

I think he's extremely tolerant. He puts up with me. He's so pleasant and always so
nice. I bombard him with information. That's the kind of person I am. I try to make
sure I get as much info to him as I can. He says, "You are such a good communicator."
He always makes himself available. He looks at what the priorities are, and he makes
crime a priority, which makes my job easy.
Does the political turmoil at the Wilson building, with the City Council and the mayor,
worry you or in any way affect how you do your job?

You know, I kind of jokingly say I pay no attention to the politics, because if I
started paying attention to the politics I wouldn't be doing the policing. But I try
to pay no attention. Quite frankly, I spend so much time focused on the day-to-day
operations that I don't let that stuff distract.
Have you felt at any time that the City Council was distracted by scandal drama?
That's hard to say. I can't imagine anybody who is the topic of news stories not feeling
a little distracted. I know when I'm the topic of news stories it's distracting to
me.
You must know your name has come up as possible mayoral candidate, were there to be
a special election if Gray resigns—or even in the standard election scheduled for
2014. Are you interested?

I have a lot of people who have asked me about that, a lot of people who said they
are interested in helping me go that way. You know what? I have a job for the next
five years. I really don't have an interest in it. I'm flattered there are so many
people who would support me doing that.
You're young. What about after the next five years?
I don't see me being a politician.
Were you surprised when MPD captain Hilton Burton filed a lawsuit against the department
in regard to what happened to him after the Charlie Sheen episode?

No.
Is there any kind of circumstance now where a celebrity of any kind would get a police
escort from the MPD?

There was before. There have always been rules. But because it's so inside baseball
it was difficult to get how it works out into the press. I brought to the council
hearing [on the incident] several examples going back to 2004, documenting escorts.
But we would never authorize a policeman, on duty or off, in a police car, going out
to Virginia at a high rate of speed, to bring anybody in because they are running
late. We don't do that for any person who is running late. That's the biggest point
everyone missed.
We had to escort some of the entertainers for Barack Obama's inauguration because
due to the sheer volume of the crowds, they couldn't get in. We had to escort them
into the inauguration site. There are legitimate reasons we provide escorts for celebrities.
For example, we do reimbursable escorts for movie sets. We do that all the time.
But going out to Virginia, where we don't have jurisdiction, to escort someone who
is running late, that's just ridiculous.
Have you started making preparations for the inauguration?
Oh, lord, yes. We started nine months ago.
Do you expect it to match the Obama inauguration of 2009?
No. And after that inauguration, there's no special event we can't plan.
I do think you could get pretty good-size crowds, regardless of [which candidate wins].
But if Obama is reelected, because there were a lot of people who wanted to come to
see the first African-American president sworn in, and not everyone could make it
here, they will come this time.
Describe your typical day.
Hectic. Seventy percent of my time is spent on crime. Every Monday, Wednesday, and
Friday, I do a conference call with the detectives, then between 9 and 10 I read my
folder that has everything to do with crimes, and from 10 to noon I go into a meeting
with the crime staff. Then I have regular meetings. Twice a week I get briefed by
my Joint Terrorism Task Force. There are a series of regular briefings. Just my standing
meetings add up to 60 hours a week. I go out on the street for various crimes.
I am at work by 8. Usually I get home around 9 or 10. There are community meetings
two or three times a week in the evenings. I catch up on e-mails until midnight.
Do you live alone?
Pretty much. Except when I'm with my mother or my boyfriend.
He is in the police business, too?
[groans] I try to keep my personal life out of the media. If I say anything, it will
get blown up into a big deal.
How long have you two been together?
A dozen years, and he hates being in the press.
How much of your professional life is in front of cameras?
It's not as bad as it used to be. I'm a big proponent of making sure I give as much
information as possible to the community. I do it through my listservs and the press.
If there's a crime scene, I try to make sure I give a statement to the press so they
know what's going on.
With the school term beginning, what's your focus on the school campuses?
We're happy schools are back in session. Truancy is a biggie. We want kids to stay
in school because they are safer. The other thing is safe passages to and from school.
Is the crime rate in the schools similar to the overall crime rate?
It is shockingly low. You get behavior issues, you get kids who get into fights with
teachers, but those are not criminal issues. There's an occasional theft.
We have been fortunate not to have any incidents similar to Columbine, Virginia Tech,
or Aurora.

Potentially we could have had that two weeks ago with the FRC [Family Research Council] shooting. We got lucky. The guard stopped that gunman from getting any further than
he did. That would have been a much larger incident had he not done that.
On the web it says your nickname is "Blondie." When was the last time someone called
you that to your face, and who was that person?

Last week. It was when we were doing School Beautification Day, and it was someone
from the neighborhood on Georgia Avenue. I used to walk a beat there with
Diane Groomes. She's an assistant chief now. We have the same colored hair. They always called
us both "blondie."
And you don't mind?
No.
*Assistant Chief Sonya Proctor served as interim chief in 1998 after Larry Soulsby resigned and before Charles Ramsay was appointed to the job.