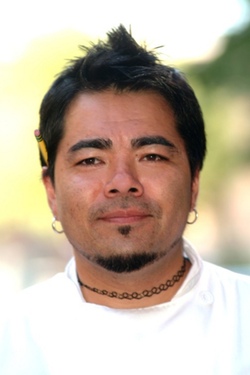 Sushiko
owner
Daisuke Utagawa and his partners have been working on their two forthcoming Gallery Place restaurants—a
40-seat ramen spot and a separate upstairs
izakaya, which will seat about 100—for more than two years. More recently, they added an
additional project to the plans: a cocktail bar at 600 F Street, Northwest, just down
the street from the new restaurants at 705 Sixth Street.
The team—which includes 18th Street Lounge co-founder
Yama Jewayni, chef and Think Food Group vet
Katsuya Fukushima, and designers at the DC firm Edit—traveled to Japan together to gather inspiration
for the new projects. They spent time at the factory in Sapporo that will supply the
noodles for their ramen—noodles that Utagawa and Fukushima agree can not be replicated
in the States. They also visited a lot of restaurants and bars, and it was the Japanese
drinking spots that inspired them to open the cocktail bar. Utagawa points out that
there are virtually no restrictions on liquor sales in Japan, which has helped create
an amazing variety of bars in that country.

What they are trying to determine now is which elements they want to incorporate
into the bar. Will they hand-carve cocktail ice into slow-melting balls?
(Fukushima did pick up an ice pick during the trip.) Will there be some version of
the "shot bars" in Japan? These are the sorts of questions
in the mix. What's certain: There will be Japanese whiskies, there will be snacks
of some sort, and it will be called Kiji Club. "Kiji" is Japanese for green pheasant—it's
the national bird of that country, and a recurring character in its folktales.
As for the restaurants at 705 Sixth, Utagawa says he think they'll open before the
end of the year. When they debut, expect traditional Sapporo-style ramen downstairs,
where soup will be assembled in a small, visible kitchen area with bar seating. Fukushima
is working on some side food items, as well. Later in the restaurant's life, the Japan-born
chef envisions toying with the recipes a bit (the partners recall a transcendent tomato-curry
ramen they tried during their travels), but the first stage is to get the basics rights.
An ongoing conversation about takeout options—how to do to-go right when a bowl of
ramen ideally should be eaten within ten minutes of assembly—goes on. There will be
one beer on draft, but the ramen restaurant is designed to be an in-and-out operation—lingerers
can head upstairs to the
izakaya.
"What is an
izakaya?" Utagawa asks rhetorically. "It's a place where you drink, eat, and be merry. That's
basically it." He mentions the democratic nature of the Japanese
izakaya: businessmen rub elbows with artists and students, and by the end of the night, he
says, they're stumbling out onto the street (or maybe into a nearby ramen restaurant)
arm in arm.
Fukushima is working on a menu divided by preparation—fried, grilled,
simmered, skewered—and was inspired by the super-simple snacks he encountered in his
home country: a wedge of cabbage with a bit of miso, a plate of crudité. The chef,
who moved from Japan to Hawaii at a young age, says he never envisioned cooking Japanese
food, but that this venture has connected him to his roots in profound ways—he's tapped
Utagawa and his parents for recipes and techniques, for instance, and wants his food
to be imbued with the subtle flavors and details he's been discovering over the past
few years­. It's an experience that he says builds on his years creating riffs on
Spanish classics while working for José Andrés at Minibar, Cafe Atlantico, and Jaleo. "You learn to
respect the culture, respect the true thing. Then you make it your own," he says.
See Also:
Kitchen Favorites: Cafe Atlantico's Katsuya Fukushima