What to say about Washington native Michael Chabon's brilliant
new novel, Telegraph Avenue? It's gritty and nostalgic. It's
about race, music, fathers and sons, forgiveness and progress. Its
literary influences include Zadie Smith and William Faulkner, to name just
a couple. It's fresh, it's splendidly American, and it might be the best
novel of 2012.
There's more going on in Telegraph Avenue than can be
touched on in this space, but here's the gist: During the waning summer
days of 2004, two families—the Stallings and the Jaffes—are living in a
neighborhood in East Bay, California, where Archy Stallings and Nat Jaffe
own and operate Brokeland Records, a store offering "unlimited supplies of
music and bullshit on tap."
Brokeland is already struggling when Gibson "G Bad" Goode,
chairman of Dogpile Recordings and "the fifth richest black man in
America," threatens to deliver the coup de grace with the opening of his
new mall—a Dogpile "Thang"—featuring a store that will carry cheap CDs and
a full selection of "vintage vinyl recordings of jazz, funk, blues, and
soul." But things get tricky when Archy, whose father is an old
blaxploitation kung fu film star from the neighborhood, learns that he
shares more with G Bad than his entrepreneurial spirit. Meanwhile, the
Brokeland duo's wives, who run a natural-birthing practice, create a set
of their own problems with a botched delivery. And their kids—well, the
kids are growing up. Fast.
Chabon—who won a Pulitzer Prize in 2001 for The Amazing
Adventures of Kavalier & Clay and is appearing at George Mason
University's Fall for the Book festival this month—is a
first-class stylist. In Telegraph Avenue, a woman's legs are long
enough to "string with telephone wire [and] carry startling messages to
the world." The "bashing" sax on a Coltrane track is "a bee at a
windowpane seeking ingress or escape." A life is "lived at sea level,
prone to flooding." But most wonderfully, the book's entire third section
is a single, sweet, 11-page sentence—as if Chabon were composing a solo in
a jazz number.
"You got the good heart," a character tells Archy. "Good heart
is eighty-five percent of everything in life." But Telegraph Avenue
is such a winner because it's got more than heart—it's got
soul.
John Wilwol can be reached by e-mail at jpw1922@gmail.com and on Twitter at @johnwilwol.
This article appears in the September 2012 issue of The Washingtonian.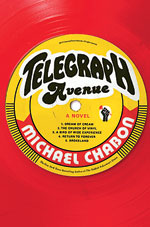 Publisher:
Harper
Price:
$27.99