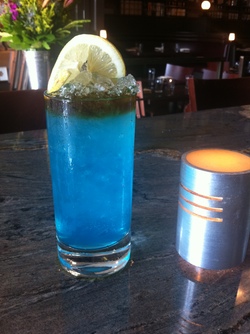 The Long Island Iced Tea may bring back (hazy) memories of college, but there's no reason this booze bomb should be relegated to sophomore year. Just ask Jack Rose Dining Saloon cocktail guru and documented LIT aficionado Rachel Sergi.
"I absolutely love them," says Sergi, whose friend and fellow bartending superstar Gina Chersevani is also a fan. "I love iced tea to begin with, and me and Gina work hard on making cocktails all the time. But every once in a while, we want something that just tastes easy. It's either a Long Island done properly or nothing."
Sergi's advice on being certain that a given bar is an LIT-safe space?
"Ask if they have sour mix on the gun." If the answer is yes, you should
probably steer clear. Better yet, whip up your own version at home with
Sergi's recipe, which doesn't stray too far from the common potent mix
of vodka, gin, rum, tequila, a sour element, and Coca-Cola. Instead of
bottled sour mix, Sergi uses fresh lemon juice and citrusy Bols Blue
Curaçao, and swaps out the Coke float for an easy-to-make cola syrup.
The best news for your end-of-summer bash: You can brew a big batch in
advance (keeping the syrup on the side) and mix to order or let guests
pour their own. It should go without saying, this is one powerful
concoction—consume accordingly.
Post-Labor Day LIT
Makes 1 cocktail
Sergi recommends some of her favorite spirits here, but says any brand of the given liquors will do. Crushed ice, on the other hand, is key. If you don't have an ice maker, pound cubes with a pastry roller or other blunt object in a plastic bag until they've reached snow cone consistency.
For the Long Island Iced Tea
½ ounce American Harvest Vodka
½ ounce Hayman's Old Tom Gin
½ ounce Chairman's Reserve Silver Rum
½ ounce Tequila Ocho Silver Tequila
½ ounce Bols Blue Curaçao
½ ounce fresh-squeezed lemon juice
Crushed ice
½ ounce Coca-Cola syrup (recipe below)
Mix all the ingredients except the syrup in a Collins glass. Add most of the crushed ice. Stir until the liquors are combined. Add a little more ice. Float cola syrup on top and garnish with a lemon fan.
For the Cola Syrup
12 ounces Coca-Cola (we like Mexican Coke), or other cola of your choice
Pour the soda into a saucepan on the stove over medium-high heat. Let it come to a boil, and then reduce the heat to low. Allow it to simmer until reduced to about one-third of the original volume.
Take off the heat and let cool. Store in the fridge in a sealed container for up to one month.