July 13, 2009
A photograph of Amanda Jean Snell shows her in Navy dress whites, a knowing look in her luminous, gray-green eyes and a slight smile on her lips. Her white cap with the dark-blue brim is perched above her ears, the USN insignia front and center over her forehead.
"Pure good in quantities that don't seem they could possibly fit in your tiny frame" is how a friend would later describe her on MySpace.
From an early age, Snell seemed destined for the military. She was born in Twentynine Palms, California—home to the largest Marine base in the world—and her mother, Cynthia, served in the Corps. In high school, Snell was active in ROTC. After graduation, she enlisted in the Navy. She did basic training in Great Lakes, Illinois, then attended the Navy and Marine Corps Intelligence Training Center in Virginia Beach.
In the fall of 2008, Snell was assigned to the office of the Chief of Naval Operations at the Pentagon and moved into Joint Base Myer-Henderson Hall in Arlington. Snell's buddies from civilian life adored her, but she made few friends in Keith Hall barracks, which housed Marines, sailors, and a few Air Force personnel. They wanted to party hard; she didn't. She described herself on MySpace as "kinda isolated."
Snell volunteered as a youth minister at Good Shepherd Lutheran Church in Alexandria, and from her desk at the Pentagon she began dreaming of a life after the Navy: "I want to teach Special Education and kids with autism," she wrote on MySpace. "I guess I have been lucky on that front to find something that I truly value . . . and found my purpose in."
Snell was scheduled to work on Monday, July 13, 2009. When she didn't report for duty, word went out to check her room. The door was unlocked. The bed was made. The room was tidy.
Amanda Snell was found wedged into the locker where she stored her clothes, a pillowcase over head.
She was dead.
• • •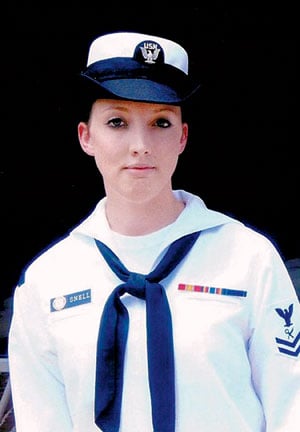 A call went out to the Naval Criminal Investigative Service. When foul play is suspected on a Marine or Navy base anywhere in the world, NCIS agents arrive on the scene.
"The NCIS mission is to investigate and defeat criminal, terrorist, and foreign intelligence threats to the United States Navy and Marine Corps," its mission statement says, "wherever they operate: ashore, afloat, or in cyberspace."
The Amanda Snell case would have made a good episode of NCIS, one of the most popular dramas on television, now headed into its tenth season: How did Amanda—an attractive, healthy, 20-year-old intelligence specialist—come to her end in her barracks? If she was killed, by whom? For what reason?
But for the real-life NCIS, the Amanda Snell case wouldn't play out as neatly as it might on TV.
NCIS's world headquarters was located in the Washington Navy Yard at the time. The DC field office of about 140 agents was in Anacostia; it had jurisdiction over a dozen bases, including the Marine Barracks on Capitol Hill, Naval Air Station Patuxent River, and Joint Base Myer-Henderson Hall.
When Snell's body was found, NCIS agents crossed the Potomac River and went to Keith Hall. They took photographs of her room and searched for clues. Forensic experts examined and bagged her bed linens. The agents began interviewing everyone in the barracks.
The autopsy showed no bruising or signs of struggle. Tests determined that there was no sexual assault, no rape, no indication of sexual activity. A medical examiner's report ruled the cause of death to be "undetermined."
Snell's family and friends told NCIS investigators that she suffered from migraines and that one way she would ease the pounding was to curl up in a dark place and put a sheet or pillowcase over her head. She also had a slight heart defect.
Because there were no witnesses and no evidence of a crime, because her room seemed undisturbed, and because she had a medical history that might explain why she had expired, NCIS forensic agents thought she might have died of natural causes, perhaps by assuming a position that caused her to suffocate.
The paperwork came across the desk of John Wagner, a veteran NCIS agent then stationed at headquarters as deputy assistant director of the criminal division. There were two camps within NCIS: Some believed that Amanda Snell had died of natural causes; Wagner and others suspected foul play. Snell's laptop was missing, as was her iPod.
Wagner didn't buy that she had simply expired, and he declined to accept the "undetermined" cause of death. He directed agents to pursue the case as a homicide.
• • •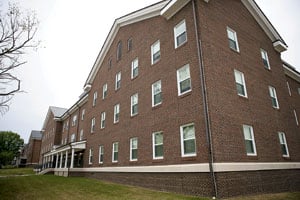 Jorge Avila Torrez lived seven doors down the hall from Amanda Snell.
Torrez, 20, was a Marine, but he didn't come off as the typical jarhead. He was short and slight, and he lacked the swagger that Marines are supposed to display. He had two close friends who also lived in Keith Hall. They called themselves the three amigos.
Torrez had grown up in Zion, Illinois, on the shores of Lake Michigan between Chicago and Milwaukee. His parents had emigrated from Mexico. His father worked in a cardboard factory; his mother was a homemaker. Torrez was close to his older sister, Sara. Friends said he cut class in high school, and when police caught him with a small amount of marijuana at school in 2005, he was expelled.
Like Amanda Snell, Torrez enlisted right out of high school. In April 2009, he was assigned to an administrative job in the Washington area and moved into the barracks at Keith Hall.
George, as he preferred to be called, loved cars and trucks. Away from work, he spent hours playing video games. His friends thought of him as solid and dependable, the kind of guy who'd give you the shirt off his back.
Because Torrez lived down the hall from Snell, investigators asked if he had been in her room or had anything beyond a passing relationship with her. He said no.
He offered to help the agents with their investigation. Could he be their eyes on the base?
They accepted.
• • •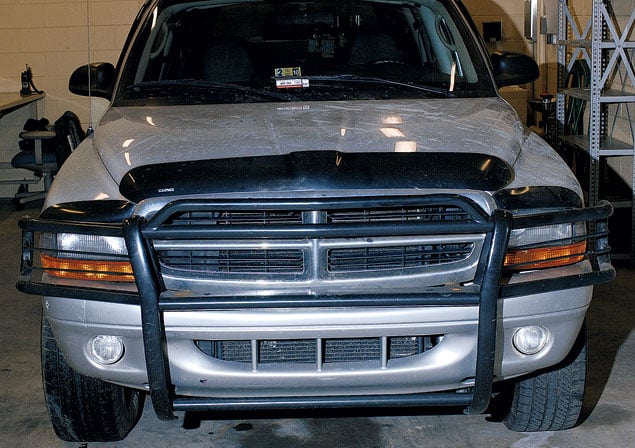 Feb. 5, 2010
Six months later, in the darkened early morning hours, Arlington police corporal T.L. Clifford spotted a silver Dodge Durango cruising slowly along South Shirlington Road. The vehicle caught his eye because he used to own one like it, down to the black off-road grille on the front bumper. Clifford, alone in an unmarked car, saw the vehicle again an hour later on Four Mile Run. He watched the SUV park between two trucks, near the bike path. The driver turned off the lights and the vehicle idled for about 15 minutes, then drove off.
This guy's worth watching, Clifford thought.
Thirty-four years old at the time, Clifford had been working midnights in Arlington for eight years. A native of Vineland, New Jersey, he'd dreamt of becoming a policeman since age five, when an uncle, then a deputy sheriff in Florida, let him sit in his cruiser with the red light flashing. Clifford's beat was what cops call the Valley, a working-class neighborhood that wraps around the west border of the Army Navy Country Club and butts up against I-395.
After working the Valley for eight years, Clifford knew the residents and their routines. Whoever was in the Durango didn't seem to have a purpose—at least not a good one.
Robbery or car theft, Clifford thought. He ran the plates. No outstanding warrants. He wrote the tag number on the back of a business card and stuffed it into his jacket pocket.
The next night, around midnight, Clifford spotted the silver Durango again. A massive snowstorm had blanketed Washington. "Snowmageddon" shut down governments and schools; roads were either impassable or nearly empty. Clifford followed the Durango to Arlington Mill, in South Arlington. He watched as the Durango parked in a poorly lit area. The driver killed the lights and stayed inside. Clifford parked near some townhouses, got out of his unmarked SUV, and watched the Durango through a pair of binoculars.
People were walking to and from the few bars that had stayed open during the storm. After a while, the Durango drove off.
Clifford radioed Officer Andrew Nucelli, a friend who also worked midnights.
"Hey, Nuch," Clifford said, "keep an eye out for a silver Durango."
Nucelli said he'd seen the same car cruising around. "What's up?"
"It's just us and a few snowplows on the road," Clifford said. "This guy's driving around slowly with no particular purpose. And he keeps pulling over and watching people."
Clifford backed Nucelli up at a traffic accident. The Durango drove by with the window down. Clifford got a clear look at the driver: a clean-shaven young man with a black wool cap.
Feb. 10, 2010
Five nights later, another storm hit. Katie Mills was working the night shift as a nurse at an emergency room in the District, and she got off early. She decided to take the Metro to her boyfriend's place in Arlington. When she got out of the Virginia Square station, there were no cabs. She started to walk.
Mills, 25, took back streets past a funeral home and a library and came out on Quincy Street, by Washington-Lee High School. Her boyfriend lived a few blocks away. Snow covered the sidewalks, so she walked in the street. At first she could see others walking up Quincy, but as she came within a few blocks of her boyfriend's house, she realized she was alone.
A man approached on her right side, and she glanced over. She started walking faster.
"Honey," he said, "keep on walking."
He had a gun.
"Here, just take my things," she said. "What do you want?"
She kept talking, asking questions.
"Shut up and keep walking," he said. He put his hand on her jacket and guided her toward 17th Street, where it was darker. She wanted to stay on Quincy and keep walking toward her boyfriend's place, now just a few houses away. She slowed down.
"Where are we going? What are you doing? What do you want?"
"We're going to get into the car," he said.
He led her toward a Dodge Durango.
Mills maneuvered in front of him and got a good look at his face. He tried to force her toward the car, then pulled out a knife.
"No," she said, "I am not getting in that car."
She backed away toward Quincy and kept talking: "I'm a nurse. Don't hurt me. I just got off work. Just let me go. Don't hurt me. I'm not getting in that car."
She described the contents of her purse. He seemed tentative and confused.
"Okay," he said. "Throw it over there."
Mills tossed her purse into a pile of snow and bolted toward her boyfriend's. She started screaming as she got to his door. He and his roommates came out when they heard her.
The man and the Durango were gone.
Mills dialed 911 and got the Arlington police.
Mills said she had gotten a good look at the man who had tried to abduct her. She agreed to meet with detective Don Fortunato, a specialist in using software to create sketches.
Detective Kathryn Rounds, 38, was put on the case. Rounds had come to the Arlington police department in 1995 and moved up to detective in 2008. Before becoming a detective, her specialty was crime-scene investigation.
Katie Mills provided a detailed description of her assailant's face, but she was less sure about the vehicle. She hadn't seen the license plate. She thought it was a light-colored SUV, possibly tan.
Rounds put out a lookout for a tan SUV.
T.L. Clifford was at roll call when he heard about the lookout. He turned to another officer and said, "I think I know that car." But the officer brushed him off, and Clifford didn't tell anyone else.
• • •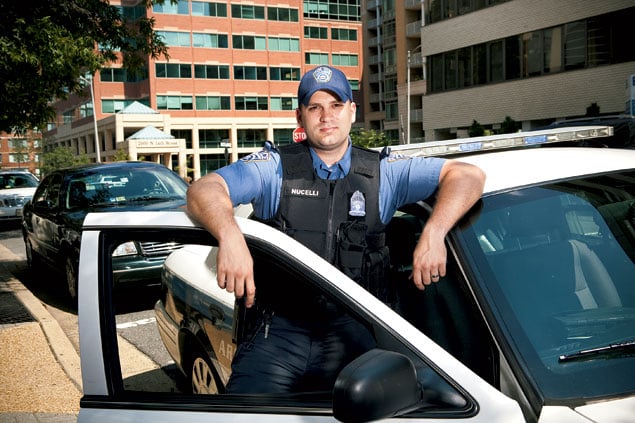 Feb. 26, 2010
Two weeks later, there was still some snow on the ground. On Friday night, Julie Thomas and her friend Karen Marlotti had plans to see friends in DC. They met at Marlotti's house on North Wakefield Street in Arlington and took the Metro to Woodley Park. They hit a party and walked to the Brass Monkey, a bar in Adams Morgan. Around 3 am, they took a cab to the IHOP in Ballston. Around 4 am, they walked up Wilson Boulevard and made a left on Wakefield. At Marlotti's house, they stopped while she dug in her purse for her keys.
Marlotti heard a twig snap, and a man appeared from behind Thomas's parked car.
"Give me your wallets," he said. "I have a gun."
Thomas and Marlotti were both 23. They had been palling around since the fall of 2009. Thomas was the smaller of the two, Marlotti taller and more athletic.
"Keep your voices down," the man said. "Open the door."
They opened the door.
The man, slight and clean-shaven, followed them into the house, took their purses, and ordered them to sit on the couch. "Is anyone else in the house?" he asked. They said no, though a roommate was asleep upstairs.
He told them to kneel next to the coffee table, then bound their hands with the cord of a vacuum cleaner. He left the room and they managed to get loose, but he returned with a kitchen knife and made them get back on their knees. He retied Marlotti with the vacuum-cleaner cord and bound Thomas's hands with the cord of an iron.
He ordered them into the bedroom and told them to get on the bed.
"No," Thomas said. "Absolutely not."
The women weren't sure what the intruder had in mind. He was a small guy. He seemed confused and unprepared. He tried to tape Marlotti's mouth with blue painter's tape. It fell off. He asked if they had duct tape. He seemed inept, but he had the knife and pistol.
When he left the bedroom to search for tape, Marlotti threw herself against the door and slammed it shut. The man had patted them down but hadn't found Thomas's cell phone. She was able to reach into her pocket and dial 911 and then drop the phone into a laundry basket.
The man barged back in, lunged for the cell phone, and smashed it against the wall. He grabbed Thomas by the arm and led her out of the house and into the street, the iron dangling below her tied hands. Marlotti, pulling the vacuum cleaner, hopped to the front door and saw the man drag Thomas down Wakefield.
The man opened the back door of an SUV. "Get in," he said.
Thomas resisted. He shoved her into the back seat and made her lie down.
Marlotti screamed and banged the vacuum cleaner around until her roommate woke up and came downstairs and called 911. Marlotti was hyperventilating but managed to convey the details of her friend's abduction. It was 4:25 am.
Arlington police went on high alert. Crime was at a historic low in the county. Its police department had just 359 officers to keep the peace for a population of 215,000, but the call about the abduction of Julie Thomas mobilized the entire department.
The police set up a command center at Murphy Funeral Home, on Wilson Boulevard around the corner from the abduction, and put out an all-points bulletin for an abducted female.
• • •
The assailant was no longer confused or tentative. He drove into the night through Ballston, keeping his arm on Thomas to hold her down in the back seat. Still, she managed to recognize Carlin Springs Road, Glebe Road, and Ballston Common Mall. He made a few U-turns and parked behind a minivan. He got out and climbed into the back seat.
"You know what's going to happen now," he said.
"No, I don't."
"I am going to rape you."
He unwrapped the iron's cord and secured her hands with packing tape, then put on a condom. "I'm not an idiot," he said.
After he assaulted her, he wrapped packing tape around her face and head, pushed her down between the back and front seats, got behind the wheel, and drove off. They were no longer meandering. Thomas could see they were on a highway, but she couldn't make out the signs. After a long drive, they pulled off the highway, drove aimlessly for a while, and turned onto rough terrain.
Thomas felt the jolts and wanted to throw up.
• • •
Detective Jim Stone was asleep at home in Prince William County when he got the call that a young woman had been abducted. He threw on some clothes and headed to the Arlington police department on Courthouse Road.
First job: Interview Hanna Smith.
Two hours before the man had forced his way into Karen Marlotti's house, Hanna Smith had been walking up to her house near North Wakefield. It was around 2 am. A man approached her from behind and told her he had a gun.
"You're getting in my car!" he said.
Smith refused. They struggled. He pulled a stun gun from his pocket and zapped her on the neck, but it didn't knock her down. She ran inside and dialed 911.
Around 6 am, Stone sat Smith down in an interview room and took her story.
Stone, 48, knows Arlington. He was born in nearby Alexandria Hospital. His parents still live in the house where they raised him and his brother and sister. He graduated from Yorktown High, class of 1982. Six years later, he joined the Arlington PD, spent eight years in patrol, then moved to the criminal-investigation division. Since 1996, Stone had been in the Special Victims Unit. His specialty was sex crimes.
Smith told Detective Stone that her would-be abductor was a short, young guy. She didn't see his vehicle.
Down the hall, Detective Kathryn Rounds was interviewing Karen Marlotti, who had seen the assailant drag her friend away. As Marlotti described the abduction, she kept dwelling on how the man didn't seem to know what he was doing.
"He looked so young," she said. "He could have passed for a high-schooler."
• • •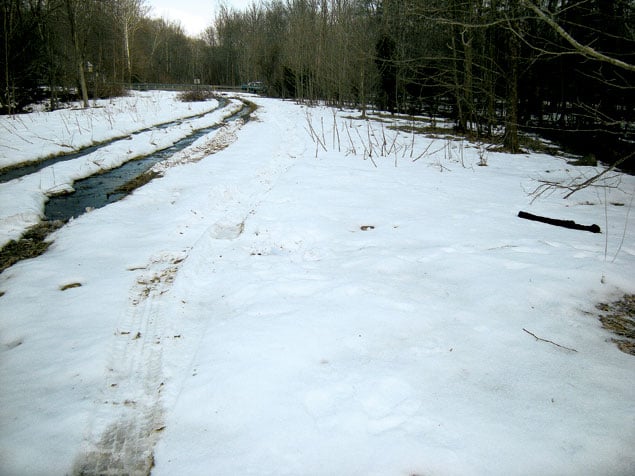 It was nearing dawn when the Durango came to a stop. Julie Thomas sat up in the back seat and said she needed some water. The assailant scooped up some snow, pulled the tape from her mouth, and wet her lips. She could see she was in a wooded area. She could also make out cars on a road behind them.
"That's enough," he said.
Then he got into the back seat and forced her to perform another sex act. She could see the gun on the front passenger seat.
Her hands were still tied. The assailant removed the scarf she was wearing, then rewrapped it tightly around her neck.
"What are you doing?" she screamed.
"What do you think I'm doing?" he said.
He tightened the scarf. She struggled. He pulled harder. The scarf dug into her neck, and she felt her eyes bulge.
She lost consciousness.
• • •
Early that Saturday morning, Thomas Love and his wife, Lynn, were headed to Potomac Town Center in Woodbridge, 40 miles south of Arlington. Because they'd gotten an early start, they took the scenic route, by Prince William Forest Park, and headed east on Minnieville Road.
Love had hit deer on the narrow country road before, so he was driving slowly, eyeing the woods and clearings. As he approached Alps Road, he and his wife noticed something moving in a power-line clearing. Was it a person? An animal? Love pulled over and got out.
Julie Thomas had regained consciousness with her face down in the snow. It took her a few seconds to realize what had happened. She lay quietly for a few minutes to make sure her assailant wasn't around. Then she rolled over, saw the road, and realized she had to get there. She was freezing, soaked in snow and slush. Her legs were weak. Using her arms and elbows, she dragged herself toward the road until she could kneel and then stand.
She reached the road and tried to scream.
Tom Love made out a young woman. Blood was coming from her head, and she was shivering and turning blue. The skin was scraped from the tops of her feet. It looked to Love as if she had been dragged by a car. His wife wrapped her in her coat, took her into the truck, and turned on the heat. They called 911.
"I've been raped and beaten," Thomas said. "Where's Karen? Is she alive? Is she alive?"
• • •
Around 8 am, detective Jim Stone was completing his interview with Hanna Smith—the woman who had been attacked with the stun gun—when Detective Rounds interrupted. "The victim has been discovered," she said. "She's in Prince William County."
Prince William police and an ambulance had arrived on the scene quickly and rushed Thomas to Potomac Hospital. She was badly bruised, but her life didn't seem to be in danger.
Stone jumped into an unmarked car and drove down Interstate 95 to Potomac Hospital. Within 40 minutes, he was at her hospital room.
A forensic nurse, specializing in sexual assault, was examining Thomas. Thomas's entire face was swollen, tiny red spots from burst blood vessels covered her face and neck, and her eyes were bloodshot and spotted—all consistent with strangulation. Dried blood surrounded her mouth, ears, and nose. Her hands and legs below her knees were cut and raw.
Stone began asking questions. Thomas's throat had been damaged, so she responded in a hoarse whisper, but she was lucid.
"Can you describe the vehicle?" Stone asked.
"It was a silver SUV," she said.
It was the first accurate description of the vehicle. Stone called in the lookout.
"I sure hope we catch this guy," he said. They now had reports of two attempted abductions and had seen the damage to Thomas. "This could get really ugly."
• • •
Later that morning, Officer Nucelli was knocking on doors in the neighborhood where Julie Thomas was abducted. Helicopters whirled overhead, and canine units walked the alleys. The night before, Nucelli had just finished a midnight shift when he heard the alert about Thomas's abduction and decided to join the search.
Nucelli, 25, was relatively new to the Arlington PD. Raised in Gettysburg, Pennsylvania, he fell in love with policing as a cop in Ocean City, Maryland. In 2007 he landed a job with Arlington and went on midnight patrol.
"Nuch" and Clifford were tight. Nucelli was taller, leaner, a few years younger, and less intense than Clifford. They loved being cops and talking police work. Clifford was a mentor of sorts for Nuch.
Nucelli paused when he heard the lookout for the silver SUV come through the radio microphone on his shoulder. It took him a few seconds to remember the Durango he and Clifford had noticed cruising aimlessly during Snowmageddon.
Nucelli called Clifford and described the abduction.
"Remember that car in the snowstorm?" he asked. "I have a feeling it might be the same vehicle."
Clifford felt chills run up his neck.
"Should I check it out?" Nucelli asked.
"Absolutely," Clifford said.
"Do you remember the tag?" Nucelli asked.
Clifford recalled writing the number on a business card, but didn't remember where he had put it. He had run the Durango's tag through the electronic system of Virginia license plates.
"Check with the ECC," Clifford said, referring to the police department's Emergency Communications Center, which houses dispatchers and computer terminals connected to other agencies and the Virginia Department of Motor Vehicles.
"Could you recognize the driver?" Nucelli asked.
"Absolutely," Clifford said.
• • •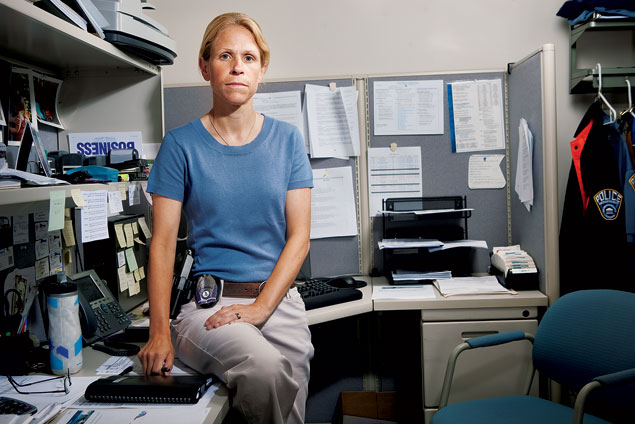 The easy way to check the tag would have been to punch the description and the nights it had been checked into the Virginia State Police online system, but the system was down. The ECC staff had to print out every license plate that had been run during the three-night snowstorm. It took two hours.
The Dodge Durango finally came up. Nucelli sent the tag to Virginia's DMV and got a driver's-license photo in minutes. He e-mailed the photo to Clifford.
"That's him," Clifford said.
The Durango owner was Jorge Avila Torrez, a resident of Keith Hall at Joint Base Myer-Henderson Hall.
• • •
Detective Kathryn Rounds called Katie Mills, the nurse who had fought off an assailant two weeks before Thomas was abducted. Mills was on her way out of town.
"Could you stop by the police department?" Rounds asked. "We have a series of photos we need you to look at."
Mills came to the station with her boyfriend. Rounds set before her a stack of five or six photos. Mills leafed through them She turned over the photo of Torrez.
"That's him," she said.
Mills's ID gave the cops probable cause to arrest Torrez. Rounds had Mills sign and date the photo. The detective then took it to a magistrate and came away with an arrest warrant.
To find Torrez and his SUV, the Arlington cops would have to search Henderson Hall, a Marine installation under the jurisdiction of NCIS. They needed the military equivalent of a search warrant.
Detective Robert Icolari ran communications between Arlington and NCIS. Before coming to the Arlington PD, Icolari had put in 21 years as a Marine and worked for the Naval Investigative Service, the precursor to NCIS. He knew the pitfalls of making an arrest on another agency's turf. "Nobody likes to shit in someone else's back yard," he likes to say.
Icolari called NCIS's DC desk. "We have a Marine," he said. He briefed agents and helped obtain a "commander's search" warrant.
Andrew Nucelli was the only cop on duty who had seen the Durango. He changed out of his uniform and drove to the base with Detective Don Fortunato. They cruised slowly through the Henderson Hall garage.
"There it is," Nucelli said. Torrez's Durango was parked on the first level.
Fortunato phoned Stone, who had checked out the Minnieville Road scene and was back at Potomac Hospital.
"We think we have the SUV," Fortunato said. "Can you give us any details of what's inside? I'm walking right beside it."
• • •
Detective Jim Stone asked nurses if he could speak with Julie Thomas.
"I know you've had a rough day," he said, "but we're making progress. Can you remember anything else about the vehicle?"
"I remember a big boom box in the back," she said.
Stone gave the information to Fortunato.
"Got the boom box," he said. "Anything else?"
Stone asked Thomas for another detail. She said she had been bound with the cord of an iron and that the iron might still be in the back seat. Stone stepped out and called Fortunato.
"I see the iron," he said.
An hour or so later, when Jorge Torrez approached the Durango, Arlington cops arrested him. It was less than 12 hours since he had raped Julie Thomas and left her for dead in the snow off Minnieville Road.
The next morning, Jim Stone returned to Potomac Hospital. Julie Thomas's friends and family had gathered in her room. Stone asked permission to speak with her. She was awake, in too much pain to sleep. He stepped inside.
"I think we have the man who hurt you," he said.
She couldn't manage a smile, but he saw a tear run down her cheek.
Feb. 27, 2010
The interview room on the eighth floor of the Arlington police headquarters is small, about 12 by 12 feet, with tan walls. A small chain with a handcuff is attached to a desk where suspects sit.
Stone had driven back from Potomac Hospital and met Detective Rounds on the eighth floor. Jorge Torrez was seated and cuffed when the detectives entered the interview room Saturday evening.
They spent just shy of two hours with Torrez. For the first 20 minutes, he was talkative, even cordial. "I don't know why I'm here, sir," he said to Stone.
When Rounds asked if he had robbed Katie Mills, he said, "No, ma'am. I don't know what you're trying to get at, ma'am."
Torrez tried to ask questions of his own, as though he could assist the detectives. Stone tired of the game. He reached into a folder, pulled out a photo of Julie Thomas, and slapped it on the table.
"She's still alive—want to look at her?" he said. "She spent the whole morning and afternoon talking to me, no thanks to you. Look at her!"
Torrez focused on the photo. A minute passed in silence.
"You dumped her as if she were dead in Prince William County."
"I don't know what to say, sir," Torrez said.
"First thing you ought to say is, 'Is she okay?' "
• • •
Arlington police towed the Durango to a secure lot and obtained a search warrant.
Inside the car, they found the iron, blood stains on the back seat, Julie Thomas's graduate-school ID, her Metro card, and an earring that had fallen off when Torrez shoved her in the car. A stun gun was in the console.
Torrez's room in Henderson Hall had been secured. Detective Don Fortunato took part in the search, along with evidence technicians and a forensic team from the Arlington PD. NCIS agents were on the scene as well, but this was Arlington's case.
Torrez's room was neat and spare. The detectives found a Glock semiautomatic pistol and seized his laptop. On the computer they discovered he had been cutting and pasting directions on how to use chloroform, a liquid that in gas form can render a person unconscious. His porn collection included fantasies about rape and suffocation.
They bagged his clothes and belongings for potential evidence.
After the Arlington officers reviewed the computer, NCIS seized it. It was one of the first signs that NCIS agents might have realized Jorge Torrez was capable of extreme acts of violence against women.
• • •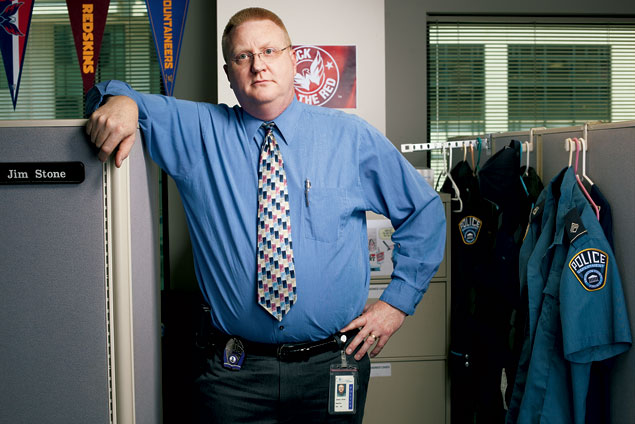 March 1, 2010
Detective Bob Icolari was nearing the end of a long run in law enforcement. A kid from Newark, New Jersey, Icolari had volunteered for the Marines during the Vietnam War. He joined the military police early on, moving up to the criminal-investigations division and then the Naval Investigative Service—a Marine investigating Marines for 21 years.
"You come across stellar Marines," he says. "But you come across countless cases where Marines are involved in homicides, stonings, stabbings. People have a preconceived notion of what a Marine is—how successful they are in war, in leadership, in life. Where did the oddball come from? The Marines draw from society. You can't train out the character flaws."
Icolari retired as a Marine gunnery sergeant and joined the Arlington police department in 1992. He's been a detective for most of the years since.
Because Icolari had served in the Marines, Detective Stone suggested he might have a more fruitful interview with Torrez.
Icolari interviewed Torrez two days after the arrest. Icolari showed Torrez his military ID. He tried to establish a connection with Torrez. But when he started asking questions about sexual assaults, Torrez clammed up and looked away.
"We can put the pieces of the case together forensically, the evidence, the statements of the two ladies," Icolari told him. "The piece of the puzzle that's missing is the piece from you."
He reminded Torrez that he had come from a good family. He asked him over and over for his side of the story.
"I'm looking for your personal courage," Icolari implored.
"I still don't want to talk about the case," Torrez said.
Icolari tried for an hour.
"You're really not a Marine," he said. "You have dishonored us. Do you acknowledge that?"
"Gunnery sergeant," Torrez said, "I understand."
• • •
Detective Stone oversaw the gathering of evidence in preparation for the court case. It's a painstaking process of securing evidence, sending it to labs, cataloging it for prosecutors and legal testimony.
Forensic technicians had gathered blood and semen samples from Julie Thomas, Jorge Torrez, and the Durango, then sent the samples to a Virginia Department of Forensic Science lab in Manassas. It usually takes six months to get results. Stone asked for expedited processing.
Two months later, in early May, the lab returned the DNA results: Torrez's semen was detected on Thomas; it was her blood in the Durango and on Torrez's clothes.
On May 17, 2010, Arlington County indicted Torrez for rape; abduction; abduction with the intent to defile; robbery; the use of a firearm in the commission of a felony; and other charges.
Torrez pleaded not guilty and requested a jury trial.
Later that summer, in mid-June, two detectives from Zion, Illinois, showed up at the Arlington police department and asked to meet with detectives.
They brought a case file and photographs from a grisly double murder five years earlier. On Mother's Day 2005, Krystal Tobias, age nine, and Laura Hobbs, eight, went for a bike ride in their neighborhood. When they failed to return, search parties fanned out. Jerry Hobbs, Laura's father, found their bodies that night in Beulah Park. Tobias had been stabbed 11 times. Hobbs had been sexually assaulted and stabbed some 20 times. Their shoes were arranged neatly beside them.
Jerry Hobbs had a long record and became a suspect. Police interrogated him for nearly 24 hours; toward the end, they got a confession out of him. Prosecutors jailed him and sought the death penalty. When the Zion cops showed up in Arlington, Hobbs was still in jail, though he said that police had coerced his confession.
Along with the photos of the slain children, they brought a DNA report.
Torrez's DNA had gone out on CODIS, a national database, in June when it was linked to his alleged sexual assault of Julie Thomas. The DNA that was found in one of the murdered girls was still in the database. It matched Torrez's.
Jorge Torrez was 16 at the time of the Zion murders, living with his family two blocks from Beulah Park, where the bodies were found. A witness had reported seeing Torrez riding his bike with the girls.
Zion police had interviewed Torrez as a potential witness.
Five years later, the Zion cops who came to Arlington wanted to confirm the DNA hit and gather information about Torrez. Based on the DNA linking Torrez to the murders, Illinois authorities released Jerry Hobbs on August 4, 2010.
As Arlington cops developed the Torrez case, they heard little from NCIS about Amanda Snell. Arlington detectives had worked very closely with NCIS on past cases, and they had a close relationship. In fact, Arlington police had been called in to assist as soon as Snell was discovered dead in her room.
The Arlington cops considered the basic facts of a young woman found dead with no clear explanation or medical cause. Their consensus: It was a homicide.
After the Zion detectives came to Arlington, NCIS agents flew to Illinois to interview members of Torrez's family.
Around that time, in the summer of 2010, NCIS agents requested another meeting with Arlington detectives about Snell.
After Snell's death, NCIS investigators had ordered forensic tests on the bedding from her barracks. But because it wasn't clear that Snell's death was a homicide, the bedding wasn't given priority in the backlog of evidence awaiting testing. The sheets were still in storage. Now there was a reason to expedite the testing. Forensic experts combed the fibers, found DNA, and compared it to Torrez's.
It matched.
• • •
Awaiting trial in the Arlington County Detention Center, Jorge Torrez stewed.
How could he escape the charges? His conclusion: Keep his accusers from testifying. He plotted with other inmates. He drew a map to the home of one of the victims. He was caught with a "shank," a homemade knife. He made threats against a guard.
Unfortunately for Torrez, one of the inmates was an informant. He wore a wire, recorded the plot, and turned the information over to Arlington authorities.
Prosecutor Theo Stamos contacted the four women who had been accosted by Torrez. "We don't think the threats are credible," she said, "but you need to take precautions."
Arlington police put them on special watch.
• • •
Oct. 2010
The trial of Jorge Torrez began on October 12, 2010, eight months after Snowmageddon.
Prosecutors brought 17 charges, among them three for abduction, seven for use of firearms, one for rape, three for forcible sodomy, two for robbery, one for burglary.
Katie Mills, Karen Marlotti, and Julie Thomas all testified.
Torrez, dressed in a dark sport coat and tie, sat quietly at the defense table. He still bore the Marine haircut, but he already had been dishonorably discharged. His parents and sister sat a few rows behind him. He showed no emotion, even when Julie Thomas described the rape in detail. He never testified.
On October 15, 2010, jurors returned guilty verdicts on 14 charges. For the sentencing, prosecutors asked the victims to testify again.
Katie Mills, the nurse who fled when Torrez held her at gunpoint, said: "I am a runner. Every morning I look over my shoulder. I have to run with other people. I cannot run by myself. I have fear, I have anger, and I live with all those things."
Karen Marlotti, Julie Thomas's friend who was tied up but not raped, said: "I used to be a strong, independent woman, and now I feel like I always have to have somebody with me or take cabs. That sense of security is just gone."
Finally, Thomas took the stand.
"I can't be alone in the dark," she said. "I can't sleep, and I'm just angry and upset all the time. He has changed me as a person. He has changed the way I live my life."
The jury sentenced Torrez to five life terms plus 168 years.
On December 10, Judge Benjamin Kendrick handed down the sentences. He asked Torrez to stand, called him a "predator" and a "coward," and concluded: "He never was a Marine."
T.L. Clifford and Andrew Nucelli took an elevator down from the courtroom. Both were in uniform. The family of one of the victims crowded in. They turned to the cops and asked, "Can we give you hugs?"
May 2011
NCIS agent Michelle Robinson had gone to the Arlington County Courthouse and watched the Torrez trial every day that October. In January 2011, NCIS agents had met again with Arlington police. They talked about presenting evidence on the Snell case to a federal grand jury.
On May 26, US Attorney Neil H. Mac-Bride filed papers to indict Torrez in the Snell case. MacBride charged that Torrez "did willfully, deliberately, maliciously, and with premeditation and malice aforethought kill Amanda Jean Snell."
Nearly two years had passed since Snell had been found in her locker. Torrez pleaded not guilty to the federal Snell charges and requested a jury trial. He has been moved from the Arlington jail to Red Onion State Prison, a super-maximum-security facility in Pound, a tiny town in Virginia's far western point. Facing five life sentences, Torrez is unlikely ever to regain his freedom.
In February of this year, US Attorney MacBride filed papers seeking the death penalty for Torrez. MacBride's filing starts with allegations that Torrez killed Amanda Snell. MacBride then wraps in all the charges Torrez was convicted of in the Arlington cases.
Among "aggravating factors to justify a sentence of death," MacBride includes the Zion murders of Laura Hobbs and Krystal Tobias. Illinois prosecutors charged Torrez with the murders in May, but he hasn't been tried yet. MacBride also cites Torrez's proclivity for touring rape sites on the Internet and the threats he made against his victims from jail.
Torrez's death-penalty trial is set for January 2013.
• • •
Arlington cops still marvel at the way Torrez went down.
"I feel we were incredibly lucky," says Jim Stone, the lead detective. "A lot of people made a lot of smart decisions early on."
T.L. Clifford sensing that the Durango driver was acting suspiciously and running the tags. Andrew Nucelli—the only cop on duty who had seen the Durango—deciding to join the search for Julie Thomas after his shift ended. Jim Stone relaying details of the Durango from Thomas's hospital bed to Don Fortunato in the Henderson Hall garage.
Clifford regrets that he didn't pull the Durango over in the blizzard. Perhaps he would have found the stun gun or the Glock. And he regrets not speaking up when he first heard the lookout for a tan SUV.
Clifford pasted a photo of Torrez on his wall with a reminder: "Never second-guess yourself."
This article appears in the September 2012 issue of The Washingtonian. Former intern Ayesha Venkataraman contributed research and reporting. The names of some victims in this story have been changed to protect their identity.