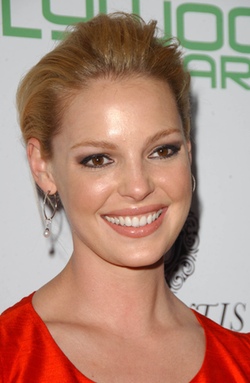 Rom-com royalty Katherine Heigl was in town last night to attend a gala for the Congressional Coalition on
Adoption Institute, but she didn't fill up on bread rolls and banquet chicken, apparently. After the actress and her husband, Josh Kelley—who have two young adopted daughters, Naleigh and Adelaide—were honored at the event, they had a late-night dinner at Fiola along with the Knocked Up star's mother and two friends.
The party sat at the big, round banquette that Maria Trabocchi, Fiola's front-of-house whiz and wife of chef/owner Fabio, calls the Sex and the City table. "It's the perfect table," Trabocchi told Eater DC in a 2011 interview. "You sit very close together and you see the entire room, and it's almost like you see everyone. You can talk about everybody like they would do in the movie."
So what did Heigl and friends eat? "They tried a few of Jeff's cocktails," a rep for the restaurant told us today. In addition to a martini and a Milan Mule (gin, Amaro Abano, lime juice, and ginger ale) crafted by Fiola's superstar bartender Jeff Faile, Heigl's party enjoyed dishes such as Piedmontese beef tenderloin tartare and a tajarin with Bolognese, Parmigiano-Reggiano, and black truffle. Heigl herself feasted on burrata of mozzarella with basil pesto and Amalfi heirloom tomatoes, and smoked-potato agnolotti with Venetian bacalao, scallops, and clams.
For dessert, there was vanilla panna cotta and an ensaïmada, a pastry from Mallorca, Spain.