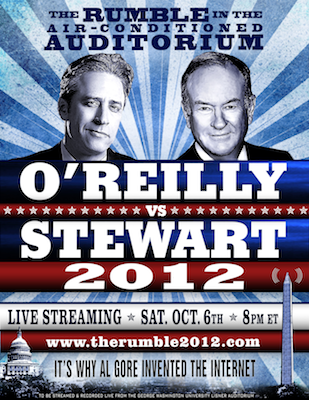 "Theater doesn't make for authentic public discourse," said
Jon Stewart in 2008. So we'll just have to wait and see whether the
Daily Show host's recently announced debate with
Bill O'Reilly will be an evening of Voltairean enlightenment or two grown men yelling at each other
in a Foggy Bottom auditorium.
Stewart and O'Reilly, who'll go head to head in a pay-per-view debate at George Washington
University's Lisner Auditorium October 6, have had something of a mutually respectful
relationship in the past, despite Stewart's nightly digs at O'Reilly's employer, Fox
News. (In a 2010 appearance on
The O'Reilly Factor, Stewart said that Fox has "taken reasonable concerns about this President and this
economy and turned it into a full-fledged panic about the next coming of Chairman
Mao.") And O'Reilly once told Comedy Central's own Stephen Colbert, "I'm effete. I'm
not a tough guy. This is all an act."
Tickets to the O'Reilly/Stewart debate, or "The Rumble in the Air-Conditioned Auditorium,"
as it's being billed, sold out almost instantly when they went on sale this morning,
but the event will be streamed for $4.95 via therumble2012.com, with half of the proceeds
going to charity (Stewart dropped heavy hints last night on
The Daily Show that the charitable proceeds were from his half, but we assume he was joking). Anyone
who pre-orders access to the pay-per-view event before October 1 can submit a question
for the pair to answer during the debate. Here are five things we're hoping they spar
about.
1) The meaning of life.
O'Reilly has taken umbrage with scientist Stephen Hawking in the past for Hawking's
assertion that science can explain the order of the universe. According to Wikipedia,
Stewart, for his part, has an asteroid named after him.
2) Liberal websites.
O'Reilly told Mary Katharine Ham on a 2008 episode of
The O'Reilly Factor that he didn't see "any difference
between [Arianna] Huffington and the Nazis." O'Reilly
also compared the Nazis to the left-leaning website Daily
Kos
in 2007. Given Stewart's disdain for Nazi
rhetoric,
we think some fun could be had with this one.
3) Taxation without representation.
Neither of these New Yorkers seems to have much love for the District, although Stewart's
2010 Rally to Restore Sanity brought
The Daily Show to DC for a week (with none other than
President Obama as a Wednesday night guest),
along with around 215,000 attendees on the Mall. In December of
last year, O'Reilly
shoved a DC resident brandishing a camera with his umbrella,
and then blamed our lax
local laws for allowing "anarchists" to occupy the
streets.
4) Tucker Carlson.
Stewart accused an outraged Carlson of "hurting America" on
Crossfire in 2004. O'Reilly had his own beef with the
bow-tie-sporting Daily Caller editor,
who called O'Reilly a "thin-skinned blowhard" and a "humorless
phony" in
2010,
although the two seemed to have made up earlier this year when
Carlson went on
The O'Reilly Factor to promote a Daily Caller exposé
about
MSNBC.
Presumably, partisan rancor is thicker than water.
5) $4 shrimp.
What would you like to see Jon Stewart and Bill O'Reilly debate next month? Let us
know in the comments.