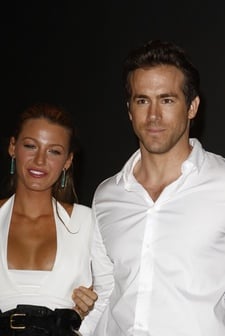 The Washington Post's Reliable Source reported yesterday that newlyweds Ryan Reynolds and Blake Lively followed up their surprise wedding in South Carolina six days earlier with a Saturday night stay at the Inn at Little Washington—and that stay included a late dinner at the restaurant.
"[T]he actress (dark skinny jeans, gold sandals, cream silk blouse) and
actor (light blue shirt, khakis) slipped in through a side entrance for a
late dinner and sat side by side at a secluded table near the garden," reports Reliable Source.
But forget what they wore. We want to know what they ate. A restaurant rep told us that policy prevents it from disclosing exactly which of chef Patrick O'Connell's dishes the svelte duo indulged in, but we did get a copy of Saturday's menu. On offer that evening, appropriately enough: "A marriage of hot and cold foie gras with sauternes jelly and fig marmalade." Of course, no celebrity's publicist would allow him or her to admit to eating foie gras, so who knows?
See also:
Katherine Heigl's Late-Night Dinner at Fiola
A $1,000 Dinner at Rogue 24 With the Inn at Little Washington's Patrick O'Connell (Pictures)