Women's Fashion
Some of Washington's most forward-thinking styles can be found
at Hu's Wear (2906 M St., NW; 202-342-2020) and
Hu's Shoes (3005 M St., NW; 202-342-0202). Owner Marlene
Hu Aldaba stocks her spare Hu's Wear showroom with statement separates
from Yigal Azrouël, Alexander McQueen, Proenza Schouler, and Helmut Lang.
Though her shoe emporium is smaller, each pair of pumps, flats, and
sandals is a work of art; brands include Brian Atwood, Pierre Hardy, and
Nicholas Kirkwood.
The airy boutique Relish (3312 Cady's Alley,
NW; 202-333-5343) dresses lawyers and business types in the edgy yet
intellectual designs of Haider Ackermann, Marni, and Dries Van Noten.
Don't be afraid to ask for assistance—owner Nancy Pearlstein, a veteran of
the Washington retail scene, has trained her sales staff well.
San Francisco import Babette (3307 Cady's
Alley, NW; 202-339-9885) carries flowy, loose-fitting separates in a
variety of colors. Embellishment is minimal, and prints are few and far
between—think Eileen Fisher's quirky twin sister.
Society girls flock to Urban Chic (1626
Wisconsin Ave., NW; 202-338-5398) for floaty Rebecca Taylor tops, colorful
Shoshanna cocktail dresses, and preppy, colorful separates from Trina
Turk, Tibi, and Alice and Olivia. Check the website
for frequent sales, special guests, and trunk shows, where cupcakes and
Champagne are almost always provided.
Next door, newcomer Duo (1624 Wisconsin Ave.,
NW; 202-652-0837) is a budget shopper's dream. Co-owner Kyle Barber
carries trendy, affordable separates from the Addison Story, Ali Ro, and
Dolce Vita. The real draw, though, is Barber's beautiful line of Hippie
Chic jewelry. Beaded in-house—Barber makes the baubles as she minds the
store—the multi-strand pieces often feature beads from vintage necklaces
she has found at estate sales and thrift stores, usually costing around
$50.
Shoe and accessory fiends should head to cozy
Sassanova (1641 Wisconsin Ave., NW; 202-471-4400), where
Tory Burch flats, Loeffler Randall heels, and Jack Rogers sandals sit
prettily atop white lacquered shelves. There's also plenty of classic
jewelry and handbags. Last year, the store began carrying clothes as well,
including stylish separates from Yumi Kim, Hale Bob, and Waverly
Grey.
Walk too quickly and you might miss Wink (3109
M St., NW; 202-338-9465), the women's boutique under Steve Madden. After
paying her dues at Armani and Hermès, Paige Speyer opened this cheerful,
chic spot in 2004 to provide twenty- and thirtysomething women with pretty
pieces from Rory Beca, Mara Hoffman, and Equipment as well as
tribal-inspired jewelry from House of Harlow 1960.
Georgetown's main shopping drag also plays host to trendy chain
boutiques. We like Intermix ( 3222 M St., NW;
202-298-8080) for sexy Friday-night ensembles, Barneys
Co-op (3040 M St., NW; 202-350-5832) for interesting basics and
Alexander Wang bags, and Cusp (3030 M St., NW;
202-625-0893) for denim, party dresses, and a great sales
rack.
Zara (1238 Wisconsin Ave., NW; 202-944-9797),
Madewell (1237 Wisconsin Ave., NW; 202-333-3599), and
Kate Spade (3061 M St., NW; 202-333-8302) round out the
mix.
Gifts and Accessories
Jonathan Adler (1267 Wisconsin Ave., NW), the
first Washington outpost of the New York interior designer, is slated to
open in October. Fans of his signature "happy chic" aesthetic can expect
great housewarming gifts—a quirky vase or salt-and-pepper set—as well as
lacquered coffee tables, patterned rugs, and colorful picture
frames.
A Mano (1677 Wisconsin Ave., NW; 202-298-7200)
carries an elegant mix of gifts, decor, and entertaining supplies—perfect
for the perpetual Georgetown hostess. Our last visit turned up beautiful
Jill Rosenwald ceramics and, for kids, a back room full of handsome wooden
toys.
Dalton Pratt (1742 Wisconsin Ave., NW;
202-333-3256) stocks all things feminine. Downstairs you'll find printed
Samantha Sung dresses, a wall of leather totes and embellished clutches,
and wear-with-everything gold jewelry. Upstairs, the impeccable home-decor
selection feels right out of a tasteful New York City penthouse. A few
items—such as the Camomile Hixon glitter paintings—make a modern
statement.
Jaclyn Mason's Charm (2910 M St., NW;
202-298-0420) is a good place to find one-of-a-kind jewelry. The front
showroom has statement necklaces from Bounkit and party-ready earrings by
Roni Blanshay, but there are also more delicate everyday pieces from
Gorjana. Step one room back for colorful scarves and clutches, and keep an
eye out for the house brand of baubles—they tend to be cheaper and just as
cute as what's available up front.
We're happy to report that the recent move of M29
Lifestyle (2800 Pennsylvania Ave., NW; 202-295-2829) around the
corner to the inner courtyard of the Four Seasons Hotel had little impact
on the shop's inventory—an air of easygoing glam still pervades the
boho-eclectic mix of John Robshaw weekenders, Chan Luu bracelets, and luxe
trinkets for children and men.
Luxury leather goods are the name of the game at
Sterling & Burke (2824 Pennsylvania Ave., NW;
202-333-2266), the only shop in the US to carry the English brand Swaine
Adeney Brigg. Refined attachés, trunks, duffels, and smaller accoutrements
pack the mahogany shelves, making it an ideal destination for Washington's
political power set.
Like design-conscious kitchenware? At the Italian company
Alessi (3319-A Cady's Alley, NW; 202-298-0407),
bird's-nest fruit baskets sit alongside parrot-shaped corkscrews. The
sleek barware and cruets would look beautiful on any dining
table.
The mix at Oliver Dunn, Moss & Co., and Catharine
Roberts (1657 Wisconsin Ave., NW; 202-338-7410)—three stores fill
one spot—feels right out of a provincial French cottage. The six-room
rowhouse and its long, skinny back yard is packed with rustic table
linens, vintage birdcages, topiaries, antique furniture, and more. It's a
good place to stop in for design inspiration.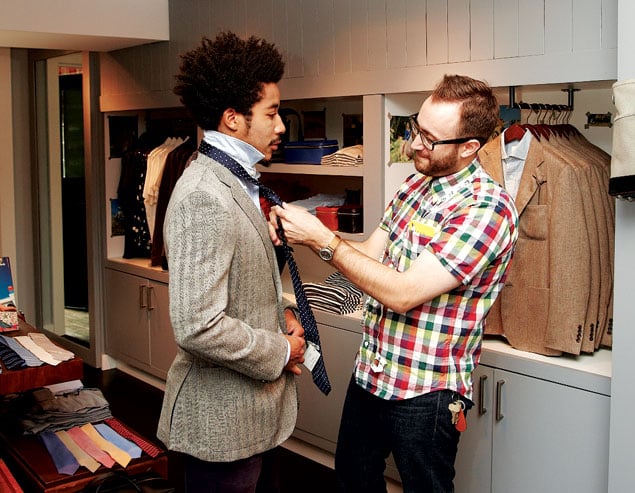 The Sporting Life
Opened in November in the old Tommy Hilfiger space, DC's first
branch of the Gap's athletic brand, Athleta (3229 M St.,
NW; 202-471-4268), veers more granola-crunching hiker than extreme
triathlete. Yoga-lovers will find tanks and stretchy pants; runners can
scoop up pretty sweat-wicking bras and reflective shirts. Headed on an
outdoorsy getaway? The store is especially strong in easygoing casualwear
such as tops with built-in bras and water-resistant running
jackets.
Geared toward urban athletes who spend more time at the gym
than on the trails, the Georgetown branch of City Sports
(3338 M St., NW; 202-944-9600) has everything from at-home exercise gear
to slick equipment bags. Don't hesitate to ask the knowledgeable staff
questions, especially when it comes to finding the right pair of running
shoes.
Serious outdoorsmen can spend hours browsing the North
Face (3333 M St., NW; 202-298-5510), which carries everything
from down jackets to heavy-duty hiking backpacks throughout the year. Rock
climbers, skiers, snowboarders, hikers, and even those just looking for a
new pack will appreciate the patient, laid-back staff.
British Imports
Stocked with rugged leather jackets and motorcycle boots for
men and women, AllSaints (3235 M St., NW; 202-595-9828)
perfected the art of grungy London glamour before it hopped the
pond.
The iconic wax coat at Barbour's (3221 M St.,
NW; 202-298-6032) anchors the 118-year-old company's reputation as a
purveyor of English-country style. At the Georgetown shop, men, women, and
children can find timeless, high-quality jackets, button-down shirts,
sweaters, and accessories.
The flashier cocktail-party set heads to Karen
Millen (1259 Wisconsin Ave., NW; 202-333-0280), where notice-me
party dresses are designed to hug every curve. Heels are high, straps are
skinny, and clutches are sparkly, but you'll never feel as if you're
wearing something out of a teenager's closet.
Prepster's Paradise
Sherman Pickey (1647 Wisconsin Ave., NW;
202-333-4212) is our favorite local boutique for preppy men's and women's
clothing. Yes, there's plenty of Lilly Pulitzer, but you'll also find
smart shifts from Jules Reid, Psycho Bunny polos for men, and charming
bags, bow ties, and colorful enamel jewelry. Don't miss the back wall of
Petit Bateau T-shirts.
Georgetown's recently renovated Brooks
Brothers (3077 M St., NW; 202-298-8797) has the navy blazers,
cashmere sweaters, and pressed chinos of a quintessentially WASPy wardrobe
for men, women, and children.
Also good: J. McLaughlin (3278 M St., NW;
202-333-4333) for classic American looks and, for teens, Jack
Wills (1079 Wisconsin Ave., NW; 202-333-7980).
Just for Men
Guys, sometimes the key to impressing women with your wardrobe
is to let a woman pick it out. Kelly Muccio has mastered the art of rugged
cool, and she keeps her boutique, Lost Boys (1033 31st
St., NW; 202-333-0093), stocked with pieces from Band of Outsiders, Rogan,
and Steven Alan. Bonus: Personal styling sessions in the upstairs Black
Room come with beer and snacks.
The options can get overwhelming at the menswear emporium
Streets of Georgetown (1254 Wisconsin Ave., NW;
202-295-9098)—best to let the dapper sales associates guide you. Southern
gentleman will be happy with the extensive selection of navy, gray, and
khaki suits by Hickey Freeman and Hart Schaffner Marx; there are also
cashmere sweaters and polka-dot bow ties for weekends at the country
club.
We like Jack Spade (1250 Wisconsin Ave., NW;
202-333-1905) for classic-with-a-twist accessories such as
perforated-leather wallets, wooden iPhone cases, and leather weekenders.
You'll also find tailored plaid shirts, subtly luxurious sweatshirts, and
cool work bags.
We're excited for the August 31 opening of the Dutch import
SuitSupply (2828 Pennsylvania Ave., NW; suitsupply.com).
Shoppers can expect the 5,400-square-foot store—the third to open in the
US—to carry enough smartly patterned ties, slim-cut suits, and leather
weekenders to fill an entire issue of GQ.
Vintage and Consignment Shops
At Tari (1525 Wisconsin Ave., NW;
202-621-7500), gently used designer clothes and shoes are allowed plenty
of breathing room on racks and shelves, making it feel more boutique than
consignment shop. Women's clothing skews more glam than at the rest of the
neighborhood consignment stores, and we're happy to report that the men's
section isn't stocked with Western-style button-downs and ironic tees but
crisply pressed dress shirts.
With enough Milly, Nanette Lepore, and Tory Burch to satisfy
both mothers and daughters, Ella-Rue (3231 P St., NW;
202-333-1598) is good for a shopping date—and there's always a friendly
dog around to pet while you shop. Owner Krista Johnson sources from her
socialite friends, which means the selection is always current. And thanks
to a move to a larger space across the street last year, the store feels
more spacious.
Back to the Best of Georgetown ››