If I had a daughter, I'd be sure to get her a copy of Lynn
Povich's crisp, revealing new book, The Good Girls Revolt: How the
Women of Newsweek Sued Their Bosses and Changed the Workplace. And
I'd be especially keen on picking one up if I had a son.
I hope my daughter would be emboldened by Povich's taut,
firsthand account of how a group of razor-sharp, courageous women
successfully fought back against institutional sexism at one of the
country's most esteemed publications. And I'd want my son to see what
jerks men in positions of power can be: "Look here, boyo—don't do
that."
The story takes place during the late 1960s and early '70s at
Newsweek, where Povich says "a segregated system of journalism
that divided research, reporting, writing and editing roles solely on the
basis of gender" thrived. The late Nora Ephron—whose first job after
college was in the magazine's mailroom—told Povich, "For every man there
was an inferior woman, for every writer there was a checker. They were the
artists and we were the drones."
The Good Girls Revolt shows how sex discrimination
demeans both women and men, preventing a business from reaching its full
potential. After the lawsuit, Povich points out, Newsweek was a
better magazine because the newly enfranchised women added things such as
"more diverse story ideas, more quotes from female experts."
The daughter of legendary Washington Post sportswriter
Shirley Povich, sister of talk-show host Maury Povich, and a Sidwell
Friends alum, the author has deep ties to Washington. She talks about
playing catch with former Washington Senators Mickey Vernon and Eddie Yost
during spring training. And the "smart, shrewd, and sharp-tongued" ACLU
lawyer the Newsweek women enlisted? None other than now-DC
congressional delegate Eleanor Holmes Norton.
Many of the women who filed suit were too far along in their
careers to benefit from the outcome fully. But New York Times
op-ed columnist Gail Collins—who says she arrived in New York at just the
right time—counts herself as one who did.
"I know many of the heroines of those battles and they aren't
bitter," Collins tells Povich. "To me, that's the definition of a great
heart."
John Wilwol can be reached by e-mail at jpw1922@gmail.com
and on Twitter @johnwilwol.
This article appears in the October 2012 issue of The Washingtonian.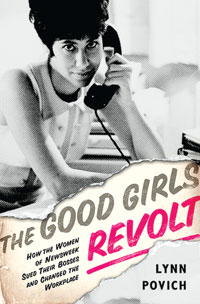 Publisher:
PublicAffairs
Price:
$25.99