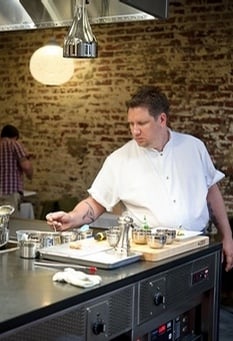 It looks like chef R.J. Cooper can add "web series star" to his résumé. Starting October 4, the James Beard Award winner, Rogue 24 toque, secretive restaurant opener, and co-creator of thousand-dollar dinners will appear in Chefs of Anarchy, a six-episode series on MadeMan.com from the creators of Iron Chef.
The show's platform is an
online men's magazine, and there are plenty of testosterone-fueled touches—think blowtorches, black leather, and Cooper mugging his best Blue
Steel for the camera while swinging a raw hunk of meat. The local chef
is joined by Shannon Ambrosio—a food truck operator (and former boxer) who owns
Come 'N Get It Gourmet BBQ out of New York—and one Joy Lewis.
The trio travel across the
country on motorcycles "anarchizing" traditional dishes, or, in Cooper's
words, creating "balls-to-the-wall, updated takes on American classics."
In the preview you can watch below, this meant a riff on French fries at
Grandma Rose's in Brooklyn that involved a pastry bag, lava salt, and
Ambrosio crushing black sesame seeds with a brass knuckle spice grinder.
Tune in on Thursday to catch Cooper in all his glory.
Chefs Of Anarchy
– Watch More
Funny Videos