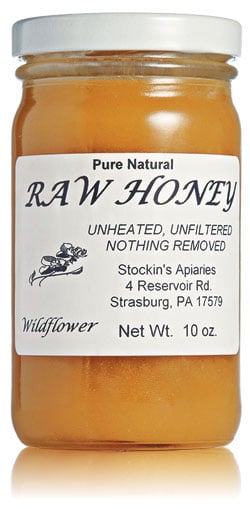 As a native of Lancaster County, Pennsylvania, I'm tickled to see the grocery staples of my youth—chickens raised on Amish farms, for instance—receive star billing on Washington menus. The fascination with Pennsylvania farm products here means I get to try new-to-me foods from home, too, such as raw honeys ($5 to $8) from Stockin's Apiaries in the small town of Strasburg.
I learned about Stockin's from Columbia Room bartender Katie Nelson, a bee-nectar connoisseur who keeps her own hive on the roof of the bar near DC's Mount Vernon Square. Nelson loves orange-blossom honey, which has a delicate, floral aroma and a rich, spreadable consistency—it's great slathered on a buttered baguette for breakfast. Funkier and bolder, Stockin's wildflower honey works well in vinaigrette or diluted into a syrup and combined with an earthy gin and lemon juice for a down-home take on a Bee's Knees cocktail.
You can find both flavors, plus the company's alfalfa and buckwheat honeys, at Smucker Farms of Lancaster County (2118 14th St., NW; 202-986-7332), which specializes in local produce and other regional treats.
This article appears in the October 2012 issue of The Washingtonian.