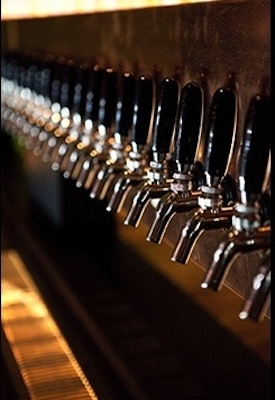 Washington's bartenders are getting a lot of national magazine love of late, confirming
what we already know: The District drinking scene is pretty great and just keeps getting
better.
GQ just published a big beer-filled issue that lists
ChurchKey
and Birch &
Barley
as one of its
12 Bars for Beer Lovers,
alongside Bailey's Taproom in Portland and Brooklyn's Spuytin Duyvil. (Unfortunately
we didn't make it into the 5 Best Beer Cities in America category—damn you, Philly.)
Rogue 24
cheftender
Bryan Tetorakis is named Mixologist of the
Month
by the tony folks at
Wine Enthusiast for his molecular spins on classic
drinks. We've been fans of Tetorakis's work for
awhile, from smoked
highballs
at an outdoor concert to a spin on an Aviation cocktail with a
cherry sphere at a
$1,000-per-person
fundraiser.
Meanwhile, Rogue 24 chef
R.J. Cooper is making a few Internet waves of
his own: He's set to
appear
in a six-episode Web show called
Chefs of Anarchy, beginning this Thursday.
What Washington bars do you think should be getting more attention, national or otherwise?
Leave us your suggestions in the comments section.