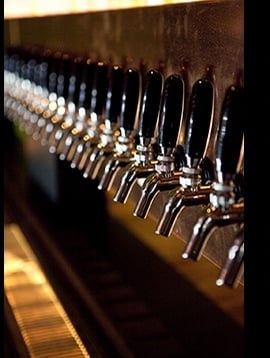 When you think about it, olives taste crazy—salty and intense and complex, they command attention. Pop a kalamata in your mouth at a party, and good luck focusing on the small talk for the next few seconds. Some adventurous souls may have enjoyed olives from the get-go, but many of us recall the childhood experience of biting into the soft flesh of the cured fruit and spitting it out immediately—then avoiding the oily delicacy for the next decade or so. It was too much, too soon. It took me years to come around to olives, but once I got them, they became a favorite food. Like really good funky cheese, smoky Scotch, and wee silver fish, what makes olives so good is how challenging they are, the way they sort of talk back to you. And if you like consuming stuff that talks back to you when you taste it, you're going to want to get into sour ales.
Complex and tart, sours are not what you would call easy drinking—and they aren't easy to brew, either. ChurchKey's Greg Engert, a sour beer obsessive, is collaborating with Bluejacket brewer Megan Parisi on a bunch of them for the forthcoming Navy Yard-based brewery. "Sour Ales are often conjured through spontaneous fermentation," explains Engert, "where naturally-occurring yeast and bacteria, whether air-born or patiently waiting in oak barrels, will transform residual sugars into funky and acidic notes." Brewers can also achieve the same notes "by deliberately pitching those very same yeasts and bacteria into a bourgeoning brew to guarantee a tantalizing tartness."
Anyway, you should try them. And here's your chance: On October 31 at ChurchKey, Engert will host Night of the Living Ales, featuring "32 undead brews, endowed with tart and funk," to be served by the glass and in four-ounce pours (each beer will be priced individually). To tease your taste buds, here are two brews—with Engert's tasting notes—about which he is particularly excited. Both will be on draft on the 31st. Go early, and—why not?—in costume.
Cantillon Mamouche: "Super rare, traditional, spontaneously fermented lambic from Brussels. This was first released in 2009, and is now sought after each time it is released. The wild ale is matured for two years in oak barrels, then the brewers add hand-picked elderflowers."
Brasserie Franches Montagnes 15th Anniversary Ale (Square Root 225th Anniversary): Sour Saison Aged in ASBC Oak Barrels: "Jerome from BFM in Switzerland has sent us a doozy for his brewery's 15th anniversary—a tart farmhouse ale further funkified with aging in oak barrels used to mature ales blended to form his seminal sour brew, Abbaye de Saint Bon-Chien."