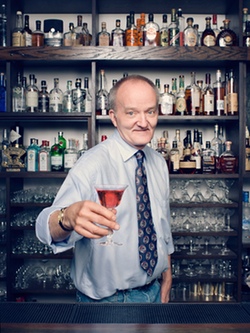 UPDATE: The Passenger's Derek Brown sends word that the bar will be donating 10 percent of all proceeds and 100 percent of all tips earned November 5 (from 5 PM to close) to MurrayAid. Derek and his brother Tom will be bartending, along with Alex Bookless and J.P. Fetherston. Writes Brown: "All you have to do is show up and have a drink for Murray." See you there.
It is difficult to overstate Murray Stenson's significance in the global craft cocktail scene. The career Seattle barman—for years a fixture at Pike Place Market's Zig Zag Café—studied cocktail and spirits history back when that was a highly eccentric thing to do, and his legendary knowledge drew booze nerds the world over to the bar stools at Zig Zag, where they'd sit, scribbling into notepads, as Stenson made drinks and talked shop.
What makes Stenson so beloved to the bartenders he has mentored, however, is his emphasis on the service side of the job. As he told writer Paul Clarke in a recent Imbibe profile, "I enjoy being behind the bar. That's where you meet all the really interesting people."
Now Stenson is sick with a heart ailment that prevents him from working at Seattle's Canon, where he has tended bar most recently. (The throngs who came to see him at Zig Zag eventually became too much for him.) Like a lot of people in his industry, Stenson has no medical insurance, and so his friends have created MurrayAid to raise funds to defray his medical costs. These events have put the spotlight on a larger issue—the vast number of bar and restaurant employees who live without insurance—as evidenced by a tweet by MSNBC liberal commentator Rachel Maddow. She forwarded a link to MurrayAid along with the message: "Someday we won't have to do this—everyone will be covered."
Murrayaid benefits are being planned at bars in Australia, Canada, and across the States.