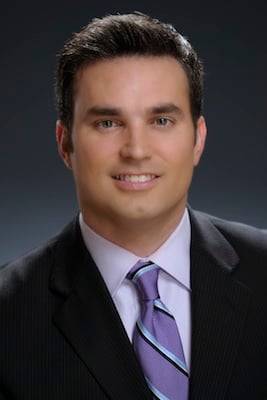 Anxiety over Hurricane Sandy, which some people are calling a "monster," intensified
across the metro area on Friday. Virginia and Maryland declared states of emergency,
calling the moves a precautionary measure. The DC government activated its hurricane
plan and put related agencies, such as Public Works and Transportation, on alert.
As they did for the derecho, area authorities, including the mayor's office and DC
Police, as well as utilities, will monitor the storm and its impact from the Homeland
Security Emergency Management command post in Anacostia.
Most expert estimates still have Sandy tracking toward the East Coast, with a high
possibility of making landfall in the Mid-Atlantic, where it will meet a strong cold
front coming down from Canada.
Doug Kammerer is the chief meteorologist at NBC Washington (Channel
4), where he has been for two years, after moving to Washington from Philadelphia.
We checked in with him to talk about the impending weather, which he said will keep
him working now through the weekend and the duration of the storm.
Up until now, what's been the most memorable weather event in your career?
It would have to be the back-to-back snowstorms of 2010. That entire winter was absolutely
amazing. There was a December storm, but then there were the two back-to-back storms
within days of each other that crippled the entire region from DC up to New York City.
And then the derecho. The derecho was one of the most amazing weather features I've
ever seen. Hitting a major metro area like DC and Baltimore, leaving 1.5 million people
without power. The sheer power of Mother Nature puts a perspective on who we are.
How will Hurricane Sandy compare to the derecho?
They are two completely separate storms. The derecho was a very quick event. In a
matter of one minute, the winds went from nothing up to 70 miles an hour. This storm
will be gradual, and it will be of a very long duration, 24 to 48 hours of strong
winds. The similarity will be with power outages. I fully expect hundreds of thousands
of people in our region will be without power.
Are you that certain it will come out this way?
I'm very certain we're going to get some high impact here, even if it tracks a little
more to the north, which is possible. We will still get very strong winds—40 to 50
miles per hour. A lot of trees will come down. The trees still have leaves, and with
a lot of rain it weakens the tree bases.
And there's also a threat of snow?
There is going to be snow, but on back side and toward the mountains. That's because
[Sandy] is interacting with a very cold air mass out of Canada.
Will there be snow in the metro area?
No.
What's the unique feature of this storm?
The simple fact that it will no longer be a hurricane when it gets here. It will be
extra-tropical, and it will be much bigger than a hurricane. The winds of a hurricane
extend out only about 200 miles. When [Sandy] interacts with the high pressure coming
from the north, it will create a "perfect storm" type scenario, where you're dealing
with tropical-storm-force winds over hundreds and hundreds of miles, with tens of
millions of people losing power from Richmond up to New York and Boston. This has
a very far-reaching impact.
When should local residents begin to check weather updates?
Now. Immediately. The further we can get ahead of the storm, the better. Every six
hours now, we're getting positions from the National Hurricane Center. The forecast
will evolve quickly over the next couple of days.
When will we experience the peak event?
Monday lasting through early Tuesday, but it will start late Sunday. I fully expect
a tropical storm watch or a hurricane watch to [be in effect] by this evening.
Will the impact be such that schools should be closed, that people should stay home
from work?

If I were making that decision and looking at this forecast, I would say many schools
would be closed. It won't be safe for buses or for kids to be walking to school. We're
talking about widespread damage, trees down. It's going to be a very tough day for
a lot of people who try to go to work on Monday.
What everyone wants to know is: what about Halloween? What's the forecast for Wednesday?
Right now it looks cold and breezy, with a chance of showers. I'm not worried about
the weather on Halloween, [but] we could have power outages and trees down in neighborhoods.
Halloween could be a dangerous time.