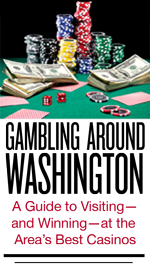 The movie version of a casino can be intimidating: Men wearing
tuxedos. Women in evening dresses. Slick croupiers. Mob bosses named
Bugsy.
The modern American casino is nothing like that. Although
casinos—most now owned by corporations, not mobsters—still compete for and
nurture their biggest players, known as "whales," most casino-goers are
casually dressed men and women who aren't looking to bet or win a fortune
but are just out to have a pleasant evening.
Until the late '70s, you had to travel to Nevada to visit a
casino. In 1978, the Resorts Casino Hotel opened in Atlantic City,
becoming the first hotel casino on the East Coast. For nearly two decades,
Las Vegas and Atlantic City maintained a monopoly on the
business.
In 1983, a small Indian tribe won a federal court battle that
would lead to the opening of Foxwoods Resort Casino in Connecticut in
1992. The early success of Foxwoods led a succession of state governments
to legalize casino gambling. Largely because of the lobbying power of
Atlantic City casino owners, Mid-Atlantic states were slow to approve
competing casinos. In the past few years, however, in a desire to raise
state revenues, Maryland, West Virginia, Delaware, and Pennsylvania have
allowed them to open. Virginia and the District of Columbia have not yet
legalized casino gaming.
In this guide, you'll find a rundown of six of the best casinos
in the region. First, some advice on visiting a casino—and strategies for
winning.
Stay on an Even Keel
Many people feel a shot of adrenaline when they walk into a
casino and see pulsating lights and hear the pinging of slot machines.
Because it's a bad idea to start risking money while your head is
spinning, the best thing to do when you arrive is to wait until that rush
subsides—walk around and watch others before you start playing. Seeing
others lose money will also remind you that more losing than winning goes
on.
Get Carded
The best casinos award you generous food credits and "comps"
for your play. When you arrive, it's a good idea to sign up for a player's
card, which tracks your play when you insert it into a slot machine. The
amount of time you spend playing—and the amount you wager—may generate
offers for free future slot play, and you can earn credits toward meals or
items in the gift shop. In an Atlantic City casino, you might get offered
a free room. A player's card can also make you eligible for prizes and
giveaways throughout the day.
Use Valet Parking
While other regional casinos provide free parking, casinos in
Atlantic City charge $5 to $10 for self-parking. (Often you can have that
refunded once you're inside and officials see you're playing.) It's a
quirk of most casinos that the charge for valet parking is usually the
same as for self-parking. Always use the valet if you can. One reason: In
recent months, major casinos have recorded incidents in their parking
facilities. At the Trump Taj Mahal last year, a couple was shot during a
robbery in the garage.
Stick to Penny Slots
Many people allot $100 or $200 for a trip to a casino, then
head to the slot machines and play until the money is gone. Modern slots
are programmed to typically give a person $100 worth of play per hour.
Most casinos seem to keep 9 to 12 cents of every dollar. The rest goes
back to players, with a few lucky ones winning the lion's share in
jackpots. The casino loses nothing when you win—all the winnings are
generated by other slot players.
To stretch out your slot-machine experience, find the
lowest-denomination machine you can, usually a penny machine. The machine
will allow you to play different lines, so on a penny machine you aren't
really playing just a penny—you could be playing $3 or $6 a spin, thus
giving the machine the flexibility to award you a lot of "wins." The
problem is that if you put in 300 pennies and the machine gives you a
250-penny "win," you've actually lost 50 cents. If you're willing to risk
losing $500 to $1,000, try the nickel machines.
Slot machines, by the way, no longer involve pulling handles or
dispensing coins. They're paper-in, paper-out. They take only bills, and
they pay out with vouchers you can either cash out or use in another
machine.
How to Win Big
To have a chance at winning lots of money on slots, you have to
play the maximum lines and coins on a machine. Otherwise you won't qualify
for the big jackpot usually advertised in lights on the
machine.
The way to win big is to hit bonus screens. A message might pop
up declaring you a winner and moving you to a bonus screen. Some can get
complicated—you might have to catch as many fish as you can or gather up
dresses—but they can be a lot of fun. Your chair may shake when a bonus
round approaches.
Some slot machines borrow themes from movies—such as The
Hangover, Ghostbusters, or The Lord of the Rings. Others are
based on celebrities such as Lucille Ball, Elvis, or Michael Jackson. Many
slot machines play off TV game shows. The world's most popular slot is
Wheel of Fortune, and its latest incarnation comes with a giant communal
screen that several players share. When one wins, all win.
Don't Be Intimidated
While experienced gamblers often head to table games such as
craps, roulette, blackjack, baccarat, sic bo, and pai gow—which involve
more control and less luck than slots—dealers are usually very helpful in
giving advice to new players. (After all, if you win, you'll probably give
them a nice tip.) While you might think everyone else at a table knows
what's going on, usually half the people are learning or just as confused
as you are.
For anyone who doesn't want to look or sound like a rookie, a
great book on basic table-game strategy is Lyle Stuart's Winning at
Casino Gambling. Blackjack players might try Edward Thorp's classic,
Beat the Dealer.
Drinking and Gambling Don't Mix
Gambling and alcohol aren't a good combination. And if you have
to drive home on a winding road from a place like Charles Town, West
Virginia, it can be a real danger. Casinos may ply you with cheap booze in
an effort to separate you from your money. Drink at your
peril.
Tips on Tipping
Even if drinks are free, it's customary to tip waitresses with
either a gaming chip or a dollar. Almost all the service people in casinos
work for tips. For games such as craps, roulette, and blackjack, the
customary way of tipping the dealer is to make a bet for him or her. Slot
players will encounter fewer tipping opportunities unless they hit a
jackpot that has to be paid by hand. When in doubt, tip.
What's That Smell?
It's a myth that casinos pump extra oxygen into the air to keep
you playing. But it's true that scents are put into the air ducts to erase
the smell of booze, tobacco, and three-day-old T-shirts. Borgata in
Atlantic City uses a blend of jasmine, lily, basil, moss, and other scents
that's supposed to evoke a "seductive" feel. At the Revel, which is
promoting itself as an Atlantic City beach resort, management rejected the
idea of an artificial ocean scent, feeling that the real thing would
suffice.
When It's Time to Go Home
It's easy to say but hard to do: If winning is your objective,
try to quit while you're ahead. Driving home with winnings is a singularly
satisfying experience. My advice: Buy something tangible with your
profits, even if it's a pair of socks, to remember your winning
day.
Kim Eisler (kimeisler@me.com), former national editor of The
Washingtonian, is the author of four books, including "Revenge of the
Pequots: How a Small Native American Tribe Created the World's Most
Profitable Casino."
This article appears in the November 2012 issue of The Washingtonian.