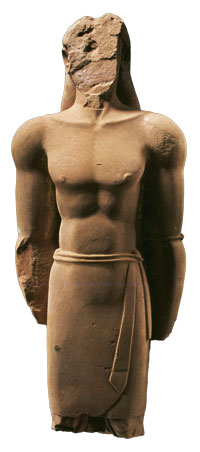 Despite a rich cultural heritage dating back many millennia, very little is known
about Saudi Arabia's pre-Islamic past. The country has only been excavating for 50
years, but its discoveries offer significant new insight into the nation's history,
revealing religious and domestic practices, its significance as a trade route, the
influence of nearby cultures, and the evolution of language.
"Roads of Arabia," an exhibition showcasing 200-plus different historical artifacts
and more than 8,000 years of history, opens at the Smithsonian's Sackler Gallery this
weekend—its first American stop following stints at the Louvre, St. Petersburg's State
Hermitage Museum, and Berlin's Pergamon Museum. "The European tour is testimony to
the importance of the exhibition," says Sackler director Dr.
Julian Raby. The show, Raby says, illustrates "a much more complex history than many of us imagine."
Spread out over two floors of the museum, "Roads of Arabia" explores Saudi Arabia's
past as a trade route between the Middle East, Africa, and Europe for one of the most
valuable commodities of the ancient world: incense. While the country is sometimes
thought of as isolated geographically, it was a vital conduit for merchants. "All
of the great temple civilizations relied on incense, including Greece and Rome," says
Raby. The show also looks at how Saudi Arabia later became a pilgrimage route after
the birth of Islam in the seventh century.
Divided into different sections by geography and historical period, the show is dramatically
lit, opening with three sandstone funeral steles, or grave markers, from the fourth
millennium BCE. The sculptures are distinctly adorned with daggers, belts, and other
forms of dress. Later, a fragment of a horse sculpture from approximately 7000 BCE
shows the animal wearing what looks like reins, revealing that the domestication of
horses by humans dates back much earlier than the previously estimated 3500 BCE.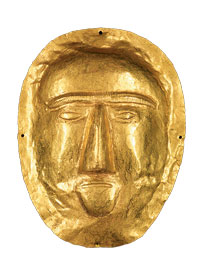 The other items on display range from neolithic tools and ornately carved chlorite
pottery to vast terra-cotta sculptures of male figures. There's also an entire room
of gravestones, revealing some of the earliest forms of Arabic writing. And on one
wall, less flashy than some of the other items, are the only wall painting fragments
known to have survived from the region.
Excavation in Saudi Arabia is a fairly recent development, so some items have never
previously been displayed, even in their home country. "It's an eye opener," says
Raby. "I feel rather humbled by the fact that I was so ignorant about pre-Islamic
history in Saudi Arabia, and I hope that's what will happen for others."
"Roads of Arabia"
is at the Sackler Gallery from November 17 through February 24. For more information,
visit the Sackler's website.