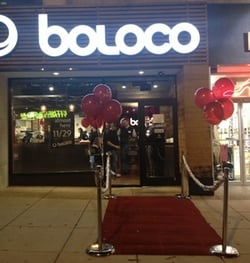 Boloco, the New England-based "globally inspired burrito" chain, officially opens its second area location on 19th Street, Northwest (between K and L streets) at noon Thursday, and is handing out free burritos all day. The great thing about this spot is its customizable menu—but if you're as indecisive as we are, it's easy to get flustered. So we put together a handy user's guide to make sure you'll get exactly what you're craving.
Before you go, ask yourself the following questions:
What time of day is it?
Starting Friday, Boloco will serve breakfast from 7 to 10:30 AM. Think eggy burritos and bowls, including the Truck Stop, with potatoes, bacon, and melted cheese, or the huevos rancheros, with black beans and tomato salsa.
How hungry am I?
Boloco burritos come in three sizes, ranging from "regular" to "seriously, that's all you want to eat?" (a.k.a. mini). If even the regular size won't sate you, opt for a side of chips and guac or salsa (be warned: the habanero salsa has major kick).
How indecisive am I?
If you're torn between two flavors, there's no need to suffer from order regret. Instead, opt for the mini bundle—two mini burritos you can order in any combination you want.
Do I hate people and/or love saving money?
The chain is offering a 10 percent discount for customers who order online through the app or Facebook. CEO John Pepper tells us this perk is designed so customers who just want to get in and get out can do so, making the in-store line shorter for those with questions. To that end . . .
How many special requests am I going to make?
Boloco's menu is completely customizable—you can add whatever you want to an existing offering or create your own from scratch; the only things that cost extra are premiums such as guac and extra meat. If you're extra particular, Pepper recommends ordering from one of the kiosks, which lets you punch in your own order, minimizing mistakes. Tip: We always ask for extra sauce, especially if ordering a bowl; things can get a little dry otherwise.
Do I want something sweet?
For those with a major sweet tooth, allow us to introduce your new favorite thing: the Nutella snack wrap. It's two scoops of Nutella, wrapped in a flour tortilla and heated to gooey perfection. That's it. Yeah, we know.
If you're looking for something a bit less indulgent, the shakes and smoothies are tasty. Go for fruit-based (the Mango Passion is our favorite) or a more desserty flavor like the Jimmy Carter with peanut butter and banana, or the Cookie Monster, with, you know, cookies.
Why should I trust the author of this post?
Glad you asked. This author happens to be a Boston transplant who practically lived on Boloco during grad school, and was the one who first reported the chain's arrival on this site more than a year ago. That's how long we've been waiting for these burritos.
Happy eating! We'll see you there.