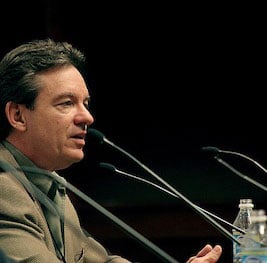 Lawrence Wright, the
New Yorker staff writer whose 25,000-word story "Paul Haggis vs. the Church of Scientology"
caused a stir when it was published in 2011, will debut a new play at Arena Stage
next season. The author, screenwriter, and playwright has written the show about the
1978 Camp David accords, in which Jimmy Carter, Menachem Begin, and Anwar Sadat negotiated
for 13 days before announcing a peace treaty between Egypt and Israel.
Wright's Camp David play was revealed in a story in yesterday's
New York Times
about the writer's newest project, a book based on his Scientology research titled,
Going Clear: Scientology, Celebrity, and the Prison of Belief. Wright interviewed former and current members of the Church of Scientology to explore
the church's relationship with its members. "Scientology is probably the most stigmatized
religion in America already," Wright told the
Times. "But I'm fascinated by it and by what drives people to Scientology, especially given
its image."
Wright won a 2007 Pulitzer Prize for his book
The Looming Tower, a work analyzing the history of al-Qaeda leading up to 9/11. He adapted that book
into a play,
My Trip to Al-Qaeda, which he performed at the Kennedy Center in 2007. The show was described as "an
exquisitely observed travelogue into the dark, twisted heart of Middle East extremism"
by the
Washington Post's
Peter Marks.
In a conversation with PBS's
Jeffrey Brown, Wright said he was compelled to work on the play after seeing Anna Deavere Smith's
Fires in the Mirror, a piece of documentary theater about the Crown Height riots. "I was very struck
by the idea that she had been able to marry journalism and theater," Wright said.
"I got intrigued by the notion that these apparently very disparate disciplines—journalism
and theater—could be put together in a kind of nonfiction theatrical form." He subsequently
wrote another play based on a story for the
New Yorker,
The Human Scale, which
ran at New York's Public Theater in 2010.
Currently titled
Camp David, the play is part of Arena Stage's American Presidents Project, and will be directed
by the theater's artistic director,
Molly Smith. On September 9, Wright tweeted that Smith was his "new best friend" after the play's
first reading.