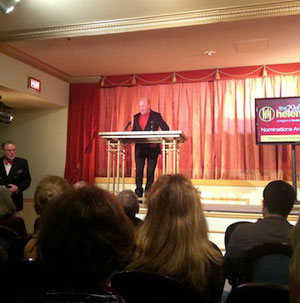 The only surprise at the annual nominations for the Helen Hayes Awards, presented by TheatreWashington, would be if there were no surprise. The process of honoring the best in local theater has something of a reputation for eccentricity, and this year's nominations, announced last night at the National Theatre, were no different.
For starters, the judges' love affair with Toby's Dinner Theater in Columbia, which had seemed to wane last year with only one nomination (for Chicago, for Outstanding Director, Resident Musical) is back on—the theater picked up nine nominations, including eight for The Color Purple (more than any other nominated musical). Meanwhile Synetic Theater, a usual favorite of the judges (it received 15 nominations last year and 14 in 2011), was completely shut out in 2013.
It was also a disappointing night for the Kennedy Center, which received only eight nominations—one more than the much, much smaller MetroStage and Keegan Theatre. Theater J got five, Ford's Theatre snagged four, and Round House and Forum Theatre each only managed one.
As usual, the largest haul went to Shakespeare Theatre and Arena Stage (18 each) with the Folger in third place with 14 nominations (a good haul considering it only staged four shows in 2012, one of which was a touring production of Hamlet by Shakespeare's Globe). Signature and Studio Theatre scored 12 each, with Woolly Mammoth tied with children's theater Imagination Stage for 10.
And the shows the judges loved (well, apart from The Color Purple, anyway)? Woolly Mammoth's The Elaborate Entrance of Chad Deity, a drama set in the glitzy, fake-aggressive world of professional wrestling, and the Folger's Wild West-set Taming of the Shrew, each of which scored nine nominations. Studio's production of Ralph Ellison's Invisible Man and Signature's production of Dreamgirls both got seven, while Arena's Pullman Porter Blues and Metrostage's Jacques Brel Is Alive and Well and Living in Paris were tied with six.
Some of the oddities in the nominations this year: Theater J's Our Class scored a nomination for Outstanding Resident Play, although it didn't get any other nods. Signature's world premiere millennial drama Really Really, which was praised by critics and a hit at the box office, also only scored one nomination for Outstanding New Play or Musical. The Animals and Children Took to the Streets, a production by British company 1927 at Studio Theatre, got one nomination also, for Outstanding Non-Resident Production. In each case, it seems like the wholes must have been greater to the judges than the sum of their parts.
There were also a few technical glitches at the announcement ceremony. It was scheduled to stream live via TheatreWashington's website this year for the first time—but demand was unexpectedly high and the site crashed. TheatreWashington president Victor Shargai called WTOP's Bob Madigan "Tom," and Dizzy Miss Lizzie's Roadside Revue, which scooped the John Aniello Award for Outstanding Emerging Theatre Company, "Dizzy Lizzies." But the evening was at least an affirmation for Washington, which, with 80 professional theaters, is now the second-biggest theater town in the country.
The full list of nominations is available on TheatreWashington's website.