Rick Del Roio and his wife rented a vacation home for four years in Bayside—a resort community on Delaware's Fenwick Island—before deciding to buy something of their own last August. When a five-bedroom, four-bath home came on the market, they purchased it sight unseen.
"It's been a lot of fun," says Del Roio, whose primary residence is in Boyds, Maryland. "We visited in September and October, and the kids had a great time walking on the beach. My wife and I like the fact that they can just run free."
That freedom for their three children—ages eight, six, and two—was a big factor in the couple's decision to buy in a resort community rather than purchase a different home at the beach. The Bayside community includes a golf course, tennis courts, restaurants, and other amenities.
"We knew that with the kids we probably wouldn't be at the beach every day and would want other options," Del Roio says. "Bayside has a playground and two pools, and they put on concerts."
Buying in a resort community has become an increasingly attractive option for people seeking a second home at or near the beach. Often the communities feature not only single-family homes but also condominiums and townhouses at prices that can make ownership attainable.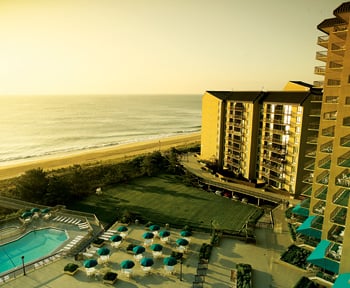 For instance, a one-bedroom, two-bath condo at Sea Colony, a beachside resort in Bethany Beach, Delaware, sells for $240,000, while single-family homes on the water in Rehoboth or Delaware's Dewey Beach start around $2.5 million.
"From an investment standpoint, the beach market held up really well through the downturn," says Justin Healy, who co-owns Ocean Atlantic Sotheby's International Realty. He notes that house prices have remained steady on the water and within a couple of blocks of the beach.
The push for real estate in resort communities started in 2003 when developers from metropolitan areas began building on the Delmarva Peninsula, says Brigit Taylor, managing broker for Resort Quest, a company that manages several large properties near the beach.
Single-family homes outside resort communities do have higher resale values. One reason may be that such communities usually have rules regulating things like occupancy, pets, and boat parking.
Despite these restrictions, Healy says he's seeing a lot of baby boomers looking at resort properties. He points to the community amenities—such as fitness centers and club rooms—that make it easier to meet neighbors as well as the fact that lower-maintenance condos make not only great turnkey second homes but also attractive primary residences when it's time to retire.
Easier upkeep is exactly what Ellen Moy and her husband were going for when they bought their three-bedroom, two-bath condo in Sea Colony. The Arlington residents were looking for a first-floor unit because they didn't even want to carry groceries upstairs.
"Our top three priorities when searching for a second home were fun, proximity—it couldn't be further than a three-hour drive—and amenities," Moy says.
Sea Colony has 12 pools, 34 tennis courts, a community shuttle, and 24-hour security. The community is on a half-mile strip of private beach in Bethany and has lifeguards on duty. Moy, who has two kids, ages eight and ten, fell in love with the resort's proximity to shops and its babysitting service: "I like being able to walk to get coffee or go to a restaurant. We wanted something different from our suburban life."
Though amenities are a good reason to buy into a resort community, they come at a price. Sea Colony's association fees range from $2,500 to $4,000 a year plus an annual recreation fee of $2,112. Even communities farther from the beach, which may seem less expensive at first glance, can come with hefty fees. The Peninsula on the Indian River Bay, a golf community 15 miles from Rehoboth Beach, sells condos for less than $200,000 but charges fees for a mandatory country-club membership, lawn and building maintenance, and association dues, all of which total $600 to $900 a month.
People envisioning secluded vacations with their families may not like a resort community. Because many of the developments are relatively new, young trees offer little buffer from the neighbors. Multi-unit condo buildings or townhouses mean sharing walls.
When it comes to deciding whether to purchase in a resort development, Moy gives this advice: "Discuss what you want out of your second property and know your personality. I wanted a property that was all fun and no maintenance, and that's exactly what we got."
This article appears in the February 2013 issue of The Washingtonian.