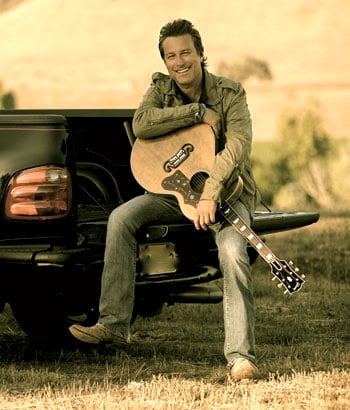 Never accuse
John Corbett of settling for an easy life. The actor, known for his roles on TV (Sex and the City, Northern Exposure) and film (My Big Fat Greek Wedding, Raising Helen) released his second album,
Leaving Nothin' Behind, in February and is currently touring with his band across the US. The glamour of
filming isn't behind him, exactly—he just signed on for a lead role in CBS's
NCIS spinoff—but it's fair to say
it's on hiatus while he's on the road.
"It's tough, I'm not going to kid you," says Corbett. "We're generally in a Chevy;
I do all the driving, I book the hotels on Priceline. I can see how it's easier for
artists who have big buses, but doing it this way, like teenagers, when you're 50
years old takes its toll on you."
Compared with the rigors of touring, acting is "kind of easy to do," says the West
Virginia native, 51. He fell into it with a 1989 guest spot on
The Wonder Years but grew up making music and had his first band at the age of ten, playing with friends
on plastic keyboards and a $40 drum set from the supermarket. "We had little cheap
instruments," Corbett says, "but we learned how to play, and we learned how to make
beautiful noise, and I've been goofing around like that ever since."
Corbett belongs to a generation of actors who moonlight as musicians—from
Kevin Costner to
Hugh Laurie to
Jeff Daniels, each of whom has passed through Washington with their bands during the past few
years. The Bacon Brothers, a country-rock duo made up of
Kevin Bacon and his brother
Michael, play the Birchmere March 1 through 3, and actress/singer
Megan Mullally (Will and Grace) plays the same venue March 8 as half of country act Nancy & Beth, with
Stephanie Hunt (Friday Night Lights, Californication).
"It takes some balls to get out there and sing and express yourself like that," says
Corbett of actors who turn to music. "Nobody likes to sing in front of people—we all
have that kind of shyness about us. But if you get over that, it's a fun thing to
do. We play a three-hour show to 400-person crowds and by midnight there are still
350 people there. So they like it."
Corbett recorded his self-titled debut album in 2005, after a chance meeting with
country star
Joe Nichols at the CMT Music Awards. The two had some drinks and started playing together. "He
said, 'You're not bad, you ought to come back and make a record,'" says Corbett. "Within
a month we'd taken a trip or two and made some demos, and the thing took on a life
of its own."
"What makes this a winning debut," read an Allmusic review of that album, "is that
it feels natural and genuine, as if Corbett isn't trying to parlay his fame into a
music career; he's simply making the music he wants to make. . . . That's a very tricky
thing for an actor launching a singing career to pull off."
If the first record was rock-country, Corbett describes
Leaving Nothin' Behind as Americana, with a more laid-back sound. His distinctive vocals will always remind
fans of his most famous characters, but his rootsy music stands on its own merits.
"It's easy, when you're acting, to have somebody do your hair, and to put on a nice
suit that somebody picked out for you and had tailored," he says. "Somebody gets you
coffee, and if you mess the lines up they just say, 'Oh, take two, do it again.' This
is tough. But when you walk onstage and there are 500 people there to see you, that's
where the glamour is."
John Corbett and his band play Hill Country Live March 21.* Tickets ($20 to $25) are available
at Hill Country's website.
An edited version of this story appears in the March 2013 issue of The Washingtonian.
*Since this story was published, the date of the concert was changed to March 21.