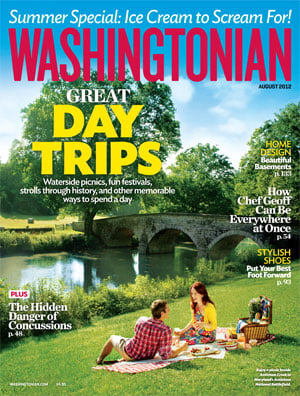 Allow us to pat ourselves on the back for a minute: The 2013 City and Regional Magazine
Association award finalists were announced Monday, and
The Washingtonian is nominated in eight categories—our highest number yet. From Sophie Gilbert's preview
of the Hirshhorn's Ai Weiwei exhibit to Patrick Hruby's gut-wrenching feature on the
devastating hidden consequences of football injuries, our nominated stories represent
a wide range of subjects and categories. See below for the full list of awards
The Washingtonian is up for. We hope you'll revisit the nominated stories—or maybe even discover them
for the first time.
• Criticism—Sophie Gilbert
"Ai Weiwei: According to What? At Hirshhorn Museum"
The Chinese dissident artist and cult figure gets his first American retrospective.
"Roy Lichtenstein: A Retrospective at the National Gallery of Art"
The East Building's new show is a vibrant, thoughtful celebration of the artist's
work.
"Are We There Yet? At the Corcoran Gallery of Art"
The institution presents the third exhibition in its NOW series, a space-themed installation
by Claire Healy and Sean Cordeiro.
• Personality Profile—"The Passion of John Wojnowski," by Ariel Sabar

Haunted by his past, he has stood outside the Vatican embassy nearly every day for
14 years. His lonely vigil has made him a hero to victims of sexual abuse. But will
he ever find peace?
• Feature Story—"The Things They Leave Behind," by Rachel Manteuffel


When the Vietnam Veterans Memorial opened 30 years ago this month, something unexpected
happened: People started leaving things at the wall. One veteran has spent decades
cataloging the letters, mementos, and other artifacts of loss—all 400,000 of them.
• Excellence in Writing—August 2012 Issue
"Great Day Trips," edited by Sherri Dalphonse
Friendly wineries, sandy beaches, horseback trails, fun festivals, new museums, great shopping—and other terrific ideas for whiling away a day.
"Did Football Kill Austin Trenum?," by Patrick Hruby
When a well-adjusted Virginia teen suddenly killed himself, his parents looked for
warning signs they had missed. But Austin had no dark secret, no teen angst. There
was nothing—except for a concussion he had sustained during a football game a few
days earlier.
"Everywhere at Once," by Todd Kliman
Geoff Tracy couldn't clone himself. But as his restaurant empire grew, he did the
next-best thing, creating a complex, data-driven system to ensure that his employees
always do everything the Chef Geoff's way.
"Fish Tales: A Father and Son Fish the Waterways That Flow Through Washington," by
Emmet Rosenfeld

The author has been fishing since he was a teen. Now he shares with his son the lessons
and secrets of the waterways that flow through Washington. You never know what unlikely
spot will turn out to be a honey hole.
"Washington Burning," by Adam Goodheart
The Capitol and the White House both lay in ruins. The President had fled. How had
a foreign power occupied Washington in just one day?
• Blog Column—Shop Around
• Redesign
• Excellence Online
• General Excellence