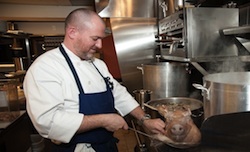 There are two Washington chefs among the ten Mid-Atlantic toques in contention for the People's Best New Chef award from Food & Wine magazine this year. Every March, the magazine publishes a list of 100 up-and-coming cooks in ten regions, and the winner is determined by popular vote.
Toki Underground's Erik Bruner-Yang, the man responsible for the Taiwanese-style ramen at the tiny H Street restaurant, is among the nominees. Joining him is Cedric Maupillier, the former chef de cuisine at Central Michel Richard who now helms the kitchen at Adams Morgan bistro Mintwood Place.
The two men join seven Philadelphia chefs and one Pittsburgh toque—Kevin Sousa—in the Mid-Atlantic category. The guy to beat may be Philly's likable and talented Kevin Spraga, who surprised everyone by emerging victorious on season seven of Top Chef. (He used his earnings to open his new American restaurant, Spraga). If you want to see the honor go to one of our own, be sure to cast your vote before March 18.