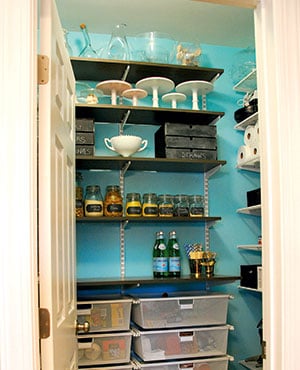 Arlington interior designer Nicole Lanteri came to the rescue
when a client had bought a house that was big but didn't have a lot of
storage space. It did have a pantry off the kitchen that was the size of a
decent walk-in closet, but the cheap shelving and bland walls made it an
unloved dumping ground. "She wasn't actually using the space, because it
was sort of boring," Lanteri says.
Lanteri first painted the walls turquoise. "Trust me, you'll be
much happier," she remembers telling the owner. "You'll make the
'everyday' look better." Lanteri then put down Flor carpet tiles so that
it wouldn't be cold in the winter for bare feet, and also so that falling
objects wouldn't shatter. A counter, too, enables the owner to do light
prep work without having to move into the kitchen.
In addition to a new shelving and labeling system that made
sense, Lanteri asked her client to examine every item that was going to
stay, making sure she kept only the supplies and equipment she used
regularly. Because the stand mixer is pressed into service frequently,
Lanteri put that and other baking supplies on a rolling cart. "You can
just roll that whole thing out—you never have to lift it or use up
valuable counter space," she says.
Pantry Tips
Every square inch of a kitchen cabinet or pantry closet
is valuable. That waffle maker you got for your wedding but never
use? Bye-bye. "Be super-realistic about what you want to keep," designer
Nicole Lanteri says.
Take stock of cabinet space, and reconfigure the
shelves. "Most are adjustable, and most people do not adjust
them," she says. A six-inch-tall coffee cup doesn't need a shelf with a
12-inch clearance. Lowering the shelf above will make room for more
storage.
Low on drawer space? Think aesthetically. Why
not put flatware in vases on the counter and store food containers in the
drawer? "You'd rather see your pretty silverware than your food," says
Lanteri.
If food does need to be kept in plain sight, swap out
its packaging for attractive containers. "They're prettier and
your food—cereal, pasta—will last longer," she says. Alternatively, choose
nicely packaged food and drink, such as San Pellegrino bottles or canned
goods with beautiful labels.
When filling your pantry, look up—and look behind the
door. "Always go vertical," Lanteri says, and place hooks on the
back of the pantry door: "The over-the-door space is really
critical."