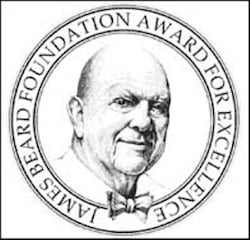 Back in February, the James Beard Foundation announced its long list of contenders for the 2013 Restaurant and Chef Awards—and Washington restaurants and toques did pretty well, with semifinalists in seven categories.
That list is often confused with the nominee list, which was not revealed until Monday, March 18. Beginning at 11:30, the finalists were announced from Charleston, South Carolina.
In addition to restaurant and chef noms, we also learned which food writers would compete for Book, Broadcast, and Journalism awards in 2013. We are incredibly excited to be counted among them—The Washingtonian is a finalist for food coverage in a general interest publication.
The awards will be announced on May 3 and 6. Chopped star Ted Allen hosts the journalism awards. Stanley Tucci is master of ceremonies on May 6 at the restaurant awards. The full list is below.
Restaurant and Chef Awards
Restaurant Design and Graphics, 75 seats and under
Minibar (Jaleo at the Cosmopolitan Las Vegas was nominated in the 76 seats and over category).

Outstanding Wine Program
Best Chef, Mid-Atlantic
Cathal Armstrong, Restaurant Eve
Johnny Monis, Komi
Vikram Sunderam, Rasika
Spike Gjerde, Woodberry Kitchen
America's Classic Award (Winner)

Books, Broadcast, and Journalism Awards
Food Coverage in a General-Interest Publication
The Washingtonian

Health & Well-Being
Aliza Green, Washington Post