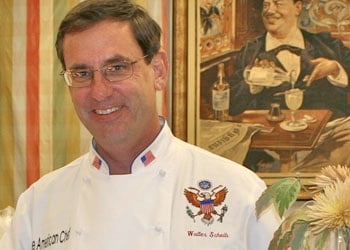 The issue of whether President Obama uses an official "food taster" tiptoed into a pool of controversy this week after a report that he had to refuse lobster salad at a lunch in the Capitol because his taster was not available. Whether that was in fact the case has not been resolved, but a former White House executive chef, Walter Scheib, has stepped forward to try to clear the air. The orginal report was on the Daily Caller, quoting Republican senator Susan Collins, who was at the lunch.
"There is no presidential food taster," says Scheib, who ran the White House kitchen for 11 years for presidents Bill Clinton and George W. Bush. He claims the distinction of bringing "American contemporary cuisine" to White House menus after he was hired by First Lady Hillary Clinton in 1994. It caused quite a stir at the time, he recalls, after years of White House menus abiding to a code of mostly "continental" cuisine.
Scheib says that while there is no "taster" there is still a lot of protection and security involved in what the President eats. "Nothing gets to the President that hasn't fallen under somebody's jurisdiction," he says. "If the President is just grabbing a pretzel randomly at the table, it's been screened."
The White House executive chef and staff have what Scheib calls "top secret presidential proximity clearance," which he says is "basically a food security clearance" and has not changed in the Obama White House. What this means, he says, is "we don't have to be watched," and the kitchen staff can go about their business cooking and serving White House food without a Secret Service agent peering over their shoulders. He says the same applies for a visiting head of state who is dining at the White House. Because it is a secure building, the VIP guest does not send a taster—what Scheib calls a "screener"—to the kitchen. "In 11 years I don't recall anybody from any guest country ever having anyone come in and taste the food. It is a secure facility."
All of this changes when the President leaves the White House compound. Unless specially requested, the White House chef does not travel with the President. The Navy sends a chef/steward on trips to attend to the President's personal food needs. On Air Force One it is the Air Force that handles the food. At Camp David it reverts back to the Navy. On an official state visit to another country, such as President Obama's trip to Israel this week, "there are people who monitor what gets to the President," says Scheib. He would not go into detail, for security reasons, but he says on foreign trips "there are screeners" for the food.
When it comes to the culinary arts, President and Michelle Obama are among the most food forward and adventurous First Couples we've had in the White House in recent memory. They love to eat out in restaurants, particularly in the Washington area, and particularly the trendy places where innovation rules. Yes, Scheib says, in those instances someone is in the restaurant's kitchen, watching. We wondered if this meant there are Secret Service agents who are trained chefs, who understand some of the nuances of modern cooking, whether it's molecular gastronomy, raw fish or meat, or salads made from dirt, bark, and pine needles from the forest floor. Scheib wouldn't say. "I can't talk about the particulars, but there are people in charge of watching anything the President would come in contact with."
We wondered, too, if there had ever been an incident of food from the White House kitchen making anyone ill. "Not to my knowledge. It would have been a very big deal," Scheib says.
Scheib has a website, the American Chef, and travels most of the year (in fact, he was at an airport when we talked) giving cooking demonstrations, making speeches, and appearing on television programs. A California native, he was raised in Bethesda and lives in Great Falls, Virginia. He says that since leaving the White House he "absolutely" landed on his feet: "There is life after the White House." This current kerfuffle bothers him, though, and he implies it is politically motivated. "With the dilemmas facing this country this is not high on the radar," he says, adding that whoever is fanning the flames of the "taster" notion is "intentionally being malicious or unintentionally being stupid."