Editor's note: This article appeared in the September 1980 issue of The Washingtonian.
Although it is past midnight, the clothing store on the top floor of the DC Eagle, one of Washington's busiest gay bars, is still open. Husky young men—habitués of the "leather-Levi" subculture—are still breaking away from the crowded barrooms below and heading up the stairs to the store. They move upward, past walls decorated with artwork of male nudes and mementos of motorcycle clubs, to emerge among racks and shelves of gay-oriented clothing. Here they are offered gear to fit any of the latest machoman fashions.
Step in, sir, and see for yourself. . . . Say, you look like the western type, am I right? We've got everything you need—your button-fly Levis, western plaid shirts, cowboy boots, hats. . . . No? Well, then, let me show you this, the finest motorcycle jacket a man can buy—the best black leather, detachable fur collar, a bargain at $195. Try it on here in front of this mirror. . . . Sure, it's a little big now, but you hit the weights awhile and you'll have the ummmmph to carry it off.
Accessories? Of course. If you're into cruising, you'll want one of these bandanas for your hip pocket, to let strangers know what you like. Here's a little card that explains the color code. Gray means you're looking for light S&M, black means heavy S&M, orange means you go all ways. Remember this, too: Left pocket means you're into a dominant scene, right side you're passive. It's all there. Keep it, compliments of the house.
Now this over here is our toy room. . . . Sure, we sell a lot of these. Can't keep some of it stocked. What's your pleasure? This bondage belt goes for $32, handcuffs for $40, and these ankle restraints for $32 a pair. . . . $32 is a little high? Look, these are fleece lined. . . . Maybe I can interest you in a paddle? Or a leather necktie?
The Eagle advertises itself as a place for hard men—"If You're Man Enough" is its slogan— and the atmosphere in its barroom downstairs follows the theme. Many of the 300 or so customers this Saturday night top off their Levis with tight T-shirts or bare chests to display biceps and pectoral muscles grown large from weightlifting. And the color slides flashing onto one wall are of handsome, brawny males—more or less nude, inordinately endowed, and in various stages of genital commotion.
Along the walls, men stand eyeing those who saunter around the bars. Occasionally, a couple of guys greet each other with a kiss, an embrace, a pat on the rear, or a tug of the hair on the chest.
The action is slowed by an announcement from the loudspeaker: "Just a reminder that Tuesday will be jockstrap night. Don Bruce will be one of our guest bartenders. So bring your jockstrap and drop in at the Eagle. We will have a checkroom for your clothes."
Actually, Don Bruce is no guest at the Eagle. He owns the place, and he is one of the important gay men in town. Not just because he runs a successful business, but because he is getting big in DC politics. Two years ago, when Marion Barry was running for mayor, Don Bruce put on a $50-a-plate fund-raiser at the Eagle and helped with another one at the Lost & Found disco which together raised nearly $8,000 for the campaign. Then last spring, in the DC primary, he was elected an alternate delegate to the Democratic National Convention, committed to Ted Kennedy.
It was no accident that Barry showed up for a drink at the Eagle just before that 1978 mayoral election. It was a recognition that gays have become a significant political force. In the past five years especially, there has been an explosion in gay influence here that startles older homosexuals who grew up having secret lives.
Some of the tremors from this explosion run through local politics. Not only were gays a key to the coalition that put Barry in the DC mayor's chair; they also have won one of the nation's strongest anti-discrimination laws, they have earned the support of much of the DC city council, and many of them now serve on city boards and commissions. It seems only a matter of time before they elect one of their own to the DC city council.
Other tremors are felt in culture and business. There are now nearly thirty gay bars and restaurants in Washington, some of them linked together in a business booster club called Gay Restaurant Owners of Washington (GROW). There is a thriving gay newspaper, gay church, gay health clinic, and many other gay organizations. Everywhere one looks, from discos and clothes styles to the gentrification of inner-city neighborhoods to theater marquees—is evidence of gay influence. Many gays will tell you that Washington—not San Francisco or New York—is the most pleasant place in America for a homosexual to live. Thousands of gays from around the country have moved to Washington, and their numbers grow each week.
• • •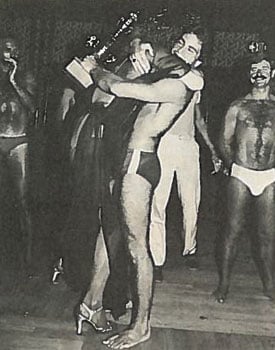 Some heterosexuals would agree with novelist Kay Boyle, who once said that homosexuality is "as engrossing as beekeeping and as monotonous to the outsider." I'm not so sure.
To spend several weeks inside Washington's gay world—to hang out in the bars and discos, talk to the leaders and the rank-and-file, to observe its institutions and big events—is anything but monotonous. The variety a person encounters is at times stunning—and makes glib generalizations impossible. You learn that for every gay customer at the Eagle who projects the most extreme macho style, there are scores of others who don't own a bandana.
Consider a few other extremes: You first meet a health specialist who tells of his detective work trying to find a young drifter who has personally set off a venereal-disease epidemic with a string of "tricks" at a gay bath. But next you meet a couple of middle-aged gay men who are celebrating the 25th year of a monogamous relationship. Or you go to some beefcake spectacle like the local finals of the Mr. Gay America pageant and decide during the swimsuit competition that it is as inane as any beauty contest dreamed up by straights: "Contestant #10 is Ed. Ed is a Scorpio with green eyes who enjoys running and weightlifting." But then you hear a lesbian comedian who belts out those bits of wit that seem to thrive in suppressed cultures. "If Michelangelo had been straight," she says, "the Sistine Chapel would have been wallpapered."
A few other images:
• During Gay Pride Day in June, Marion Barry is standing on a stage at a city park in a T-shirt that reads I'M A DC DEMOCRAT. Out front are 10,000 or so gay men and women listening to the mayor first tell them to register and vote to protect their rights, then apologize that his new baby boy isn't present because he is too young to "come out."
• Two men, dressed in tuxedos and black ties, are holding hands in front of the altar of a church. A gay minister, in red-and-white vestments, is joining them in "holy union." He says, "We live in an age when many of our relationships don't always work, but in this church we are a little strange. We want people to stay together forever."
• In an office building on Capitol Hill, a fundamentalist preacher who has been praying for the repentance of homosexuals rises from his knees and bellows into the television cameras: "God created Adam and Eve, not Adam and Steve." Meanwhile, on the Mall several hundred homosexuals are marching and singing revised lyrics to an old religious standard: "Give me that old lesbianism. Give me that old lesbianism."
• A young black man, a Yale PhD, is sitting in a booth at a café talking about how he recognized he was gay. "I was dating a woman, but I was very conscious of being attracted to men. Once we were at Hogate's, and a waiter came up who I thought was absolutely stunning. I said something like, I wonder how old he is?' My girlfriend said, Why do you want to know that?' Suddenly, I realized that I had let something slip. Eventually, she became aware of the whole thing, which she didn't take too well. But I had reached the point where 1 was only playing a role by acting straight."
• A wealthy gay hairdresser is sitting on his terrace, slicing a bit of pâté that his Brazilian houseboy has brought down from the kitchen, and gazing into his swimming pool, which is decorated on the bottom with a mosaic of Marilyn Monroe. He is talking about the psychological uplift he tries to give customers at his salon. "We love to stroke our customers when they are depressed. After all, we like to be stroked ourselves. I like to think we kiss it and make it better, just like our mothers used to." Then he laughs, leans over, winks, and says, "Sometimes we even cut their hair."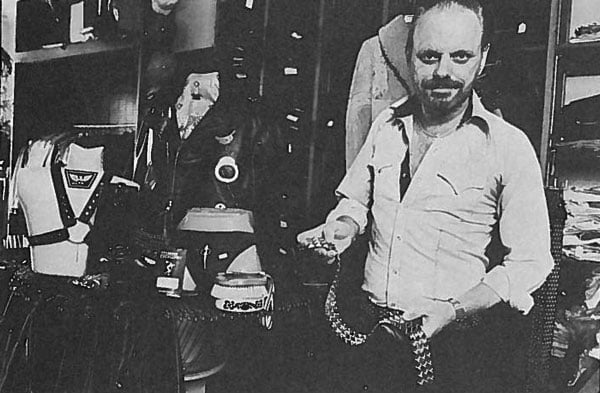 At the Thorn Tree, a gift shop just down Connecticut Avenue from Dupont Circle, late-afternoon customers are searching through the birthday cards. Most concentrate on Hallmark standards. But in one comer, a thin young man with short hair and a mustache in a purple Lacoste shirt and tan slacks is honing in on a different set of cards. They have flashy illustrations, no poetry inside, and themes that probably seem cryptic to the other shoppers. One card shows a group of men-all dressed just like the customer with the Lacoste alligator on his chest with the words "Christopher Street" in script above their heads.
These cards are designed for the gay market—Christopher Street is a famous gay strip in Greenwich Village and the Lacoste alligator is de rigueur in a portion of the gay community. That this man could buy this card in a shop that also caters to heterosexuals attests to the fact that gay life in Washington—once ghettoized and shunted underground is coming into the open. Dupont Circle, although by no means the only gay colony in the city, is an example of the new openness. Gay white males, many of them affluent professionals, have renovated many of the houses in the neighborhood and they have been followed by entrepreneurs who recognize the money-making possibilities.
Four gay bars and restaurants—Mr. P's, the Fraternity House, Rascals, and Friends—have opened near Dupont Circle. Any Saturday night the ambience of the area is so clearly gay that only the most obtuse heterosexual would miss it. Young men, alone or in pairs, fill the streets as they pass from one club to another. The waiting line outside Rascals is all male. The man who comes out of Mr. P's to run his card through the automatic teller at the bank wears a T-shirt from Key West, a major gay resort. And from Friends come strains of a jukebox playing a song with pointed lyrics—Billie Holiday's "Ain't Nobody s Business If I Do."
At a theater above the Circle, La Cage aux Folles, a French comedy about a gay couple, is beginning its 52nd week, making it the longest-running movie in town. Below Dupont Circle, another theater is featuring Can't Stop the Music, a vehicle for the Village People, the group that has done most to popularize macho gay styles with its hit songs "Macho Man," "YMCA," and "In the Navy."
The neighborhood has a store called Lambda Rising, which sells books, magazines and other items aimed at a gay clientele. If a customer wants advice on sexual mechanics or logistics, there are copies of The Joy of Gay Sex and travel guides listing bars, baths, and cruising parks in major cities. If he wants to announce to the world that he is gay, there is silver jewelry shaped like the Greek letter lambda, the accepted symbol of gay liberation, or black buttons with pink triangles, which are a reminder of the tags the Nazis pinned on homosexuals. If he wants to know the enemy, there may still be a copy of Anita Bryant's book around, although it is priced $5 over list, with the profits targeted for the defense campaign against Bryant herself. There is Gay Talk, a hip digest of slang. Some samples: A "clean queen" is a homosexual who cruises laundromats; an "antique dealer" is a young man interested in a wealthy, older man. Finally, for kicks, he may get a T-shirt, perhaps the one that reads so MANY MEN. SO LITTLE TIME.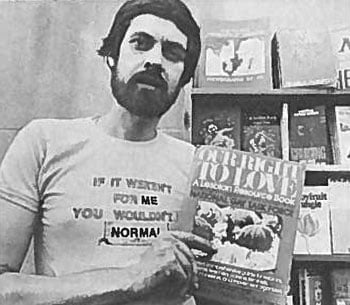 Then there are the 3,000 titles of serious books on the store's shelves. It has scholarly inquiries into the still largely hidden history of homosexuality and studies by social scientists who are attempting to plumb the mysteries of just who is a homosexual and why. And there are scores of books that are reminders of how much gay men and lesbians have influenced literature and the arts. The list of authors includes Sappho, John Milton, Oscar Wilde, Gertrude Stein, E.M. Forster, Christopher Isherwood, Tennessee Williams, Truman Capote, Allen Ginsberg, W.H. Auden, Gore Vidal, and many others.
Another phenomenon, going well beyond Dupont Circle, is the emergence of a cadre of professionals, some gay and some straight, who are now actively seeking gay clients. A number of hairdressers, travel agents, real estate people, dentists, psychiatrists, interior designers, stockbrokers, and lawyers are eager to meet gay needs.
Some of these are needs that straights might never think of. Leonard Graff, one of the city's most visible gay lawyers, writes wills for gays who want to leave their estates to their lovers. He is also defending a gay man in a "palimony" case, challenging Georgetown University's refusal to recognize a gay student organization, and representing a gay "outcall" service. Nan Hunter, who practices with a "feminist law collective," represents lesbian mothers in child custody cases, defends other lesbians against involuntary discharge from the military, and seeks upgraded discharges for those who have been turned out of the military with "less than honorable" discharges and are thus denied veterans' benefits.
Behind this increase in gay business are several factors that would warm the heart of any entrepreneur.
The gay market, first of all, is presumed to be quite large. An educated guess, based on reputable sexual surveys, is that ten percent of American men and five percent of women are homosexuals. Not all of those people buy—or vote—on the basis of their sexuality, of course, but enough do.
Gays, particularly white males, also are quite affluent—with incomes well above the national average. And much of that income is disposable. With no children to provide for, they are able to spend more on clothes, travel, entertainment, decorating, and other goods and services.
Recently, too, gays have become reachable through the gay press. Washington's biweekly Blade has grown in ten years into a 32-page tabloid that offers a specialized advertising medium in addition to its news and features. The same is true for a local weekly entertainment magazine called Out.
In their pages you will find ads for clothing stores that specialize in styles popular with gays, ads for gay resorts in Key West and Provincetown and Fire Island and Rehoboth Beach, as well as ads for baths, restaurants, theaters, and bars. A sample ad from the DC Eagle: "Tied up after work? Drop in for happy hour and let us help loosen those knots."
The Blade carries a few national ads—for Finlandia vodka, Miller beer, and National Car Rental—but most corporations have stayed out of the gay press. A few companies make up for it with ads in the straight media that seem to work especially well with the gay market. Take the Marlboro man—he of the rugged, western, he-man virility. "You may look at that ad and see an ordinary cowboy," says one gay man. "But a lot of us see a hot stud."
Three of the past five presidents of Washington's Gay Activists Alliance have held the position while simultaneously working for the federal government. You might think that is natural enough in a city of so many federal workers, but in fact it is a measure of the advances in gay rights here over the past decade. Ten years ago, the GAA didn't exist as an effective political organization, homosexuals were barred by federal policy from all government employment, and the idea of organized gay clout at the polls was not dreamed of by even the most visionary activists.
To understand the development of gay politics in Washington requires going back to the early 1950s, when official "fag baiting" was in its prime and when "queers" were purged as subversives.
Jonathan Katz, in Gay American History, has uncovered good examples of the attitudes of that era. The head of the District's police vice-squad had four detectives who did nothing but compile lists of homosexuals so they could be fired from government jobs. A congressman from Nebraska, who also was a physician, espoused to the press the theory that homosexual desire followed the same rhythm as the female menstrual cycle, and could be restrained only by "large doses of sedatives." A pair of journalists published a book that included a chapter called "A Garden of Pansies," which advised that "the only way to get information on fairies is from other fairies . "
Such attitudes made it risky to be a practicing homosexual anywhere in the country, but especially if one worked for the government in Washington. Anyone frequenting the cruising grounds in Lafayette Park, across from the White House, might be arrested on a sodomy charge by a vice-squad detective. Anyone going to one of the handful of gay bars, like the Chicken Hut, might be spotted by someone. Or if you went to a private party, a friend there might be picked up later by police and give out your name under questioning.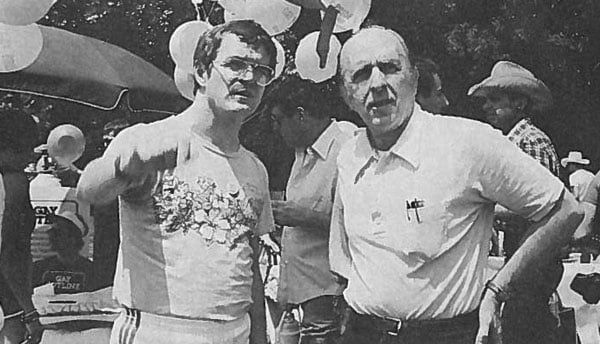 By whatever route, your name might eventually end up on a list of' "suspected homosexuals" that floated around among local and federal law-enforcement agencies, and you might be called in by your agency and confronted. Most people in this position quietly resigned. How many careers were affected during the postwar period will never be known, although a Senate committee reported 4,954 cases between 1947 and 1950.
One who didn't go quietly was Frank Kameny, a man who was eventually to become the champion of gay politics in the city. In 1957, Kameny was a shy 32-year-old homosexual, who had just finished his PhD in astronomy at Harvard and taken a job with the Army Map Service. That fall, while on an official trip to Hawaii, he got a call from his agency ordering him to return immediately to Washington. When he got back, Civil Service investigators called him in and told him they had "information" leading them to believe he was a homosexual, thus ineligible for a federal job, and asked for his comment. Kameny asked what the information was and who had given it to them. Sorry, they said, we can't reveal sources. Sorry, Kameny said, I can't answer the charges. Besides, he said, homosexuality was irrelevant to government employment. It was a standoff then, but a month later Kameny was fired. Four years later, after appeals to the White House and Congress and the lower courts, the Supreme Court settled the matter by refusing to hear his appeal.
In the fall of 1961, having decided that an individual could not fight alone, Kameny helped organize the city's first gay organization. About a dozen men, whose names were culled from the mailing list of a gay group in New York, met in a room at the Hay-Adams Hotel to organize the Mattachine Society of Washington. It was hush-hush, with hardly anyone except Kameny using his own name.
Just as the meeting was to begin, one of the men took Kameny aside and asked him if he realized that one of the ostensible homosexuals inside was really a vice-squad detective and that the bulge in his coat was a pistol. They let the detective stay for the meeting, although Kameny asked at the end if the gentleman from the police department had anything to add and the man mumbled something about "just gathering information." The police had known about the secret meeting, it turned out, because they had earlier put a fake name on the New York mailing list.
About this time, in the early 1960s, Kameny and a few other gays were beginning to see some parallels between their position as homosexuals and that of blacks. Both were minorities out of the cultural mainstream, both lacked conventional political power, and both had to some extent internalized their own oppression.
Many homosexuals seemed to believe the indictment against them—the indictment of the government that they were dangerous employees, the indictment of the churches that they were sinful, and the indictment of psychologists that they were sick. Kameny didn't believe that, but he was in a minority and looking for a way to activate some opposition.
"I remember sitting here one day watching Stokely Carmichael on television talking about how 'Black Is Beautiful,' and that started me thinking we needed some sort of slogan," he says. "I fooled around awhile with 'Gay Is Great,' but finally settled on 'Gay Is Good.'"
Later on, that was one of the slogans all the buttons that gays wore when they picketed the American Psychiatric Association to demand that homosexuality be removed from its list of "mental disorders," something done in 1973.
Kameny and other gay leaders also began to take tactical cues from the civil rights movement. In 1965, they began picketing in front of the White House, the Pentagon, the State Department, and the Civil Service Commission. The demonstrations were small, and they gathered only a little publicity. Certainly not as much as the sodomy arrest a few months earlier of Walter Jenkins, a top aid to President Johnson, in the YMCA at Eighteenth and G Streets, two blocks from the White House.
Four years later, in 1969, the violent resistance by homosexuals to a police raid at Stonewall, a Greenwich Village bar, provided a rallying point for a national gay-rights movement. But of more significance in Washington was the election in 1971 to fill the new nonvoting DC delegate seat in Congress. The race attracted a large number of candidates, including Frank Kameny. He realized he had no chance of winning, but he had a surprisingly easy time collecting 7, 700 signatures to get on the ballot, and he gathered much free publicity for the gay-rights issue.
Walter Fauntroy won and Kameny came in fourth, ahead of all the minor candidates, including the Reverend Douglas Moore, who was developing into one of the gay community's most staunch enemies. Kameny got I,888 votes, and when he and his young campaign manager, Paul Kuntzler, analyzed the results, they saw a few precincts in Foggy Bottom and Capitol Hill where he drew eight to ten percent of the vote. Here was a hint that there was a gay vote out there waiting to be organized.
Out of the nucleus of the Kameny campaign came the Gay Activist Alliance, an organization that began winning important victories. In 1972, the DC school board passed a resolution prohibiting discrimination against gay teachers. In 1973, the DC city council passed a human-rights law that banned discrimination in jobs, housing, and public accommodations against several groups, including gays. In 1975, the DC city council cut off funds for the part of the vice squad assigned to keep tabs on homosexuals.
Throughout the early and mid-1970s, the GAA sponsored forums and questionnaires to elicit the views of local candidates on gay issues. But the group never plunged fully into party politics with endorsements and fund-raising. That was left to a new gay organization called the Gertrude Stein Democratic Club, formed in 1976 by Paul Kuntzler, a television producer named Richard Maulsby, and a few others.
The Stein Club, dominated by white professionals with liberal Democratic leanings, has been the vehicle for organizing gay power in DC ever since. In 1978, the club endorsed Barry early when he was far behind Mayor Walter Washington and Council Chairman Sterling Tucker in the polls, and it eventually delivered the gay vote as a decisive factor in Barry's narrow victory. In that same election, the club worked hard to elect Arrington Dixon as chairman of the city council over Douglas Moore, who had once labeled gay leaders "fascist faggots."
Last spring, the Stein organization turned out so many people in the pre-primary caucuses that it easily slated six gay men and lesbians to run as Kennedy delegates to the Democratic convention. Included were Kameny; Don Bruce of the Eagle; Steve Brown, a George Mason University professor who is president of the Stein Club; Paul Kuntzler, a founder of the Stein Club; Mel Boozer, a black sociology instructor at the University of Maryland and president of GAA; and Kris Blackwood, president of the DC chapter of the National Organization for Women who works as an aide to Representative Barbara Mikulski of Maryland. In the primary, the voters elected Brown as a full delegate, while Bruce, Boozer, and Blackwood were chosen as alternates. Kuntzler, whose defeat was a bit of a surprise, was later added to the delegation as an alternate by the District's Democratic committee.
Part of this success, which has brought politicians running for Stein Club endorsements, is based simply on the large number of gays who have moved into the District and registered to vote. No one knows how many there are, and all estimates are open to some question. But Kuntzler carries around a map that has 22 shaded precincts where he thinks at least 20 percent and perhaps as many as 33 percent of the voters are gay. The shaded area covers parts of Dupont Circle, Capitol Hill, Foggy Bottom, and Adams Morgan.
Kuntzler also likes to remind people of another statistic: Those 22 gay precincts cover 20 of the 21 precincts where Barry piled up a majority of the vote in 1978—a crucial margin that helped him make up losses elsewhere in that close three-way race.
Many of these gay voters also have extra cash that is useful to politicians in campaigns, and their sense of persecution often makes them highly motivated in campaigns for special friends like Barry or special enemies like Moore.
Gays also turned out for Barry as volunteers—making up more than half of his phone-bank workers, according to one estimate, and about a quarter of his poll-watchers. Equally important, gay activists registered several hundred new voters with appeals in gay bars and at private, sometimes secret parties. Luckily for Barry, many of these voters were newly politicized by fresh memories of Anita Bryant's Miami crusade against homosexuals.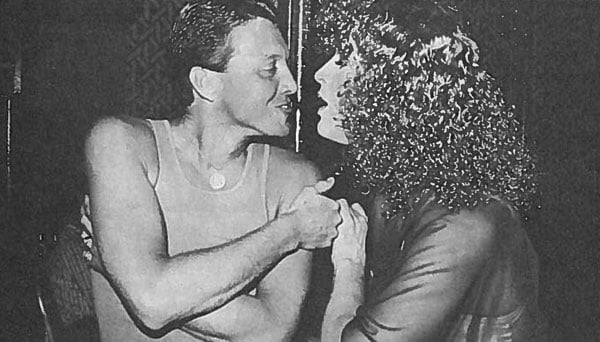 Another factor in the gay success in DC politics is the pragmatic style of their leadership. In some cities, gay activists are purists who fight among themselves, avoid mainstream politicians, and get little accomplished. But here, the Stein Club works within the regular party organization and is adept at the nitty-gritty of campaigning. By calculation, gay activists here are also unthreatening in appearance to straights. At Gay Pride Day, there may be a few drag queens and heavy leather types walking around, but the Stein Club booth has people in golf shirts, selling chilled Perrier and handing out Ted Kennedy fliers.
Having delivered for Barry two years ago, gay activists expect—and are getting—improved treatment from the District government. A few of the rewards are tangible, like the $25,000 in federal money the administration helped get for venereal-disease testing at the privately run gay health clinic. But many of the rewards are symbolic—gestures of recognition that count extra heavily with the gay constituency because politicians avoided their support for so long as a kiss of death. It was important to them that Barry showed up at their dance on the night of his inauguration, that he meets with them and seems concerned about their issues, and that he has established a liaison into his office. He also handed out low license-plate numbers—a traditional sign of influence—to Kameny and two other gay activists.
Gays also have secured more than a dozen mayoral appointments to part-time jobs on various citizen boards that advise city government. A former GAA president serves on the library board, the gay owner of the Lost & Found and the Pier is on an economic-development committee, the lesbian founder of a leading feminist quarterly serves on the commission for women, and a prominent gay hairdresser is on the cosmetology board. Other gay men and women serve on commissions dealing with human rights, juvenile justice, historic preservation, health planning, alcoholism, and environmental resources. A final irony: Ron Balin, the man who recognized the vicesquad detective at that first meeting of the Mattachine Society nineteen years ago, is now vice chairman of an advisory council to the Metropolitan Washington Council of Governments.
Full-time jobs for gays are another matter. Few gays have sought political appointments with the Barry administration, partly because most gay activists already have good jobs. The most prominent gay man in the District Building is Richard Maulsby, a founder of the Stein Club, whom Barry named head of a new office to encourage film companies to use the District as a location.
There are, of course, other gays in city government who are less "out" than Maulsby. "A few years ago I would have been an embarrassment," says one man in this position. "Now I imagine the mayor wishes I would come out, so he could get credit."
Two other areas of DC government that long have been sources of gay complaints are proving more difficult to change—even with a friend in the mayor's office.
One is the police department. Gays have complained for years that they are denied adequate police protection around gay bars and that some policemen are insensitive or hostile in handling gay crime victims. There has been some improvement in recent years. Stepped-up patrols apparently have cut crime around the bars from its height in 1978, and DC Police Chief Burtell Jefferson has allowed gays to make "sensitivity" presentations to his officers. Still, gays say that enough attitudinal problems remain for GAA to continue pressing for a civilian board to review police actions.
Another sore point with gays has been enforcement of the city's anti-discrimination law by the DC Office of Human Rights. The mere existence of the law is a security blanket for homosexuals who want to come out, and a few have successfully used it to challenge discrimination in employment and public accommodations. In one case, for instance, a gay man won a $400 settlement from Mr. Henry's in Georgetown, where he had been asked to leave because he was holding hands with another man. But many gays still contend that the Office of Human Rights is inefficient and slow in processing complaints. Only time will tell, they say, if the new director Barry has appointed will satisfy them.
Despite these lingering problems, many gay activists who look back on the past ten years are convinced that most of their fights in the District have been won. "We're rapidly reaching the end of what local government can do for us," says Kuntzler. "The remaining problems are largely a matter of improved public attitudes." This means that many of the gay white males who have concentrated over the past ten years on the District Building are now turning to other goals–to passage of a national anti-discrimination law, to remaining federal job discrimination, to political organizing in the suburbs, and to building coalitions with black gays and lesbians.
• • •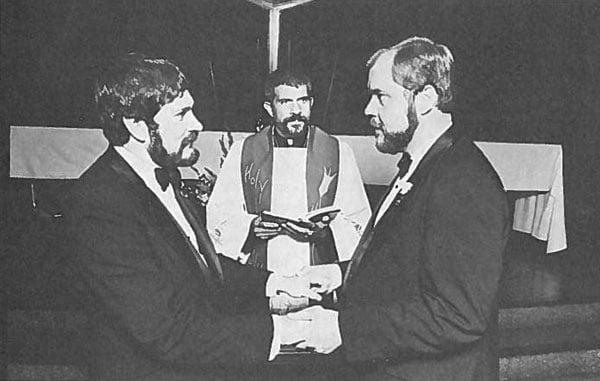 Larry Uhrig spins around in his office chair, snaps up his phone on the first ring, and calls out the buoyant "hello" of a man in a good mood. But in a minute, as he sits at his desk listening to the caller, you can tell something is wrong. He begins to massage his temples nervously. Finally, when he does speak, his tone is hushed and gentle: "It's all right to be upset, darling. There would be something wrong with you if you weren't. We'll try to work this out somehow. In the meantime, if things get bad tonight and you need to talk, here's my home phone number. I want you to call . You are more important to me than any plans I have."
The caller, whom Uhrig has never met, is a man in his early thirties, a lay employee of a Protestant church in the Washington area, and a homosexual. For eight years he has lived with another man in one of the city's fashionable neighborhoods. It has always been an ideal arrangement—until now. When he woke this morning, he found a note saying that his lover was leaving. He can't talk to anyone at his church, which officially condemns homosexuality as sinful, so he is pouring out the story over the phone through sobs and pain. Larry Uhrig, a stranger, is the only person he knows to call—the only person he knows will be discreet and understanding.
Uhrig is the gay pastor of the Metropolitan Community Church, an ecumenical congregation of gay men and lesbians who have been ostracized from mainline churches. The church holds services each Sunday afternoon in a rented United Church of Christ chapel near Ninth and G streets, Northwest. In its ninth year, it is one of the oldest of the organizations that grew up in the 1970s to serve gay interests.
Nearly seventy such organizations, of varying size, are listed each week in a directory published in the Blade. At the Whitman-Walker Clinic near Dupont Circle, volunteers run programs that include venereal-disease testing for 10,000 men a year, peer counseling for both gay men and lesbians, and help for gay alcoholics. Also near the Circle, a new Gay Community Center provides offices and meeting space for several groups, including the Stein Club and GAA. Other specialized gay organizations are available to serve lesbians, blacks, college students, Catholics, Jews, Quakers, bisexuals, parents of gays, spouses of gays, adolescents, teachers, drag queens, gay gardeners, the closeted, the deaf, and the middle-aged. There is even a small group of gay Republicans organized as the Walt Whitman Club and a gay-lesbian marching band called the Different Drummers.
Larry Uhrig at the church is one of the few full-time, paid staff members with any of these organizations, and that puts him in a special position to see all sides of the gay experience. Not only does he work with people who are open about their homosexuality, but he encounters many reminders that most homosexuals remain secretive about it.
When Uhrig's phone rings, the caller may be a gay congressman who would be politically dead if anyone ever found out. It may be someone who has information about a suspect in a gay murder but is afraid to go directly to the police. It may be a Southern Baptist minister in a rural Virginia town who wants to know where he can meet other homosexuals when he travels out of town. All these are real cases.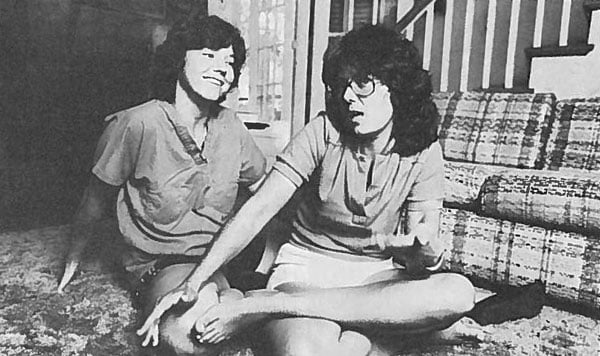 This afternoon several of the calls are about Cuban refugees, several thousand of whom are homosexuals who were taken from prisons, put on boats to Florida, and are now in refugee camps at US military bases. The Metropolitan Community Church, which is one of 150 federated gay congregations around the country, is taking the lead in raising money and trying to find sponsors for these refugees. Uhrig has a pile of checks and a list of potential sponsors on his desk. But he is fuming about a call earlier from someone who said that he and his lover wondered if they could adopt a refugee because they needed a boy to clean their house. "I told him," Uhrig says, "that we are not selling slaves."
For the moment the phone is not ringing, and Uhrig sits talking about some of the other people he hears from. "I get a lot of calls from kids, some of whom are involved in really horrible situations," he says. "I've known many cases where parents have found out their son was gay and put him in therapy or had him admitted to a mental institution when he was fifteen or sixteen. If they're older, parents sometimes just throw them out of the house. They tell them, 'Don't ever come home again. As far as we're concerned you're dead.'"
Other calls are from clergymen, who find themselves in the untenable position of being leaders in churches that consider their sexual orientation an abomination sure to send them to a fiery Hell. No mainline denomination knowingly ordains gay or lesbian ministers and none will sanctify same-sex marriages.
"I hear from two different groups of clergymen," Uhrig says. "One type is the older clergyman who is well established. He may have been a pastor for twenty years, married, with kids away at college, who finally realizes after a good deal of pain that he has denied a whole level of his sexuality for a long time. He wants to bring his ministry and his sexuality together. But then he faces the hard reality that he will lose his credentials in his church."
The other clergymen are seminarians, many of whom remain secretive about their homosexuality in order to finish their degrees, but then realize that they can't come out without forfeiting the prospect of being ordained.
"I'm dealing right now with a young woman who is facing that," Uhrig says. "She realizes there isn't much hope in the Methodist church and I'm helping her work out what she wants to do. It's rewarding to be important in someone's life at this major point of transition. What you see is a grief process in leaving the church that is very much like the grief over a death in a family."
Uhrig knows how that feels. Nine years ago, when he was about to be ordained as a Methodist minister in the Midwest, a college classmate threatened to write church authorities exposing him as a homosexual. When he went in for his pre-ordination questioning by a committee of churchmen, he had no idea if the threat had been carried out. They said nothing about it, but they did suggest that he request a year's • 'probation" before seeking ordination.
"Why?" Uhrig replied. "I'm ready now. Is anything wrong?"
"Well, we know that you have a fine record," said the chairman, "but we think it might be better if you took this next year to deal with your . . . ahem . . . ahem . . . personal problem."
"What personal problem?" Uhrig asked. "I'm very well adjusted."
The chairman searched for words. "It's just that there isn't much room in the church," he said, "for single men." "You mean," Uhrig asked, "that the church requires its ministers to be married?"
"No, but if you waited a year . . ."
By now Uhrig had caught on that they were trying to get across the message without uttering the forbidden word. Finally Uhrig said, "Oh, you mean my homosexuality? ' '
"Yes," said the chairman. "We thought perhaps if you got married during the next year that would take care of it."
Now, nearly a decade later, Uhrig again picks up the ringing phone in his office. "Oh, Alan," he says, turning to me to indicate that it is the man he lives with. In a few days, here in the church, he and this man will be exchanging vows in the church's "rite of holy union."
• • •
Donna Fitzgerald and Ann Templin are sitting snuggled together on the livingroom floor of their house in the Virginia suburbs. Donna, who is serving her medical residency at a local hospital, is dressed in one of those green smocks that surgeons wear, and Ann is joking around about the big money Donna stands to make one day.
"I took my mother's advice," Ann says, reaching over and squeezing Donna's leg. "She always said to get myself a doctor."
This is probably not what Mother had in mind—two women in love, living with each other, being open about it.
"When I moved up here from Norfolk," says Ann, "my parents asked me point blank if I was involved in a homosexual relationship. They came at me with stuff about people like that being sick, so I did what I had sworn I'd never do. I said, 'No, I'm not.'"
"Last winter I finally came out to them, and we've been more or less alienated ever since. I told them they had at least to accept Donna. They don't have to buy her Christmas presents, but they do have to accept my choice and my right to lead my own life. My mother wrote back and said all the things you would expect—that they still loved me and so on. But she made no mention of Donna. Right now I feel that I've gone halfway and that they have to meet me halfway. I'm not going any further."
Lesbians like Donna and Ann are a distinct subculture that is largely separate from that of male homosexuals. The fact that they are women makes for different behavior, different institutions, and different issues.
One bit of conventional wisdom about lesbians, for instance, is that they often lead far more private lives than gay men. Washington has only two lesbian nightspots—the Other Side and Phase One—compared with more than 25 for gay men. It is also often said that lesbians tend to be more monogamous than gay males, something that has been confirmed in studies by social scientists.
Besides the two nightclubs, Washington's lesbians have their own counseling and health center attached to the Whitman-Walker Clinic, as well as a number of other political and consciousness-raising groups. There also are groups that include both lesbians and straight women who share a feminist ideology—groups like the DC Area Feminist Alliance, DC National Organization for Women, and the Washington Area Women's Center. The monthly newspaper Off Our Backs and the Lammas book and crafts shop on Capitol Hill are other examples of the straight-lesbian-feminist alliance.
This is logical enough, when you consider the' issues that frequently confront women regardless of their sexual orientation. One is discrimination in the job market—something that normally makes the incomes of lesbian couples far below that of gay white males. Another is the matter of child custody in divorce cases—something that affects a surprisingly large number of lesbians, who frequently follow social norms by getting married and raising children before following different sexual proclivities.
Take Ann Templin and Donna Fitzgerald. Both had inklings long ago that they were attracted to women, but both did what was expected of them. They dated men, got married, set up a household, and had children.
It wasn't all that long ago, either. Donna, the doctor, is 32, and her marriage ended only about five years ago. Ann, who is a court clerk, is 30, and her marriage ended about the same time. The two met in Norfolk and have lived together for more than a year.
It has been even more recently that they decided to be open in public about their relationship. Last summer they agreed to be photographed for a layout in Out magazine. They had talked a long time about the wisdom of appearing in this article, carefully weighing the benefits and the risks.
"I think our desire to talk openly was really sparked by those horrible documentaries on network television," says Donna. "I think they represented gays very badly. The women were mostly truck-driver types, and we were offended to think that's what the general population must think gay people are. It's important that people like us be included in the sample."
Ann breaks in: "I'm willing to talk about our relationship because I'm not ashamed of it. I think Donna is a worthwhile person, and this relationship is something I expect to be lifelong. I'm not fearful that publicity will affect my job, because I know I am a good worker. I probably will have to deal with petty talk in the lunchroom, but I think I'm secure enough for that."
Donna has more or less the same attitude. "I don't think being gay will have any repercussions in my field, except maybe when I apply for a fellowship. But I figure if that's the way people feel about me, I wouldn't want their fellowship anyway. I have decided in the last year that I'm not going to flaunt it in people's faces, but if they ask me, I'll tell them."
There was a time, Donna says, when she wouldn't have known for sure what to tell anyone who did ask. "I knew from the time I was eight years old that I was attracted to women instead of men, and in high school I had a hard time figuring out who I was. In my high school in Nashville there were a couple of real masculine-type women. I knew that I wasn't like them, because we all knew they were queers. But I wasn't like the cheerleaders either. A lot of people there thought I was strange, and I think I got married and raised children to prove to them that I wasn't."
Ann had some of those same attractions toward women, but she dated a boy in high school, eventually got pregnant, and went ahead and got married. "Marriage made me acceptable to society, acceptable to my family, and for a long time I thought I could live like that," she says. "I was never unfaithful to my husband, and there were never any concrete problems in the marriage. But we realized after a while that our goals in life were too different."
In their divorces, both Ann and Donna worked out amicable arrangements for custody of their children. Ann has custody of her little girl, while Donna's kids, a boy and a girl, live with their father in a nearby suburb. All three children are away the day we are talking, but they ordinarily spend a lot of time around the house. Both Donna and Ann are reasonably happy with their children's acceptance of their gay mothers.
At first, Ann's little girl was upset. "She came to me one day, started crying, and said, 'I wish you weren't gay.' So we sat down and had a long talk about it. I told her that some people are attracted to people of their own sex, and that the way I feel about Donna is just as valid as anybody's relationship. Now, apparently, she has no problems with it. We talk about it all the time and make a lot of gay jokes."
Donna, on the other hand, thought for a while that she would just avoid the issue. "There was never any question for me that my ex-husband would have custody, because at that point I was very much against having kids in a gay environment," she says. "If I was going to be gay, I just assumed he was going to have the kids. I thought I'd really stay in the closet when we saw each other, and that's what I did for a while. But then I realized that was just stupid. They're going to be what they're going to be regardless of who I'm living with. My relationship with them doesn't change. In fact, I think it's better if I can be who I really am around them and don't have to pretend I'm somebody else." Last Christmas, she finally sat down and talked with them about her relationship with Ann. "I don't think they were surprised," she says, "but they didn't say much about it."
Donna is more worried about the reaction her children may face from their peers. "I think that's the biggest problem," she says. "What do kids do when they go to school and their friends say, 'Your mother's a queer'?"
• • •
When a man in Northern Virginia gets arrested on a sodomy charge in a shopping- center rest room or in the bushes of a public park, one of the first people he calls is Jim Lowe, a young lawyer in Alexandria. Lowe is straight himself, but over the past few years he has defended dozens of homosexuals against such charges. Sodomy is a felony that carries up to a five-year prison term in Virginia, but most of the time Lowe can get the charge reduced to a misdemeanor or a suspended sentence. That doesn't wipe away the embarrassment to his client, but it's a lot better than a public trial or imprisonment.
Most of the cases go unpublicized, but a few make news. Last summer, Lowe took the case of a 38-year-old man who had been arrested by a security guard in the men's room of the Woodward & Lothrop store at Tysons Comer and then charged by Fairfax County authorities with sodomy. Lowe figured he would plea bargain in the usual way, but this time the Fairfax prosecutor refused and set the case for trial. The client, a federal employee who was not open about his homosexuality, was frightened and upset. A few days before the trial, he was found in the kitchen of his apartment in Alexandria, lying on the floor with a plastic bag tied tightly over his head and a rubber hose leading to the gas stove.
Three years ago, Lowe had another case that made the papers. Several men were arrested on sodomy charges in the men's room of a rest stop on Interstate 66 in Manassas by Virginia highway patrolmen who were watching the stalls through false ventilators. Lowe appealed their conviction all the way through the Virginia court system, arguing that a person in a bathroom stall had a reasonable expectation that the police weren't watching. But the courts agreed with the prosecutor, who argued that the stalls weren't for privacy but were there to protect patrons from injury in case of assault while in a vulnerable position. The US Supreme Court, which has historically shied way from cases involving homosexuals, turned down Lowe's appeal without comment.
Jim Lowe's sodomy cases are a reminder of another side of the homosexual experience in the Washington area. While many gay men have steady relationships and are open about their sexual orientation, there exists simultaneously a netherworld where the norm is quick, anonymous sex in a park or rest room or car. It is a world frequented often, though not exclusively, by the most closeted homosexual or bisexual men—some of them married. It also is a world where there are considerable risks.
Some of Washington's most overt gay sexuality is institutionalized in private baths and in porn shops that operate fairly openly in the District. The Blade lists five bookstores and theaters offering all-male erotica as well as four baths, one of which is part of a chain that operates in nearly 40 cities. All the baths are open 24 hours a day, and they advertise a variety of services, including lockers, erotic films, hot tubs, massages, and "private" rooms. Two of the baths have allowed the gay men's venereal-disease clinic to do on-site testing of their customers in a "tubs outreach program."
The sodomy arrests that Jim Lowe handles, however, mostly involve allegations of "bush sex" in parks or "tea room sex" in rest rooms. Both terms are part of gay folklore, even among men who would never go near either place. The cruising areas change from time to time, but some places have developed lasting reputations on the gay grapevine—principally "the block" along Georgetown's Dumbarton Street, the "black forest" near the city's P Street bridge, and the area surrounding the Iwo Jima Marine Corps memorial in Arlington.
If a homosexual is caught in the act in a park, the law is clear. Same-sex sodomy—that is, oral or anal sex—is illegal in the District, Virginia, and Maryland. The fact that it may have been between consenting adults is no defense—the law is the law.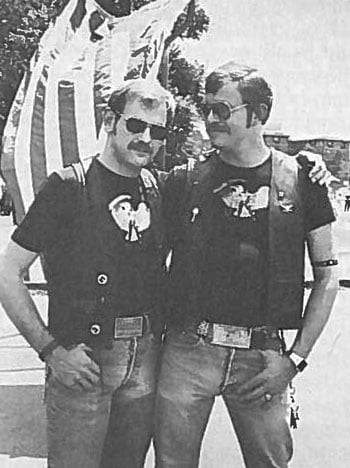 In practice, however, the legal prospects for someone arrested on such charges vary considerably from one jurisdiction to another. In the District, which is most lenient, a person may get a "disorderly conduct" citation and have to pay a small fine. In Virginia, which has a reputation as a tough state on this issue, he may have to go to a public trial.
These laws, which have been abolished in about twenty states, are a controversial matter. While no gay leader defends public sex acts, they do complain of the way the laws are enforced. They have three main complaints: Police arrest gay men for sexual transgressions, while ignoring similar misconduct among heterosexuals. Police use attractive undercover decoys who parade through cruising grounds in an enticing way for purposes of "entrapment." And too often punishment doesn't fit what gays see as essentially a petty form of disorderly conduct. The police see it differently, of course, especially when they have complaints and are under pressure to "clean up" parks or rest rooms.
Arrest is only one of the dangers for those who walk the seamier side of the homosexual world. Occasionally, such walks are fatal. Once in a while—as with the 1976 beating death of Ronald Pettine, an aide to Congressman Morris Udall, at the Iwo Jima memorial—the murder of a gay man makes the city's newspapers and television shows. More often it does not. How many people realize that ten men believed to be homosexuals or bisexuals were found murdered in Washington during an eighteen-month period in I977 and 1978? The litany of the police blotter was grisly: black male, 46, beaten to death; black male, 37, slashed to death; white male, 38, beaten to death; black male, 25, shot to death; white male, 50, strangled to death; black male, 53, beaten to death; white male, 68, beaten to death.
The questions for police detectives were obvious: Were these men victims of some sexual psychotic like the one in the movie Cruising? Were they killed by "queer bashers" like those convicted in the Pettine case? Did they run afoul of some "hustler" they had picked up to play for pay? Was there a single killer or several? Police officially say there was not a single killer, and arrests or convictions in some of the cases seem to bear them out.
One pattern seems clear. Most of the victims were men who were highly secretive about their sexual preferences. They were men for whom all the recent changes helping gays—the District's human-rights law, the influence of the Gertrude Stein Club, the network of gay organizations had no meaning.
• • •
All a person has to do is look at Mel Boozer's list of teenage achievements to know there is something different about him. At Dunbar High School, where the city's brightest black kids went, he was salutatorian of the class of 1963 and a colonel in the cadet corps. At the Galbraith AME Zion Church, he was president of the usher boys and the kid who was always picked to go to church conventions. And he was the one who won the academic scholarship to Dartmouth and the foundation fellowship to work on his PhD at Yale.
What really makes Mel Boozer different is something else entirely. He is a black man who is open about being gay and who is active in the gay-rights movement. Last fall, he became the first black to head the largely white Gay Activist Alliance.
Ordinarily, Washington's black homosexuals lead lives that are far more closeted and racially segregated than Boozer's. A few blacks show up at such public events as Gay Pride Day or at white gay bars and baths, but many more keep their socializing to discreet, mostly black parties.
Few of them are public enough to be active in gay-rights politics. And most of those who are open about being gay devote their energy to black organizations and activities, including a gay newspaper, rather than to GAA or the Gertrude Stein Club. Often, too, black gays have their own special issues, such as recent complaints of racial discrimination by white gay bars.
The reasons for the extra secrecy and relative invisibility of black gays are easy to find. Like Mel Boozer, many of them grew up in Washington, which means they are near their relatives and old friends and do not enjoy the anonymity that supports the boldness of the city's white newcomers. Many also are the first generation of blacks to enjoy improved job opportunities and do not want to risk those gains with revelations about their homosexuality.
Black gays know, too, that there are strong prejudices against them among straight blacks, particularly in the largely fundamentalist black churches. Many of the city's black ministers consider homosexuality a sinful abomination, and they have criticized Mayor Barry for being so cozy with the gay vote. It is interesting to note that one Baptist minister, Delegate Walter Faun troy, rarely appears at Gay Pride Day festivities—although he has quietly co-sponsored a national gay-rights bill in Congress.
Boozer, a sociologist who teaches at the University of Maryland, has some other theories about anti-gay sentiments among blacks: "The masculinity of straight black men has been threatened by their whole historical position of inferior status, and I think that makes it especially difficult for them to deal with homosexuals who are perceived as unmasculine. Black women, on the other hand, have another concern. A number of factors—prison, the Army, high death rates—make a lot of black males ineligible for marriage. I think some black women may see homosexuality as another way in which the pool of marriageable black males is even smaller."
Coming out in the face of such negative attitudes took Boozer a long time—a long time first to recognize that he was gay and then a long time to reveal it to his relatives and friends. He had known since grade school that he was attracted to males, but he never acted on those feelings and wasted little time trying to figure out what they meant. It was difficult enough, when he was a teenager, to deal with being black in a white-dominated society. As a freshman at Dartmouth in 1963, he was one of only three blacks in his class; the social fraternities were still segregated. Boozer didn't date much at Dartmouth—about three times in four years—but it was easy to write that off to circumstances. The college was all male and geographically isolated, and girls had to be brought in from outside for party weekends. He couldn't afford that; besides, he told himself, he was naturally shy about dates anyway.
After Dartmouth, Boozer volunteered for the Peace Corps and was sent to Brazil, where he began to think a little more deeply about his sexuality. "In Brazil, I soon learned that it was considered natural for one man to touch another when they were talking," he says. "A Brazilian man would come up and put his arm around you, unbutton your shirt, and play with the hair on your chest. It was perfectly innocent, not a sexual come-on at all. To me, it was culture shock. But after several months I began to realize that American standards of isolation among men were peculiar to Americans, and that I didn't have to buy into that. It was quite a revelation.
"I was living in a very small house in a town near Rio, and Brazilian men would come over often for parties. There wasn't much space, so everyone sat close together, touching, with their legs tangled up together. Most Americans would have been uncomfortable, but the Brazilians didn't seem to mind. Sometimes, when we'd been up late drinking, everybody would pile into the same bed and fall asleep. We'd wake up and that was that. It took a bit of getting used to, but it was ordinary Brazilian hospitality.
"They were very warm and open people, and I came to find all this invigorating. Eventually I did have a couple of sexual encounters with men, but even at that point I didn't think they meant anything. I just thought I was in an exotic country, among exotic natives, and that I'd go back to the United States and look back on all that as a nice, interesting experience."
Somewhat later, Boozer was in a Georgetown bar having a beer when a man walked in and started to chat. "He was very amiable, and we found that we had a lot in common," he remembers. "After a while he suggested we go next door to what was then the Georgetown Grill. I looked around and saw that it was mostly men, but I really didn't realize it was a gay bar. We chatted some more, and finally went out and walked around. We ended up down by the Potomac, lying there by the river. And then he did something that I realized I really wanted him to do. He was very cautious. All he did was reach over and grab my arm very firmly and hold it. It was very nice. That was the first time it really all went together in my head.
"From there we went over to the Lost & Found. I didn't know there was such a thing as a gay disco. I was flabbergasted. There were three shocks. First, there were so many gay men there. Second, they were dancing , which I had never seen before. And third, they were having a ball."
For a long time, the only gay places Boozer knew about in Washington were the Georgetown Grill and the Lost & Found, but little by little he learned his way around. He heard about Louis, a gay bar near the FBI building, and then about the Eagle. But he knew nothing about the existence of gay organizations like GAA or about black gay bars, and he was still secretive. "Every time I approached the door of one of the bars, I'd look around, then run inside."
No one in Boozer's family knew about his secret life, even though he lived at home when he wasn't away at school. He did, however, begin to drop hints. When a cousin offered to treat him to a movie for his birthday, he chose Saturday Night at the Baths. When his sister came home to check out his new books, he made no effort to hide his collection of gay novels. When questions about homosexuals came up in dinner-table conversation, he staunchly defended their rights. Then, too, there was the clear fact that he had lots of male friends and didn't date women.
Little by little the evidence accumulated, but nobody, least of all his mother, said anything about it. "She knew I'd become active in something called the Metropolitan Community Church, and she didn't understand that at all," he says. "Why would I go to that church when I already had the one that she'd raised me in? It raised her curiosity, and one night she stayed up to listen to Larry Uhrig on the Larry King show. The next morning at breakfast she said, 'Now I know everything.' But I really don't think even then that she connected MCC with what I was all about. I think she just thought that I was a kid who had always been interested in radical ideas."
Finally, last fall, when he'd been elected president of GAA and the Washington Post was about to run a story on him, he sat his mother down and told her that he was gay. "Her initial reaction was that it was a terrible mistake to become head of GAA. She was very upset—not in the sense that I was doing something depraved, but that I would lose my job and ruin my career.
"I wasn't sure which day the story was going to be published, so for three days I ran down to the front steps each morning and got the paper first. When it finally appeared, I went back up to my room and read it, then reread it. Then I took it downstairs, put it in my mother's hands, and said, 'Here it is.' It was the day of the big gay march, and I didn't get back until evening. My mother and some other relatives were there when I came in—and no one mentioned it."
• • •
Last spring several thousand born-again Christians from across the country poured into Washington to attend a "Washington for Jesus" rally organized by several of America's leading evangelists. These conservative fundamentalists- most of them ordinary working-class Americans- covered the Mall. Some sat on the grass in the sun engrossed in reading worn, heavily underlined Bibles. Some stood lost in prayer, their eyes closed and their arms outstretched toward the sky. Others focused their attention on the main stage, where a parade of ministers railed against abortion, equal rights for women, homosexuality, and other forms of godlessness they believe are destroying the nuclear family and sweeping America into the gutter.
As the rally rolled along, some spectators suddenly became aware of a small procession of men and women carrying placards through their midst. The leader of the group, dressed in his pastor's collar, was Larry Uhrig of the Metropolitan Community Church, and his sign said THE LORD IS MY SHEPHERD AND HE KNOWS I'M GAY. Before long, Uhrig and his gay flock were surrounded by fundamentalists with Bibles and were being peppered with denunciations: "Leave! Leave! If you're gay you can't be a Christian . . . . God burned down Sodom and Gomorrah, and it's people like you who are destroying America . . . . In the name of Jesus, I rebuke you."
Such emotional confrontations—fundamentalists of the New Right versus gays—are becoming familiar scenes. In several of the 36 localities where gay activists have convinced local authorities to pass laws freeing them from discrimination, the New Right has been right behind with campaigns to have them repealed. The results have been mixed. The New Right has succeeded in overturning gay-rights laws in Dade County, Florida; Santa Clara County, California; Eugene, Oregon; Wichita, Kansas; and St. Paul, Minnesota. But gays have won some victories, too—notably in defeating a repeal referendum in Seattle and in beating back the so-called Briggs amendment in California, which aimed at outlawing homosexual teachers from the schools.
In the 1980s, it seems likely that this bitter political and cultural warfare will continue, and that some of the action will shift to Capitol Hill. Both gays and fundamentalists have set up new lobbying operations here and are working the Congress on a number of issues. Gays are represented by a small group called the Gay Rights National Lobby, while the fundamentalists have started well-financed lobbies called Christian Voice and Moral Majority. Major figures in the latter are the Reverend Jerry Falwell, the Virginia television evangelist, and Richard Viguerie, the New Right direct-mail wizard.
Besides the defeat of anti-gay legislation on the Hill, the gay lobby wants several long-range reforms. They want an end to immigration policies that bar homosexuals from entry into the United States. They want a national civil-rights law that would ban various forms of discrimination against gays nationwide. And they want an end to the continuing ban on homosexuals in the military, the State Department, the Federal Bureau of Investigation, and the Central Intelligence Agency. None of those agencies is covered by a 1975 Civil Service policy that allows employment of homosexuals throughout the rest of the government.
The New Right lobbies oppose these changes, and have backed several bills that have anti-gay features. One of the most notable is a "family protection act" introduced by Senator Paul Laxalt, the Utah Republican who is also Ronald Reagan's campaign manager. Among other things, that bill would specifically exclude homosexuals from the protection of the Civil Rights Act of 1964.
The New Right's attitude on homosexuality, however, is better illustrated in its rhetoric. Here's the Reverend Falwell in a fund-raising letter: "This terrible sin of homosexuality is so grievous, so abominable in the sight of God that He destroyed the cities of Sodom and Gomorrah because of it . . . . The attempt to portray homosexuality as an alternative lifestyle' is really another vicious attack by Satan on the family . . . . We Americans are indeed sick if we allow this sin against God to be 'normalized' and to go uncontrolled."
And here's a similar letter from Christian Voice: "I am rushing you this urgent letter because the children in your neighborhood are in danger. . . . Homosexuals recently won a major victory in California and Seattle and that means that now homosexual teachers are allowed to openly advocate their 'lifestyle' to these children . . . . They now are trying to convince Congress that the tide is turning in favor of homosexuality and that Congress must pass a national Gay Rights Bill!"
So far, Congress hasn't shown much interest in the bill. And even Steven Endean, the director of the gay lobby, acknowledges that its passage is several years away at best. Representative Ted Weiss, a Manhattan Democrat, and Henry Waxman, a Los Angles Democrat, have introduced it in the House, and Senator Paul Tsongas, a Massachusetts Democrat, introduced it in the Senate. It picked up more co-sponsors during the last session, but still has only 55 in the House and four in the Senate. No committee has yet even given it a hearing.
You can be certain, however, that gays will continue to plug away at it because they regard the bill as crucial to their enjoyment of full rights as citizens. And you can be just as certain that the New Right and others will keep up their end of the fight. Undoubtedly, the struggle will produce some memorable moments over the next decade.
I have one last memory from that morning at the "Washington for Jesus" rally last spring—a moment that reminded me of just how utterly strange is the mixture of sex and politics and religion. A thin young man holding one of those gay placards was standing reciting the Lord's Prayer when a woman from the crowd came up behind him and began to hug him. She must have weighed close to 200 pounds and he struggled to support her weight as she buried her head in his back and began to weep and pray. Her fingers moved slowly up and down his bare arms and she kept stroking his short, sandy-colored hair as she wept and moaned. Was she, in some strange way, trying to convince him that women are nice, too?
"I don't know," the man said. "All I know is that when I get home I'm going to wash my hair."
A former Boston Globe reporter, Larry Van Dyne came to Washington in 1971 as a national correspondent for The Chronicle of Higher Education. He remained there, and at the Chronicle's affiliated newspaper, Books and Arts, until earlier this year. From September 1980 to June 1981, he will attend Stanford University under a National Endowment for the Humanities fellowship. His previous Washingtonian articles have included profiles of Georgetown basketball coach John Thompson, Smithsonian head Dillon Ripley, and Maryland basketball coach Lefty Driesell. He was assisted in the research for this article by summer intern Debra Bradley.