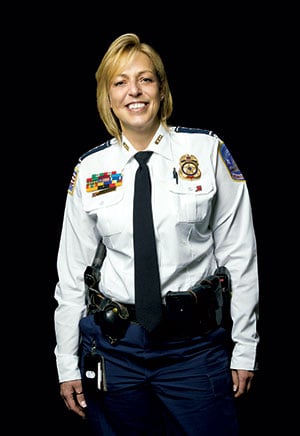 The Setback: After becoming pregnant at age 14, I dropped out of high school. That could have been something I didn't recover from, but having my son is what has driven everything I've done for the 30 years that he has been alive. It has all been about making sure he had opportunities.
The Piece of advice: My grandmother's philosophy was "Don't ever make excuses." It would be easy for me as the police chief to say, "I can't prevent domestic homicides; I can't be in people's living rooms to stop them." But that's an excuse. My job is to prevent homicides. So where in the process can I intervene and stop that domestic abuse from ending in a homicide?
The early Job: At 16, I got a job as a secretary at a commercial real-estate firm in Bethesda. I handled tenant billing, and it was very important to get the details right. I learned to never let anything that's got your name on it be imperfect. Thousands of pieces of correspondence come through the police department each day, and if anything has my name on it, I want to see it. It drives people here crazy! But I want to make sure it gets done right.
The Mentor: Former DC police chief Charles Ramsey. He pushed me to take tough assignments. He made me head of the Special Operations Division right after September 11. There had never been a woman in charge there. I've been really lucky.
This article appears in the April 2013 issue of The Washingtonian.