It's an exciting time to be a food fan in Washington: More
than a
dozen
new eateries have recently opened their doors, the Red
Hen
debuts Tuesday in Bloomingdale, and now chef
Frederik De Pue is set to open his second
restaurant,
Azur, Thursday in the former Café Atlantico space. Those looking for a break
from fried chicken and
doughnuts, take note: This 135-seat spot is wholly devoted to
seafood.
You'll recognize the lofty three-story building from its José Andrés days, but De
Pue has transformed the interior to fit the nautical theme with the help of Belgian
interior designer
Natascha Folens. Comfy wicker chairs and cushy stools fashioned after bottle corks greet you in the
entry-level bar area, a prime spot for sipping one of the many seasonal cocktails
named after famous boats. The Magusta 165 may sink your wallet with its $40 price
tag, but the cognac-based libation named after a mega-yacht is the most expensive
on the list. The $6 Regina Marina is more our cruising speed. You can sip the Aperol
and Champagne concoction alongside bar snacks such as baked oysters with chorizo,
toast spread with sea urchin butter, or crispy calamari tossed with a Vietnamese-style
vinaigrette and chopped peanuts.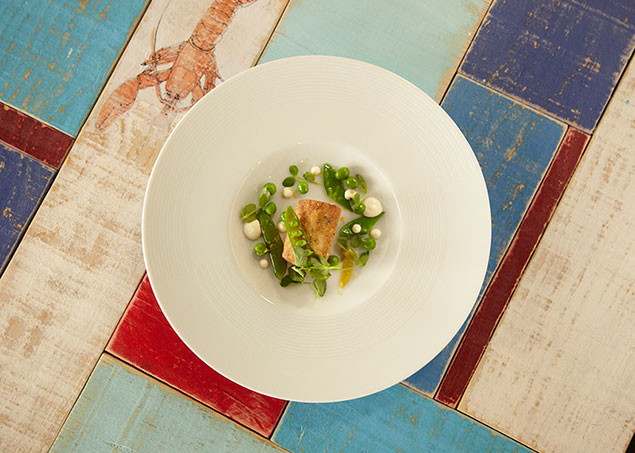 The full menu is available throughout the restaurant, but
you may want to climb the stairs past the effervescent chandelier to the second- and
third-floor dining areas for dinner. Colorful tables imprinted with various aquatic
creatures reflect the variety of seafood offerings. You might start off with appetizers
such as shiso-accented lobster bisque or crispy Maryland crab with yuzu and crème
fraîche, or claim a stool at the six-seat raw bar on the second floor—a.k.a. the original
Minibar—for raw oysters or one of the many varieties of caviar (like the cocktails,
the roe ranges from splurge-worthy white sturgeon to more budget-friendly salmon).
The European-style fin fare rotates based on what's available, or the diner's choice
in certain preparations. You may find a variety of fish baked
en croûte de sel (salt crust), which helps keep the flesh wonderfully moist. A separate
en cocotte section—shellfish cooked in a casserole pot—allows you to pick from mussels, clams,
or lobster in a variety of preparations. Here you can go as simple as Belgian-inspired
moules frites steamed in beer and buttered leeks or hit the other end of the spectrum with lobster
Veracruz-style with chorizo and pasilla chili broth.
Vegetarians and non-seafood fans may feel lost in the
sea of options. Spring pea agnolotti,
roast lamb, and romesco-sauced chicken are currently the entrée
choices for those
hoping to avoid the ocean entirely. De Pue's first restaurant,
Table,
may better fit the bill for the non-pescetarians in the crowd.
Azur. 405 Eighth St., NW; 202-347-7491. Open Tuesday, Wednesday,
and Sunday 5 to midnight, and Thursday through Saturday 5 PM to 2 AM. Closed Monday.