Many grocery stores mark their debut with a corporate ribbon-cutting, but when Glen's
Garden Market unlocks its doors this Sunday it will celebrate by popping a few Port
City beers. Owner
Danielle Vogel has created a 10,000-square-foot emporium devoted to all things tasty from the six
states within the Chesapeake Bay Watershed—Maryland, Virginia, West Virginia, Delaware,
Pennsylvania, and New York—as well as the District. Vogel hand-picked each item on
offer, with an emphasis on environmentally sustainable producers. You'll find everything
from dry foodstuffs to fresh produce and pastas, house-made charcuterie, and a variety
of takeaway items from chef
Sean Sullivan (formerly of the Hamilton).
Here are six things to look for at the independent grocery store.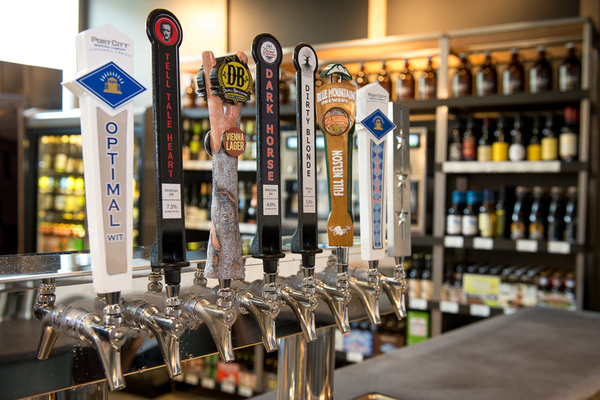 A wine vending machine and $4 pints
Let's start with the booze. Unlike most grocery stores (but like certain Whole Foods),
you can drink while you shop, or quaff a beer afterward while dining on your harvest.
A retail beer and wine section doubles as a 28-seat cafe with a bar. Choose among
$4 drafts from breweries such as Port City and Devils Backbone, or sample from the
"wine vending machine," a fridge that dispenses two-, four-, and six-ounce pours from
a rotating selection of Virginia and New York State bottles. You can pick the smallest
size to sample before buying a whole bottle—the system is in place to introduce customers
to the lesser-known producers—or pour yourself a whole glass to go along with a bar
menu of fresh-made sandwiches like a seasonal vegetable panini or bacon grilled cheese.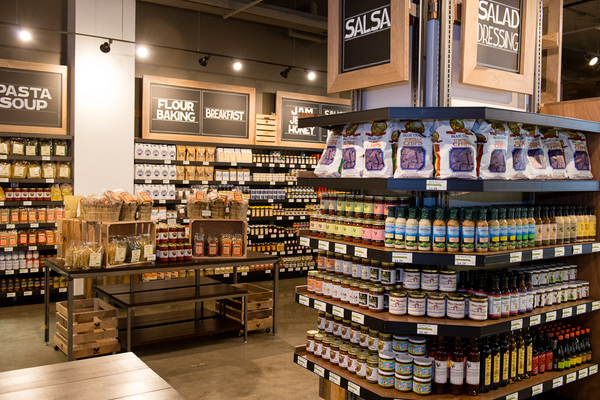 Exclusive local products
You've probably seen a number of the local grocery items at other stores or farmers
markets, such as Soupergirl soups and salads, fresh pastas and sauces from La Pasta,
and Langdon Wood barrel-aged maple syrup. The big difference here: the variety. While
other markets may carry a few jams, sauces, and salsas from Bigg Riggs Farm in West
Virginia, Glen's carries 28 of its products, some exclusive to the store. Another
familiar local face, Bev Eggleston of EcoFriendly Foods, will provide meats such as
pork chops as well as a 22-month-aged Iberico prosciutto only to be found at Glen's.
Buffalo pastrami and house-made hot dogs
Sullivan makes all of the deli meats, sausages, and hot dogs in house from whole local
animals, and even cures three varieties of salami in an elaborate machine that replicates
the natural environment for making charcuterie in Italy. You'll find many of the items
on the sandwich menu, such as beef and bison pastrami or turkey poached in a rich
stock made from its own bones. Head to the deli counter to get the meats sliced to
go, alongside cheeses and a variety of seasonal salads and grains. In the mood for
a hot meal? You'll find takeout fare including freshly brined and roasted chickens,
mashed potatoes and gravy, house-made soups, and your choice of thin-crust or focaccia-style
pizzas with a variety of toppings.
Fresh and frozen items
The many varieties of charcuterie and deli meats can be found fresh in the case, but
steak, pork, and chicken are sold flash-frozen. Freezing the items ensures the market
won't have to throw away un-bought meats. Seafood, on the other hand, runs as a special
based on whatever day boats can bring in. You'll also find fresh vegetables and fruits,
which will sprawl out onto the front sidewalk, farmers market style, once the summer
bounty rolls in.
A "forbidden fruit of the non-indigenous tree" section
Some shops have an "ethnic foods" aisle; Glen's claims the above. Vogel didn't want
to force customers to make trips to multiple stores just to cook, so she included
a small section of non-local necessities such as olive oil and spices. The environmental
ethos still holds. The olive oil, for example, is from a sustainable-minded Chilean
producer that composts the fruit's flesh, uses the pits for biodiesel, and transports
the olive oil to America by boat to limit the use of jet fuel. The Martinelli's apple
juice, on the other hand, is just her dad's favorite (the store is named for him,
after all).
An eco-conscious attitude
You've probably gleaned by now that the store employs an environmentally friendly
philosophy. The space itself was constructed using sustainable materials—that wood
around the bar comes from old fences at Bigg Riggs Farm—and you won't find paper or
plastic bags at checkout, only reusable ones made from recycled materials. Bikers,
take note: Even the employee bathrooms are equipped with showers to encourage cycling
to work.
Glen's Garden Market. 2001 S St., NW; 202-588-5698.
Open daily from 8 to 10.