"Vote Against Prohibition," reads a faux-faded sign on the
ruddy brick wall at Brickside Food & Drink, downtown Bethesda's latest
hangout. And though that issue is relevant only in the history books, most
of the twentysomething crowd on a recent weeknight was enthusiastically
showing its love of the hard stuff—swilling rye-spiked punches in Mason
jars and, at happy hour, $10 buckets of Miller Lite. But as the bar was
packed three-deep, the dining room's cozy leather booths stayed mostly
empty.
That's too bad because hidden among the usual sports-bar fare—a
tangy-creamy spinach-and-artichoke dip, chicken fingers and wings—are some
unexpected gems. Chicken "pops" translate to hefty, sweetly glazed
drumsticks with a cucumber-yogurt dipping sauce. They're a nice starter,
as are fried wedges of soft polenta with blue cheese. A slightly spicy
tomato broth makes a restrained portion of mussels worth ordering, and
it's even better as it soaks into garlic toast.
There are misses to watch out for: Overcooked cauliflower with
garlicky tahini sauce was a mushy, white-on-white mess. A sauceless pizza
arrived on a good, lightly charred crust but was bogged down by gluey,
flavorless Armenian string cheese. And a thinly pounded, breaded pork chop
emerged bland and tough from the fryer.
When it comes to bigger plates, it's no surprise pastas are a
draw. Andrea Pace—chef/owner of the ambitious Italian dining room Villa
Mozart in Fairfax—is co-owner of Brickside. His orecchiette with sausage
and broccolini is straightforward and satisfying, while linguine is
twirled around shrimp and slicked with a lovely tomato-brandy sauce. It
might seem odd that they share space with racks of barbecue ribs, but no
matter—those are pretty tasty, too.
No doubt the Mason-jar cocktails will keep flowing, but the
kitchen deserves some attention.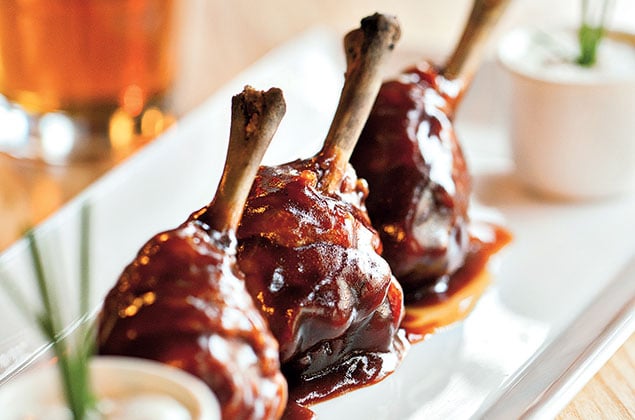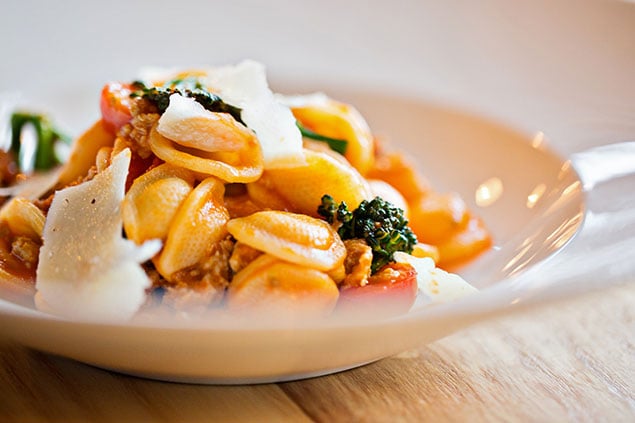 This article appears in the May 2013 issue of The Washingtonian.
---