Asi Es Mi Tierra is housed in a Wheaton strip mall alongside
three more Peruvian restaurants. The others are devoted to the
spit-roasted chicken known as pollo a la brasa and, as such,
possess an enormous advantage: They produce an irresistible charcoal smoke
that billows over the shops and transforms an otherwise quiet street into
a jumping block party. How does a full-service restaurant
compete?
Credit a menu as comprehensive as an encyclopedia, portions
that will carry you through to your next meal, and a strategy that recalls
Muhammad Ali's famously counterintuitive rope-a-dope.
Monday through Thursday, Asi Es Mi Tierra operates almost at
half speed, apparently having decided to concede the workaday hordes to
its chicken-chopping competitors; on weekends, however, the place changes.
I dropped in on an otherwise quiet Sunday morning and would have sworn I'd
wandered into a Saturday-night house party. The sound system was pumping,
one of the owners greeted us at the door with an outstretched hand, and
our server had the solicitousness of someone who insists you join him and
his family for dinner when you're traveling abroad.
The cooking, too, was better—with the bright freshness that's a
hallmark of the best Peruvian restaurants and can make you think the
cuisine belongs to a different continent altogether.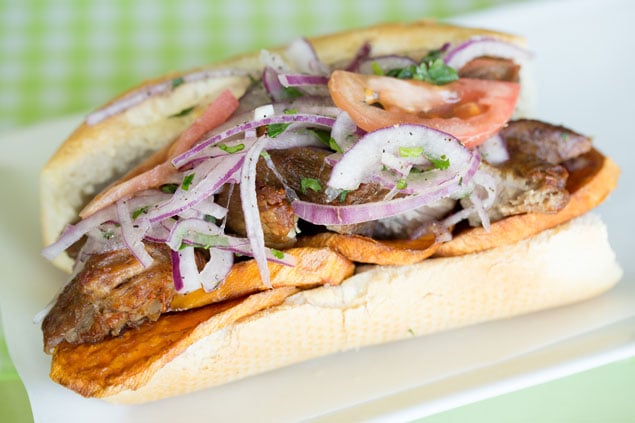 Because it relies more on seafood than on meat, Peruvian
cooking tends to be lighter than its heartier cousins. Its spit-roasted
chicken notwithstanding, spicing is subtle. The appeal of the cuisine is
simplicity and vividness—its ingenious variations on the potato, say, such
as the excellent papa rellena ($6) you'll find here (imagine
mashed potatoes molded around a beef stew made vibrant with olives and
hard-boiled egg, then deep-fried) or its sparkling treatments of
lime-marinated fish.
Skipping the ceviche at a Peruvian restaurant is like skipping
the mussels at a Belgian place, and the two versions here—one with fish,
the other with fish, scallops, octopus, and shrimp ($9.95 and
$11.95)—avoid the mouth-puckering tartness and mealiness that sometimes
result from over-marination.
The dish nearly every table gets is the asi es mi
tierra ($29.95)—three portions' worth of fried calamari, shrimp, and
mussels buried under a heap of marinated onions, with a side of ceviche to
keep all that fry from weighing you down.
The kitchen doles out those lime-marinated onions the way some
Mexican restaurants dollop sour cream. They're the crowning touch on the
pan con chicharrón ($7.50), adding crunch and acidity to a pile
of roast pork and cinnamony sweet potatoes stuffed into an airy roll. In
the local sandwich pantheon, it stands alongside Mangialardo and Sons' G
Man and Bánh Mì DC Sandwich's combo #1.
For the most part, however, sticking to seafood is as important
a rule of thumb as going on weekends. The grilled beef hearts called
anticuchos ($24.95) turned up dry; a chicken Milanesa ($11.95)
was thick and bready. Twice I tried to order the aji de gallina
($9.95)—shredded chicken in egg, garlic, and white wine—and twice the
kitchen had run out of it. I succeeded, however, with two dishes that owe
their origins to the Chinese influence in Peru: an addictive soy-spiked
fried rice with beef ($11.95) and a good lomo saltado la criolla
($10.95), stir-fried skirt steak, onions, and peppers over French
fries.
Save room for the finish. There are good alfajores
($1.90 each)—shortbread cookies filled with dulce de leche—and
picarones (four for $4), pumpkin doughnuts with an anise-flavored
sauce. But the must-order is the mazzamorra morada ($3), a
confection of sweetened rice and purple corn that tastes all at once like
a rice pudding, a sticky toffee pudding, and a Christmas fruitcake with
brandy. It's as rare a find in this area as pan con chicharron
and, all by itself, enough of a reason to forgo those glorious
spit-roasted chickens from time to time.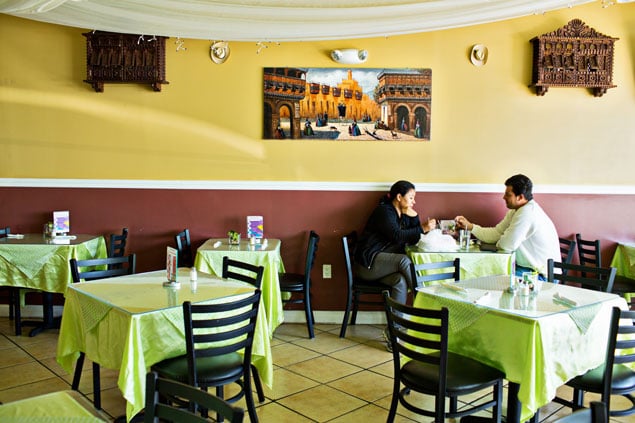 This article appears in the May 2013 issue of The Washingtonian.
---