Inspired by the cuisines of Peru, Argentina, and their regional neighbors, Del Campo
is a fine-dining restaurant that also embraces the rustic side of South American eating—note
the Argentinian penguin decanters lining shelves behind the wine bar, and the bar-goers
negotiating towering street-style sandwiches, egg yolk running off their chins.
Chef/owner
Victor Albisu loves all things smoked and charred—even the bread comes with smoked olive oil—and
blackened food shows up everywhere. For instance: Grilled octopus and avocado top
a fancy version of a Peruvian
causa with grilled octopus, tuna confit, and ramps prepared three ways. Berkshire pork
chicharrones—an appetizer offering ribs and belly—taste both tender and charred.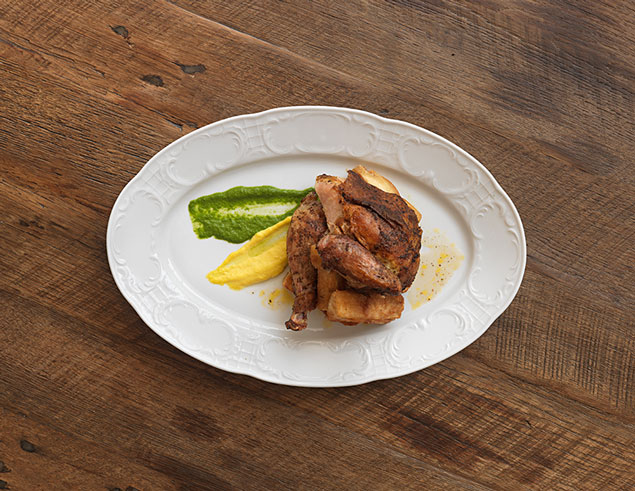 Albisu says Del Campo's early diners have leaned toward the
chivito sandwich on the bar menu, opening wide to wrap their lips around layers of Wagyu
beef, mortadella, ham, provolone, fried egg, grilled olive salad, and hearts of palm
mayonnaise, as well as the tuna ceviche and the chef's
asado boards, soon to be featured at a reservations-only chef's table with a view into
the kitchen.
A happy hour menu of $7 drinks (including grilled-juice cocktails)has
already debuted at the bar. Coming soon: a streetside patio and lunch service—the
latter should start in about two weeks.
Del Campo. 777 I St., NW; 202-289-7377. Dining room open Monday through Wednesday
5:30 to 10:30; Thursday through Saturday 5:30 to 11. Bar open Monday through Wednesday
5 to 11:30; Thursday through Saturday 5 to midnight. Restaurant open Sunday 5 to 10.