Some bakers find inspiration in their grandmother's kitchen. For husband-and-wife
team
Niall Cooper and
Lindsey Morse, it was a remote station in Antarctica. The two met in Cooper's native Scotland,
and moved to the South Pole for a job he took at a museum soon after.
"We had a lot of dry goods and very few fresh ingredients," says Cooper. "Making nice
baked goods was one of the few pleasures you could have."
The couple's love of crafting cookies and tarts continued even after escaping those
freezing climes, and their years of research and testing recipes culminated in BakeHouse,
which opened on Wednesday. It's a sliver of a shop, with only 14 seats and an additional
eight on the outdoor patio, but feels inviting with light streaming in through the
floor-to-ceiling front window and crisp white surfaces. (That exposed brick is actually
exposed brick wallpaper. What'll they think of next?) If you land a seat, wi-fi is
also available.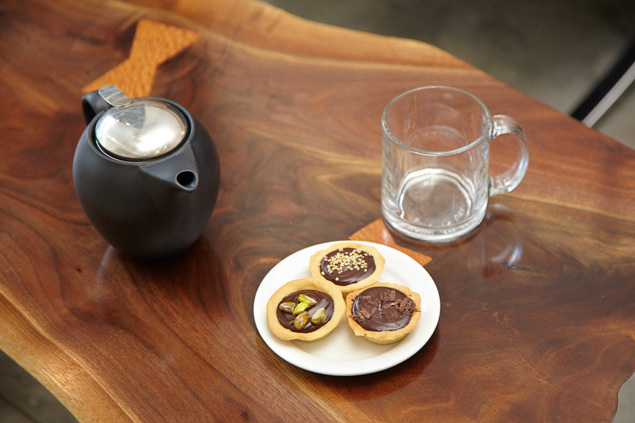 Mornings at BakeHouse are all about freshly roasted coffee from Baltimore producer
Zeke's and a number of breakfast options. House-made English muffin sandwiches come
stacked with combinations such as bacon, eggs, Gruyère, and honey or a lighter riff
with egg whites, roasted peppers, spinach, and feta. No time for a hot breakfast?
Grab a biscuit studded with sausage and cheddar cheese, or Greek yogurt topped with
house-made granola and strawberry-balsamic coulis. Lunchtime brings more sandwiches:
either warm panini stuffed with roasted eggplant, red pepper, and goat cheese, or
cold options such as red curry chicken salad with arugula on Lyon Bakery whole grain.
You might throw in a pasta salad or save room for one of the many cookies and cupcakes
or a dark chocolate brownie. The bakery stays open after dinner.
Cooper's Scottish heritage inspired the bakery's emphasis on loose-leaf teas by the
cup or pot—and afternoon tea on the patio might involve a trio of mini tarts in flavors
like spicy chocolate, bourbon-vanilla, and salted caramel. Just know that you might
be sharing the outdoor space with a few dogs­—Cooper and Morse not only welcome them,
they spoil them with house-made peanut butter treats.
BakeHouse. 1407 T St., NW; 202-299-9042. Open Monday
through Thursday 7 AM to 9 PM, Friday 7 AM to 11 PM, Saturday 8 AM to 11 PM, and Sunday
8 AM to 9 PM.